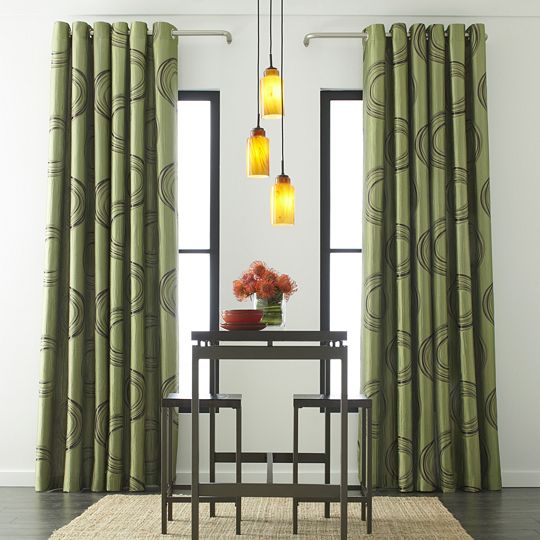 When it comes to decorating a new room, curtains are an essential part of the style of that room. From standard flat panel curtains to tab top and grommet curtains, there are a lot of options to be considered, and it is possible to purchase an array of curtain fabrics on eBay.
Purchasing used fabric is a great and cost effective way of achieving a unique and perfect look for any room. This guide will outline some of the key characteristics and features to look out for when buying used curtain fabric online.
Curtains and Curtain Fabric Features
Curtains can quite often be the focal point of the room. Get them right and they'll bring out the other colours and features of a room. They're also functional; they block out light and sound from the outside world, as well as acting as insulation. When choosing curtains for a specific room, it is important to assess the needs of the window they will be fitting.
For example, most people prefer to have bedroom curtains of a heavier material that will block out light and dampen sound for a good night's sleep. In a living room however, it may be preferable to have curtains of a lighter material that still let in a certain amount of light when they are closed. Colour also affects this, so be aware of the colour scheme and needs of the room in question. One final consideration should be: do they need to be bright and airy or dark and warming?
Purpose of Curtain Fabric
Fabric is one of the key elements when looking at curtains. With the array of used curtain fabric on eBay, there is a wide scope for personal choice. Here are some of the main categories that they fit into:
Sheer or Net Curtains – These are normally made of lighter fabrics that are translucent, something such as polyester that is lightly woven, or lace/cotton. These types of curtains are ideal for shielding some light whilst still allowing the owner to see out, whilst those outside will not be able to see in.
Uncoated Curtains – Normally a cotton and polyester blend, these types of curtains are the next step up in terms of insulation and light absorption. The majority of curtains are made of uncoated fabrics and are mostly opaque when in direct light.
Coated Curtains – Usually a similar weave to uncoated fabrics, a polyester material, but with a rubber backing applied in order to absorb more light. They are often known as blackout curtains and are popular in bedrooms.
Lined Curtains – These offer perhaps the best light absorption as well as the best insulation, and are comprised of an uncoated front fabric (for aesthetic purposes) and backed with a coated fabric (referred to as the lining).
Some fabrics to consider are:
Chenille & Woven
Jacquards & Damasks
Plain & Semi Plain
Silk & Taffeta Fabrics
Suede & Corded
Voile & Organz
Types of Curtain
There are a number of curtain styles, so it's important to get the style that fits in the room and its function. When purchasing used curtain fabric, the type of curtain being used should be given due consideration, as the material will affect various aspects of each style:
Flat panel – perhaps the most versatile curtain consisting of baric (normally a few pieces) that is bordered on each edge and then mounted on decorating curtains poles with rings that clip on. The appearance of the curtain here is influenced by the density of the fabric being used, as well as the fullness of the curtain.
Tab Top - these curtains are created by using narrow straps that tie at the top edge, and then threaded through the chosen curtain poles. The tab top style is sometimes used as two static panels that sit either sides of the window.
Grommet – this type of curtain uses rings that are inserted into a hole in the hem of the fabric, which then hangs from the curtain poles. It is possible to use either small or large grommets depending on the preference on styling.
Sash – considered a stylish type, sash curtains comprise of sheer fabric that covers the lower sash of the windows. Rod pockets are then run along the top and then placed onto a curtain rod.
Thermal or Blackout – as previously mentioned, these are used when drowning out light and sound and are comprised of tightly woven fabric, sometimes in layers or used to line curtains.
Style of Fabric
As well as the purpose and type of curtain, the style of the actual fabric should be considered. Many designs are available, but it's important to ensure that designs don't clash with the rest of the room. Here are some popular styles:
Art Nouveau – tends to be an historic style, featuring stylised aspects of nature (flowers, leaves etc.) as well as curvy and elongated lines. Can be used in a room with a similar style, or as a 'feature' of a room.
Children's – these can features popular children's characters from books and TV, perfect for a nursery or child's bedroom.
Contemporary – typified by unique and intricate designs, often with block colours or two-toned designs.
Country – often feature flowers or other designs and prints related to nature.
French Country – similar to country styling, but often with softer tones.
Modern – Bold colours are often used, and they are usually in a flat-panel design.
Traditional –curtains made in a way are familiar to most, and are a classic style.
Vintage/Retro – often a little different, from the 70s and 80s, and normally brightly coloured.
Conclusion
This guide has covered the relevant information and buying options available when purchasing curtain fabric on eBay. There are a number of variables that include function, type and style, and these are factors that depend on the individual's taste and how they relate to the room.
There are thousands of used curtain fabrics available, and plenty of styles, colours and materials to choose from. Buying on eBay is safe and secure, and it's easy to use the refine and search functions to find the perfect items.