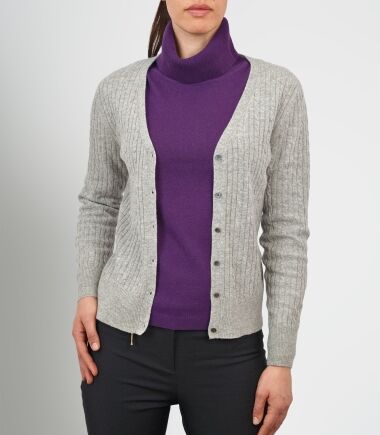 The cardigan jumper was named after James Brudenell, who was the 7th Earl of Cardigan. Brudenell compelled British soldiers to wear a knitted wool waistcoat during the Crimean War. Since then, cardigans have undergone many design changes, with the most recent rendition offering women the choice of a cardigan that is tied, buttoned, zipped, or pulled over the shoulders. Women wear cardigans more for functionality, although style plays some role in the purchasing decision. Cardigans typically provide women with warmth during the colder months and because of the way they are constructed, cardigans outlast every other type of sweater.
Women can buy used cardigans at consignment shops and discount secondhand retailers. However, the most convenient way to shop for used cardigans is through the leading online auction site, eBay. Before shopping for used cardigans, women should learn about the three types of cardigans, what defines the best used cardigan, women's cardigan sizes and measurements, and the women's clothing accessories that highlight the visual appeal of cardigans.
Types of Women's Cardigans
While women have myriad cardigan styles from which to choose, they only have to choose among three primary types of cardigans. The type of cardigan hinges mostly on personal taste.
Open Basic
This is the most popular type of women's cardigan, since it can be worn in varied social settings and even in the workplace. The hem line runs down to the waist and the cardigan opens slightly through the middle of the stomach and chest. Designers have created two versions of the open basic cardigan that have different necklines.
Draped
Draped cardigans are also open, but the necklines and hemlines drape. This stylish type of cardigan works best for slimmer women who wear simple shirts. The thicker fabric makes the draped cardigan appear cosier and more casual than the other two cardigan types.
Shawl
Shawl cardigans, which are sometimes referred to as wrap cardigans, drape much longer than draped cardigans. Women wrap this type of cardigan around their bodies in the same manner as a shawl. The length and width of shawl cardigans allows women to experiment with different looks, and thus, it presents women with more options in varied social settings.
How to Choose the Best Used Cardigan
Buying a women's cardigan involves using the same principles for buying most other types of women's jumpers. However, there is one additional consideration that requires women to select the right cardigan accessories.
Type of Cardigan Fabric
The most important consideration is the type of cardigan fabric, which determines comfort and durability. Cashmere and mohair cardigans are constructed with finely woven, soft yarn that provides supreme comfort. As the most expensive cardigans, cashmere and mohair also possess high durability. Women looking for a fabric that keeps them warm throughout the winter should consider wool. However, wool cardigans appear bulky and wool does not work well for shawl cardigans. Cotton cardigans are the lightest cardigans and the easiest to maintain. The type of fabric chosen for a cardigan depends largely upon the climate.
Cardigan Size
Cardigans typically do not have to go through wash cycles every time they are worn. Therefore, there should not be much shrinkage after years of use. Cotton does shrink and women should account for that by choosing a cotton cardigan that is a size larger than their measurements. A bulky, oversized cardigan works during a cold winter night, but it does not provide comfort in warmer climates. The key to choosing cardigan size is to err on the side of presenting a slimmer appearance.
Cardigan Style
Cardigans can look good on any woman because they come in so many different styles. Women can choose cardigans that vary by length and sleeve size. Especially long cardigans are often referred to as "boyfriend cardigans". Popular cardigan styles include argyle, sweatshirt, cropped, and cable knit. Cardigan patterns can include large floral prints, snowflakes, or different coloured stripes.
Women's Cardigan Sizes and Measurements
Women's sweater sizes can either be distinguished by numbers or letters. For simplicity, the following chart provides women's cardigan number sizes in centimetres. Some women experience slight variations to the corresponding bust and sleeve measurements.
| Size (UK) | EU Equivalent | Bust (cm) | Sleeves (cm) |
| --- | --- | --- | --- |
| 0 | 34 | 82 | 72 |
| 2 | 36 | 84 | 73 |
| 4 | 38 | 86 | 74 |
| 6 | 40 | 88 | 75 |
| 8 | 42 | 90 | 76 |
| 10 | 44 | 92 | 77 |
| 12 | 46 | 95 | 78 |
| 14 | 48 | 101 | 80 |
| 16 | 50 | 105 | 81 |
| 18 | 52 | 110 | 82 |
While cardigans provide women with a little wriggle room for measurements, they should still try to obtain accurate measurements to ensure snug fits around the shoulders and bust. Take a measuring tape and pull the tape around the shoulder blades to the top of the bust. The tape should be snug, but not so tight that it is restricting. Keep the elbows at the sides during the bust measurement. For the sleeves, place each hand on the hip and measure the 90-degree angle from the back centre of the neck, down the arm, and to the area where the wrist ends and the hand begins.
Women's Cardigan Accessories
Once women buy a cardigan, they can embellish the look by adding accessories that complement the cardigan's design. Women can wear a cardigan over a sundress and then cinch the cardigan with a patent leather belt. Brooches, which are costume jewellry, create a visually appealing sparkle when attached to cardigans. Pin brooches at the top of cardigans or over the top button. Scarves can provide contrasting colours on wrap cardigans. Women can sew new pearls or glossy metallic fasteners on the side of cardigans to embellish its appearance. Some women stitch designer patches on cardigan sleeves. Long-sleeve cardigans allow women to layer bangles and then wear jewellry that accentuates the cardigan's design.
How to Buy Women's Used Cardigans
Women can find used cardigans in consignment shops and retailers that specialise in selling secondhand clothing. Department stores run clothing sales periodically on items that have been returned over a designated period. eBay offers women a wide selection of used women's cardigans, some of which sellers offer at discounted prices because they either bought the wrong size or changed their minds about style. Women typically find the best used cardigan deals online. Here is what women should consider before making a purchasing decision.
Brand Name
Women can ensure cardigan quality and durability by shopping for brand name used cardigans. Some of the popular brands to consider include Karen Scott, Tommy Hilfiger, and Debbie Morgan. Hilfiger offers the widest selection of women's cardigans in terms of fabric and design.
Return Policy
Seller return policies can make the difference when choosing a woman's cardigan, especially if the cardigan is bought online. Women should consider sellers and retailers who offer a 30-day return window to allow women time to ensure a proper fit and detect any fabric defects.
Wash Cycle
Run a cardigan through one washing machine cycle before wearing it. Washing a cardigan cleanses any of the previous owner's stains and odours, as well as allows women to see if colours bleed or fade. One wash cycle should help women determine if a cardigan snugly fits, without causing any discomfort.
How to Buy Women's Used Cardigans on eBay
eBay has become an excellent venue for women to buy used clothing. You should consider buying used cardigans from eBay's Top-Rated Sellers. These sellers have established a strong record of offering high-quality goods and running fair auctions. Moreover, many top-rated sellers operate eBay stores, which gives you the chance to buy used cardigans directly from an eBay seller, instead of participating in an auction. You can also find seller customer feedback on products pages. Look for eBay sellers who have accumulated positive customer feedback over the past year and have some experience selling women's clothing and accessories.
You can shop for women's used cardigans by typing keywords into eBay's search engine. The keywords return search results pages that contain a list of women's cardigan sellers. Type specific keywords into the search engine to reduce the number of returned search result pages. For instance, type "Urban Outfitters used women's cardigans" or "long women's used cardigans" to narrow your search. Once you find a seller that matches your buying criteria, review the seller's product page for information concerning accepted payment methods, delivery terms, and return policies.
Conclusion
Picture a night when the wind howls from the north and icicles begin to form on the electric lines. This type of night occurs often during the British winter and many people sit close to a warm fire and read their favourite books by the fire's glow. The only thing missing is a warm and comfortable cardigan. Women do not have to buy new cardigans to enjoy the benefits of wearing them. Consignment shops, second hand retail outlets, and the leading online auction site, eBay, all offer a wide variety of used women's cardigans.
Women should purchase cardigans that include a generous return policy. Returns allowed for at least 30 days allow women to wear the cardigan long enough to determine if the style and fabric are what they want in a cardigan. The 30-day return window also provides women with the opportunity to detect any defects caused by the manufacturer or previous owner. Some used women's cardigans are sold as used in name only. Savvy women can find mint condition cardigans that sellers want to unload because either the cardigans do not fit or the cardigans are made of the wrong fabric. Women should shop around before they make a decision on buying used cardigans.