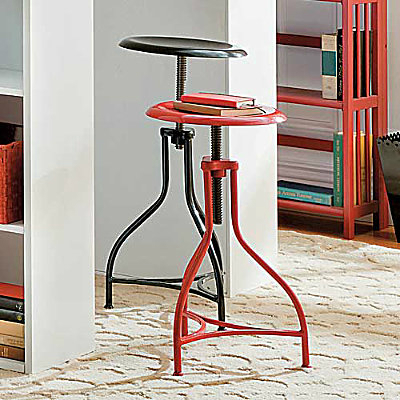 Kitchen stools can maximise space in a house, allowing people to sit at kitchen counters. They can also accentuate a kitchen's interior decor by providing additional lines and colours that can highlight a retro, vintage, or country kitchen look. Vintage kitchen stools, in particular, can help a kitchen take on a different appearance and atmosphere. Restored vintage kitchen stools can provide a contrast of tones and even colours in a modern kitchen, with rustic antique kitchen stools contrasting well with the many metal, surfaces, cabinets, and appliances characteristic of industrial-style kitchens. Genuine vintage would be those stools that are between 30 and 100 years old. Anything older, and the stool would be considered an antique. Anything younger, and the tool is either retro or the stool is classified as being vintage-inspired.
You will find a variety of vintage kitchen stools by searching the eBay marketplace. When shopping for vintage kitchen stools, one should take into account the type of kitchen stools, whether they be vintage, vintage-inspired, or retro, the location of the kitchen, the kitchen's size, as well as the kitchen's colour scheme.
Types of Vintage Kitchen Stools
While kitchen stools might appear to simply be decorative, they can actually serve a practical purpose. They can be used to help maximise space in a smallish kitchen by allowing people to use, even eat at kitchen counters. Vintage stools can also be counted on to be great conversation starters. There are many different types of vintage kitchen stools, and while the following is not a definitive list, it provides inspiration for those looking for vintage kitchen stools to to tie decorative elements and other furniture together.
Vintage-Inspired
Because the vintage look is becoming increasingly popular, many manufacturers have taken on the challenge and created vintage-inspired furniture. Vintage-inspired kitchen stools might not be representative of a period or style, but they could be inspired by vintage furniture and antiques. For instance, some manufacturers make country kitchen-inspired stools that have worn, washed out, or sanded wood, giving stools an antique look.
Restored Antique
Collectors and restorers often buy antiques kitchen stools, restore them, and sell them again. Vintage kitchen stools may be restored by painting them with strengthening lacquer to maintain their sheen and durability, or by restoring parts of the stool that might have been broken or damaged.
Industrial
An industrial look is more metallic, and filled with adventurous lines. For instance, industrial-inspired stools might have bottoms that look like giant springs; or they might have large metal rivets at their corners.
Art Deco
Art Deco is known for its minimalism and colour, and this style is reflected in simple kitchen stools that are painted in bright colours. In some contemporary homes, brightly-coloured Art Deco stools are used as a contrast to the stark and simple lines of more modern kitchens.
Retro or 1970s
Creative lines and colours are design hallmarks of the 1970s. This age of disco can boast a plethora of kitchen stools made from a variety of materials, including plastic. These stools were decorated using fur, faux leather, or bright paints, and bold patterns. There might be a touch of industrial as well as Art Deco in them. A kitchen stool from the 1970s certainly jazzes up a plain kitchen.
Rustic
Rustic vintage kitchen stools can complement the wood cabinets and tiles of a country-inspired kitchen. Rustic vintage kitchen stools are usually made of solid wood or wrought iron, and can set off a country kitchen when the kitchen is decorated with flowers, other wooden furniture, and even a milk pitcher or two.
Factors to Consider When Shopping for Vintage Kitchen Stools
In addition to the price of the vintage kitchen stools, there are other factors that one should consider consider when shopping for vintage kitchen stools. In this section, the various factors that influence shopping for vintage kitchen stools are examined one by one.
Location of the Kitchen
The location of the kitchen influences all the furniture and even appliance choices for the kitchen. For example, kitchens that face east receive the most sun in the morning, so one should choose furniture and appliances in subdued colours. The colour should not be too dull to make a morning gloomy, nor too bright to create glare in the kitchen.
The same applies to vintage kitchen stools. Their colour and style might make for a brighter room, so brightly-coloured stools should be put in a kitchen that faces west, in order to provide some brightness in the morning. On the other hand, more subdued, rustic colours are advisable for a kitchen that receives direct sunlight in the morning.
Size of the Kitchen
While vintage kitchen stools can be stylish, they can make a small kitchen look crowded. Care should be taken when shopping for such stools, as too much furniture in one room can create a cluttered look.
Where the Stools Are to Be Placed
Vintage kitchen stools are not only for kitchen use. Some interior decorators might use them to add colour and contrast to a living room or bedroom. The vintage kitchen stool should tie in with the interior decor of the room it is to be placed in. Moreover, if the vintage kitchen stools are to be placed by the kitchen counter, they should fit such that they can be used with the kitchen counter. They should not look out of place. They should not be too high nor too low, as the height of a stool does affect comfort.
A Kitchen's Colour Scheme
Metal vintage kitchen stools that have not been painted would certainly work in an industrial-style kitchen with its metal surfaces and stainless steel appliances. However, too much metal can make a kitchen look stark, clinical, and cold. To warm up the look of an industrial style kitchen consider including a few textured retro stools in bright colours. A rustic kitchen can take on a country look with wooden vintage kitchen stools, or the rustic colours can be contrasted with metallic kitchen stools. Vintage kitchen stools can both complement kitchen colours or create an eye popping contrast to them.
Kitchen Style and Atmosphere
The vintage kitchen stools must complement the design elements in a kitchen. The style of a kitchen does affect the choice of kitchen stool. A kitchen might have been styled to incorporate all the colours characteristic of Art Deco or retro. An industrial kitchen has clean lines, while a more rustic kitchen has a deliberately cluttered, almost mismatched look, with furniture sporting a distressed or shabby chic appearance. Any style can be complemented by a choice of appropriate vintage kitchen stools. With personal tastes and comfort so diverse, there are no set rules on which types of kitchen stools to use with what kitchen style or colour scheme.
How to Find Vintage Kitchen Stools on eBay?
You can buy vintage kitchen stools on eBay by going to the main eBay site and entering the search term "vintage kitchen stools" into the search bar. You can specify the colour, material, and even the style of the kitchen stools. That is, you can choose to look for "Art Deco kitchen stools" or "industrial kitchen stools". The more specific the search query, the more focused your search will be.
On the search results page, you can specify whether you want to search under the furniture category or in the antiques section of the eBay website. Your search of furniture listings may include listings for restored or vintage-inspired kitchen stools as well as genuine antiques. You can also specify your price range by inputting your budget into the fields under the heading 'Price'.
When shopping for second-hand vintage kitchen stools, ask for more information regarding the age of the stools, as well what work was done to restore them (if any). Ask for photos of the vintage kitchen stools from all angles in order to check for any visible signs of wear and tear as well as any obvious damage. While the damage may be repairable, you should factor the cost of repairs into the price of the vintage stool.
Conclusion
Vintage kitchen stools can enhance the look of a kitchen by adding elements of another era, whether the look aims to be retro, Art Deco, industrial, Victorian, pre-World War, 1950s, or even 1980s. Vintage kitchen stools can even provide an interesting contrast of looks in a modern kitchen, where straight lines and minimalism can be balanced by bursts of colour and curved edges. On the practical side, kitchen stools can maximise space.
Before going online to search for vintage kitchen stools, a shopper should browse for stools in a traditional shop. They should have pertinent information on hand, such as the size of their kitchen, the colour scheme, as well as the materials in the kitchen (wood or steel surfaces). When the buyer knows what stools they want, they should be able to find those same or similar vintage kitchen stools online.
You can shop for vintage kitchen stools on eBay, where you can find various styles of kitchen stools, all set at various prices, and from different sellers. With the help of eBay, you can narrow down your search and find the vintage kitchen stools that can best fit your kitchen while still keeping you within your budget.