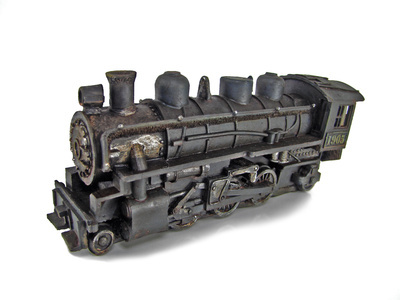 Model Steam Trains is a hobby that connects generations of families unlike much else. Models are regularly passed down from one age group to another and there is now a large market for Vintage Model Steam Trains.
A Model Steam Train looks and acts very similarly to the real thing and make the whole model train experience all the more fulfilling. The following guide explains the origins of Model Steam Trains, the key things to look out for and ultimately how to buy one safely and securely using eBay.
The History of Model Steam Trains
Model Steam Trains first started to appear in the 1800s when the 'Carpet Railway' became a popular toy among Victorian children and modellers. They ran across the carpet without the need for a rail and were made from brass.
The hobby began to grow at a faster rate in the 1900s when enthusiasts started to demand locomotives built to various different scales. This in turn fuelled a movement that saw scale models of railroads across the world being built to run the locomotives on.
In the modern era, model companies have started to build faithful representations of steam trains that run on the Live Steam system that was first used two centuries ago.
Real enthusiasts still pine for the vintage models and to get a better understanding of how to buy one the next section will look at some of the terms that buyers will come across.
What Makes a Vintage Model Steam Train?
Model Steam Trains, or Live Steam as they are regularly referred, act similarly to the real thing in that they produce steam when in service.
The locomotives are built according to scale and run on a set of different gauges. Below the guide goes on to explain what scales and gauges are.
Model Train Scales
A vintage model steam train scale relates to the size of the model when up against its real-life counterpart.
The table below outlines the most popular scales with a brief description alongside each:
| Scale Size | Ratio | Description |
| --- | --- | --- |
| Z Scale | 1:220 | Smallest size available and designed for people with space constraints. Models are very detailed despite being extremely small. |
| | 1:160 | Slighter larger than Z Scale trains and as such the detail level that you can achieve is higher. |
| H0 Scale | 1:87 | One of the two most popular scales and it means huge numbers of models can be found. Being more widely available means they are as affordable as they come. |
| | 1:76 | Popular in Britain as it's the standard scale produced by modelling firm Hornby.. Superb counterpart to any model train set. |
| S Scale | 1:64 | Significantly larger when compared to the last two and it means the locomotive is a lot more domineering. |
| | 1:48 | Less delicate and therefore recommended for younger people looking for a starting point. |
| | 1:22.5 | Largest scale generally available and some are large enough to carry passengers – if used outdoors. |

Model Train Gauges
Gauge refers to the measurement between the rails that the steam train runs on. This is very important as buying a train that doesn't fit the gauge will mean the model cannot run.
The following table lists the gauges and how they relate to the above scales:
| Gauge | Scale Counterpart |
| --- | --- |
| 6.55mm (0.256 inch) | Z Scale |
| 9mm (0.354 inch) | N Scale |
| 16.5mm (0.650 inch) | H0 Scale |
| 16.5mm (0.650 inch) | 00 Scale |
| 22.5mm (0.886 inch) | S Scale |
| 32mm (1.260 inch) | O Scale |
| 45mm (1.772 inch) | G Scale |












Fuel
Another important component to consider when buying a vintage model steam train is what type of fuel it will use. Most engines will come with guidance on the correct fuel to use and precautions must be taken as some fuel can give off harmful fumes if used incorrectly.
There are a variety of different fuels on the market and the table below looks at them in more detail:
Fuel Type

Description

Methylated Spirit

Preferred by many enthusiasts, as it's affordable and easily sourced.
A number of precautions must be taken as its extremely flammable and an irritant to skin.
Will be present in many older models as it was the original type of fuel used in most engines.

Sterno

Also known as caterer's chafing fuel and comes as a gel.
Another accelerant that is widely available.
An adequate alternative to Methylated Spirit.
Make sure the engine can use it before putting any in.

Solid Fuel

Come in small tablets.
Must be kept dry at all times and in an airtight container when not being used.
Safer than a number of other fuels.
Produces a strong smell and should be used in well-ventilated areas.

Gas

Small canisters inside the engine and are specific to the model.
Refillable using gas from DIY stores.
Can run for a longer amount of time and temperature is simple to control.

Electricity

Mostly found in newer models.
Safer but ultimately nowhere near as realistic as other fuels.

Condition
Buying a vintage model steam train on eBay will definitely mean one that has been used in the past.
There are several parameters that can be used to search for used model steam trains on eBay and the following table outlines them in more detail:
Condition

Description

Items will be unopened in box and need to be checked to see if they are truly vintage.

Train will have been used in the past.
Check how many owners it has had to estimate the condition it is in.
Try to confirm the age of the train being bought.

Seller hasn't placed it in a specific category.
Must check to see the condition of the item and whether or not it is vintage.
Assembly
In line with most models bought on eBay, vintage model steam trains are another that requires different levels of assembly depending on the item. The table below states the four main types and the main characteristics of each:
| Assembly Level | Description |
| --- | --- |
| | The model has been built using instructions with no other modifications made. |
| Kit Unbuilt | Comes in the box ready to be assembled using instructions and requires no other parts to be bought. |
| Pre-Assembled | Has been assembled in advance and is ready to use straight out of the box. |
| Scratch Built | A model that has been constructed from scratch with nothing but raw materials. No instructions are supplied and buyers must ask questions about obtaining parts easily for models of this ilk. |
Background Research
Vintage model steam trains are an extremely specialist area and as such buyers must do a vast amount of research before buying.
This means checking the model to check that it is in fact vintage and making sure repairs can be made easily if they need to be. Much of this can be done by engaging in dialogue with the seller and using the Ask the Seller option available to all buyers.
How to Buy a Vintage Model Steam Train on eBay
There are thousands of places to buy model steam trains online and eBay remains among the most affordable place to find what is required. The site has an extensive collection of vintage, new and used trains with the art of finding one sometimes quite tricky.
When searching for the models, first visit the Toy & Games category. From here, scroll down the list of available categories until you come to Steam and click the link. On the product page, there are a number of options on the left hand side of the page and it gives the buyer a chance to narrow down the selection.
Under Product Type there are a wide variety of parameters to choose from including Steam/Live Steam, Locomotives, Train Sets and others. It's very much a case of trawling through each category to see what is on offer.
Such a specialist type of product may require the buyer to search using the Brand name and a list can be found down the left hand side of the page. Popular manufacturers include, but are not limited to, Hornby, Bing and Bassett Lowke.
When it comes to vintage model steam trains it could be most appropriate to search for models by name. Using the search box that is present at the head of every eBay page can do this.
Safety Considerations
It's important to scrutinise a seller's transaction history before deciding to confirm a bid or purchase. Has there been a regular flow of negative feedback on their profile? If yes, then what are the reasons for it and can the seller, through the Ask the Seller feature, clarify any reason for the negative feedback.
One thing to be wary of is if it's the first time they've ever listed an item for sale or even the first time that a model steam train has been listed on the profile.
Before finally making a bid, be sure to ready the conditions of sales a few times. The Buying Tips page can also be a valuable source of information.
When ready to Buy, place a Bid, find the Buy it Now button or place your Best Offer, and use PayPal to complete the purchase in a safe and secure manner.
Conclusion
Choosing to buy the right Vintage Model Steam Trains is one of the most important decisions that face enthusiasts of the model train world. When deciding on a final purchase there is a number factors to be considered. To sum up, these include:
Make sure the scale and gauge are the correct size for where it will be running.
What condition is the item in?
Can you source the correct fuel?
Once you've read the guide and answered these questions it will be easy to find the correct Vintage Model Steam Train on eBay.