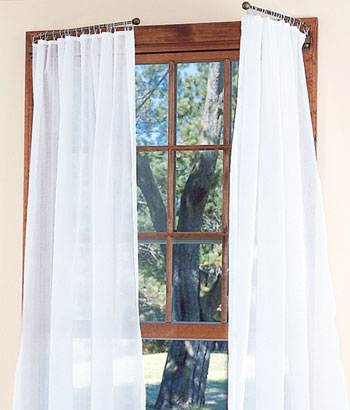 Voile curtains are similar to net curtains, but come in a wider range of colours and designs. Net curtains are usually available only in white and off-white, and are made from synthetic fibres. Voile is made from natural fibres or a blend of natural and synthetic fibres. Common fabrics range from cotton to silk, making voile curtains easy to dye. As with most natural fibres, these curtains tend to drape well. The word "voile" comes from the Old French word "veile", and the curtains are designed to look like a veil, covering without obscuring the wearer's view. Voile curtains are transparent, allowing natural light into a room without compromising the privacy of those inside and can be used on their own or with thicker curtains.
Voile curtains can protect you and those you love from wandering eyes and act as a deterrent to burglars. These curtains make it difficult for passing pedestrians to see what is inside the house and who is at home. However, these curtains tend to become see-through at night if a light is on inside the room. Therefore, they do not offer round the clock privacy by themselves. A number of factors should be taken into account when choosing voile curtains. These include the colour and fabric type, the installation method, and measuring the windows to find the right curtain size. Voile curtains are available from home decor and department stores, and from sites like eBay.
Voile Curtain Colours
Voile curtains add a stylish, romantic element to any room. They are easy to hang and can be matched to most decorative themes, provided the right colour and type of curtain is chosen. Voile colours are available in just about any colour imaginable, with or without embellishments and patterns. Darker colours offer more privacy as they are harder to see through, but may block more light. If you intend to hang voile curtains with thicker outer curtains, choose a colour that complements the second set of curtains. For example, choose voile curtains that are a shade lighter than the other curtains or that are the same colour as a subtle element in the pattern chosen for the outer curtains.
Voile curtains can be seen from the street, so choose a colour that also matches the exterior of the house. Coloured transparent voile curtains can be doubled up to create unique lighting patterns inside a room. For example, hanging yellow voile curtains over blue ones creates a green tint to the light entering the room. Some voile curtains feature woven patterns or lacy bottom edges for additional decorative detail. Choose curtains with a border, for example, for the kitchen or bathroom.
Voile Curtain Fabrics
Voile curtains are available in a variety of fabrics. Traditionally these curtains were made from natural fibres and designed to look like veils. The fabric chosen should match the rest of the decor in the room and be suited to the room's overall feel. Some may appreciate a delicate lacy or silky fabric, whereas others may prefer a plainer look, so keep the personality of the family in mind when shopping for curtains. Fabrics come in varying thicknesses. If the voile curtain will be used on its own, choose a thicker fabric, like cotton, or buy a double width of a sheer, delicate fabric to allow you to bunch the fabric together to add an extra layer for privacy.
Voile curtains are usually woven with a close, high quality weave. Some feature patterns in the weave and texture should be considered when shopping for voile curtains. Lined voile has a backing for added thickness. It is important to bear in mind that the backing is visible from both the street and the inside of the room and should complement the curtain and the house's decor.
Voile curtain finishes include shiny, matte, or crinkled looks. Each yields a different effect and can be draped in a different way. Remember to take into account the amount of care required by each fabric type. Silk is more difficult to care for than cotton and tends to fade in the sun more easily, while synthetic blends are designed to be easy to launder and are durable.
Voile Curtain Laundry Care
To keep your voile curtains looking their best, follow the manufacturer's washing and care instructions. Most cotton and synthetic curtains can be machine washed, but drying in a tumble dryer may make them shrink. Take care with more delicate fabrics and hand wash or have them dry cleaned if needed. Some curtains are designed with a crinkled look, but those that are not can usually be ironed with a cool iron before hanging.
Voile Curtain Installation Options and Accessories
Voile curtains can be installed in a number of ways. Some slide onto curtain rails through a sleeve at the top of the curtain, while others are designed to hang in the same way as tab top curtains, curtains with hooks, or eyelet top curtains. Tab tops can either slide onto the curtain rail or fasten with velcro or button snaps. Some curtains feature top and bottom rod pockets, making them perfect for covering glass panels in French doors.
Remember to gather all of the accessories that you need to install the curtains before you hang them. This could be something as simple as a wire or ornamental curtain rod, or could include curtain rings or hooks. Where voile curtains are used with other curtains, consider a double curtain rail or choose a secondary rail that is hidden by a decorative rail over the top. Drill any necessary holes and clear away the dust before bringing the curtains into the room.
Measuring for Voile Curtains
The voile curtains that you choose should be big enough to cover the window where they will hang and to create the desired draped or textured effect. Use a retractable tape measure; a cloth tape measure will not give an accurate result. Measure the width of the curtain across the breadth of the window on the outside of the window frame. If a curtain rail is already in place, simply measure the curtain rail. To measure for length, measure from the top outer edge of the window to where the curtain should fall. Alternatively, measure the curtains in place if they are the perfect length.
While it is recommended that voile curtains should hang slightly below the bottom of the window frame, the length of the curtains depends entirely on your tastes. Consider choosing voile curtains with decorative edges for shorter curtains. This includes envelope, lead weight, or ribbon lace effects. Remember to add width if you want to create a bunched effect. With delicate fabrics this can be up to double the width, but care should be taken with thicker fabrics as the curtains could look bulky.
Buying Voile Curtains on eBay
eBay sellers offer voile curtains in a range of colour and design options. To find the curtains that you want simply type a search phrase, for example "pink voile curtains", in the search bar that can be found on every page. Choose from the categories and features listed to narrow your search results. Use the advanced search feature if you would like more control over your search.
Before You Buy on eBay
Take a moment to learn all that you can about the item and seller before you buy on eBay. The item listing page, which is accessed by clicking on an individual listing, contains all the information that you need to inform your buying decision. Look here for information including the item description, any photos of the item, bidding and buying options, the seller's accepted payment methods, and the seller's feedback details. Click on the number next to the seller's username to see what other buyers have to say about a particular seller's products and customer service.
Conclusion
Voile curtains allow natural light in while protecting the privacy of those inside the house. These curtains are excellent for allowing light through to house plants without causing sun damage to furniture. As voile is usually made from natural fabric or natural and synthetic fabric blends, it absorbs dye easily and drapes beautifully.
When buying voile curtains, choose a colour and pattern that matches the existing decor of the room where the curtains will hang. Take into account the personalities of family members when choosing voile textures. Choose a fabric that you find convenient to care for.
Take the practical aspects into account when buying voile curtains. Decide on the best installation option and have the tools and accessories on hand to hang the curtains. Take accurate measurements and consider buying double widths of thinner fabrics to create different textures. If in doubt, measure twice to ensure that the curtains are big enough to cover the area desired. Use the curtains in place already as a guide to find the ideal curtain size if you are unsure about the size required. eBay sellers offer a wide selection of voile curtains suited to every room in the house.