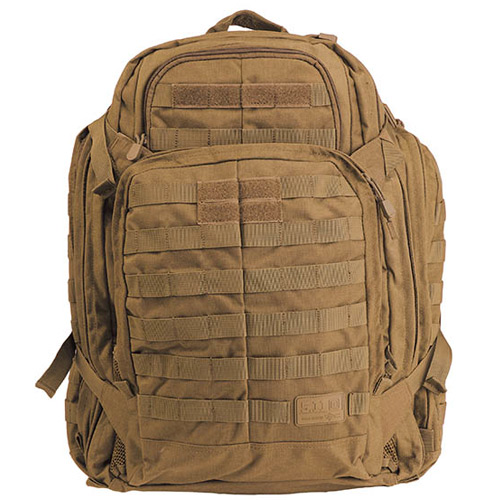 There comes a time in everyone's life when they need to purchase a backpack for one reason or another. Whether you are a parent buying your child a new backpack for school, or you need a backpack for an outdoor hiking trip, you have probably been overwhelmed with backpack choices in the store. Purchasing a hiking backpack can be just downright confusing once you start looking at internal and external frames. Even selecting a school backpack can cause a minor headache due to all of the many choices out there. This guide helps you select the right backpack for your needs based on type, fit, and capacity. Once you understand how these features affect the backpack, purchasing one becomes a straightforward task. Hiking backpacks are sold in outdoor and sporting shops, while school backpacks are found in department stores. Customers can also find backpacks on eBay and other online websites for better deals than those in a traditional store.
School Backpacks
Every child grew up with a school backpack that they used for cramming in their books, lunches, and anything else they could find into its cavernous walls. Since school backpacks are primarily for everyday use, they are typically smaller and lighter than hiking backpacks. School backpacks are also known to be a little less durable as well, since they are typically made out of either plastic or canvas. For a waterproof bag, select a plastic backpack. For a bag that holds a lot of weight, select a canvas one. In most cases, plastic backpacks work fine for primary school children, but those in secondary school and beyond need the additional durability of a canvas backpack.
Fitting a School Backpack
There are two key components to sizing a child's backpack. First, it must be big enough to carry all of the necessary materials without being so large that it completely overwhelms the child. Secondly, the straps must fit comfortably across the shoulders. If you are buying the backpack in a store, try to have the child try it on first to make ensure that it lines up with the width of the child's back without extending down past the hips. Online buyers do not need to despair if they cannot complete this step. Simply measure your child from his or her waist to the bottom of the neck to figure out the length of the backpack, and the measure across the shoulders for width. Keep in mind that it is advised to measure from shoulder blade to shoulder blade, not from the outside of the shoulders. Use the chart below to figure out the right size backpack for your child based on age.
| Age | Backpack Height (cm) | Backpack Width (cm) |
| --- | --- | --- |
| 4 | 28 | 15.2 |
| 5 | 30.4 | 16.5 |
| 6 | 31.7 | 17.7 |
| 7 | 33 | 17.7 |
| 8 | 35.5 | 19 |
| 9 | 36.8 | 20.3 |
| 10 | 38 | 20.3 |
| 11 | 29.3 | 20.3 |
| 12 | 29.3 | 21.6 |
| 13 | 42 | 22.8 |
Using this chart can be a useful practice when trying to nail down the exact measurements of a child. While this chart may be helpful, it may not always be as accurate as actually having the child try on the backpack.
Hiking Backpacks
Hiking backpacks are much more complex than school backpacks. A daypack, which may only used for an afternoon or morning hike, is small and built much like a school backpack. However, the internal and external frame backpacks meant for longer hikes come in many different sizes because of the extra weight they might carry. In fact, the additional weight requirements make using frames necessary. An external frame backpack has its frame outside of the backpack, while an internal frame backpack has its frame hidden away inside the pack.
Matching the Backpack to the Terrain
External frame backpacks are cheaper, and they tend to work best in warm climate areas for hikes along smoother trails. Internal frame backpacks fit snugly against the body and typically hold up better in colder climates and mountainous trails. These backpacks are often made out of polyester blended with other materials, while the frames are either aluminium or plastic. Some backpacks have a waterproof coating, but since these tend to be a bit more expensive, thrifty shoppers sometimes cover their backpacks with a plastic sheet.
Fitting a Hiking Backpack
Hiking backpacks need to fit securely on the back, between the shoulder blades, and not hang down below the waist. For adults, hiking backpacks are sold in lengths between 45.7 to 50.8 cm. Young adult backpacks range from 35.5 to 48.2 cm. As with the school backpack, measure your own back from the bottom of the neck to the top of the waist to figure out the right length. Most of these backpacks come with adjustable shoulder straps and a hip belt. The hip belt is worn just below the waist and helps balance out the weight of the backpack. Look for padded straps and hip belts, as this makes for a more comfortable load than the unpadded models.
Choosing the Right Hiking Backpack Capacity
Capacity refers to how much room is inside the backpack. Clearly, hikers who are only using the backpack for a few days need less room than those going on long expeditions. However, for many, the capacity measurements in cubic inches or litres makes little sense, especially for first time hikers. After all, it is difficult to tell how much more gear a 55 litre backpack can hold over a 70 litre backpack. Furthermore, experts recommend that the smaller the capacity, the better. However, hikers should not sacrifice capacity over necessary gear. Below is a short chart that lists what these backpacks can commonly hold.
| Name | Size (litres) | Will Hold |
| --- | --- | --- |
| Daypack | 40 | |
| Weekend Pack | 40-65 | All of the above, plus: |
| Weeklong Pack | 65-95 | All of the above, plus: |
| Expedition | More than 95 | All of the above, plus: |
The size of the backpack is crucial for holding necessary camping gear. Refer to the above chart when deciding what backpack capacity you need.
New vs. Used Backpacks
Hikers usually end up spending a lot of money on a high end backpack from a top quality outfitter. However, if buying a new, expensive backpack simply is not in your budget, do not despair. Gently used backpacks allow buyers to save money while purchasing a durable item. Most outfitters do not sell used backpacks, but this does not mean they are out of reach. Check out the backpack listings on eBay to find used backpacks of all shapes and sizes. Whatever the purpose of the backpack, either for school or hiking, used purchases make for smart shopping decisions.
Choosing a Used Backpack
You should always assess the condition of a used pack before buying it. Make sure the seller has an accurate picture of the actual item for sale, not a stock photo. If it has internal frames, then there should be a picture of the inside of the pack. Feel free to ask for more pictures if you cannot judge the condition of the backpack. Also, pay attention to the seller's description of the item and make sure it matches up with the picture. Do not purchase a used backpack that looks frayed or threadbare. Stay away from any framed backpack that seems to have conditional issues with its frames.
Buying a Backpack on eBay
eBay is an wonderful way for you to get a fantastic deal on either a new or used backpack for several reasons. First, the selection of backpacks on eBay beats anything found in a brick and mortar store simply because eBay's virtual platform brings together sellers from all over the globe. This is doubly true for used backpacks, which may only be found at secondhand stores and yard sales in a highly limited fashion. Secondly, these sellers offer their backpacks at lower prices than retail stores because they do not have to pay high prices. The key to scoring an amazing deal on eBay is to master the search system.
Finding a Backpack on eBay
To find a used backpack, start off on eBay's homepage. Use the search engine to type in words that explain the exact type of backpack one is searching for. For example, if you need a school backpack, type in "children's backpack" or "school backpack". If you need a hiking backpack, then simply type in "hiking backpacks". Searching in this way brings up numerous results which is great for browsing, but not so ideal for finding a specific backpack. If you already have a certain type of backpack in mind, then search using more narrowed terms. For example, if you want a North Face internal frame backpack, then type in "North Face internal frame backpack" in the search bar. You can also use size and capacity to whittle the results down even more. Try using different combinations of terms to find the right backpack.
Conclusion
Buying a backpack is easy once you understand the type, fit, and capacity you need. Measure yourself or your child to get the best fitting backpack. Select a type based on how you are going to use the backpack once it is purchased. Likewise, the backpack's capacity should also fit your needs. Hikers, for example, sometimes purchase different types of backpacks that have varied capacity levels for different hikes. Buyers should also make sure the material of the backpack fits their needs. Plastic packs help to keep things waterproof, but they are typically not as strong as canvas or polyester backpacks. Also, plan out how much you can spend on a backpack, and if you cannot afford to purchase a new high quality backpack, explore the option of finding a used one. eBay is an ideal platform for new and used purchases, and their online marketplace makes it easy to find the right pack for the best possible price.