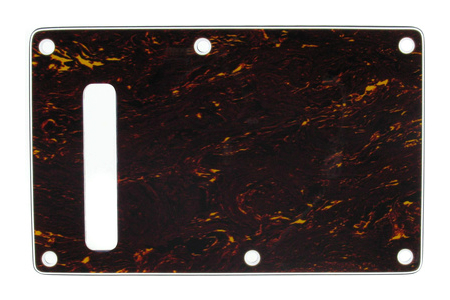 Guitar backplate covers fit over the tremolo springs on electric guitars. These covers can be replaced to better accommodate a change made to the tremolo springs and connected equipment. Backplate covers can also be replaced purely for decorative reasons, and they are a popular customisable option for many guitar owners.
Protecting the Tremolo Equipment
Electric guitars are equipped with mechanisms that can change the pitch or vibrato of the instrument. These are special levers (commonly known as tremolo arms) or bars, usually housed at the guitar bridge or tailpiece. The lever acts upon the guitar strings to change the tension, creating a different sound effect. The lever mechanism is connected by a set of springs (tremolo springs) that are housed in a cavity in the guitar. A backplate cover set into the back of the guitar protects the equipment in this cavity..
Choosing a Guitar Backplate Cover
Different styles of backplate covers are better suited to specific types of tremolo / vibrato arms than others
Contemporary Designs
The design of backplate covers varies considerably amongst different guitar manufacturers. Listed are several representative designs by a selection of guitar makers.
| | |
| --- | --- |
| Fender Stratocaster | Rectangular For the 'Strat', the common shape of backplate covers is rectangular, with an open slot. The open slot provides a view of the springs. There are usually six screw holes distributed along the backplate to enable the cover to be held in place. This also makes for easy removal of the cover when repairs, adjustments or replacements are required to the tremolo springs. A common variation is a six-hole slot in place of the larger open slot. |
| JB Jazz Bass | Semi-circle This is a semi-circle solid piece without any viewing access to the tremolo springs. Four screw holes at regular intervals along the edge have been punched out. |
| Duplex | Irregular This style of cover has a fluid irregular shape. It is a completely closed cover without slots so there is no view into the spring mechanism. Three screw holes are dispersed along the edges for attaching the backplate cover. |
| Paul Reed Smith | Winged This style of cover has a distinctive elongated wing shape, with three screw holes. |
| Gibson Les Paul | Parallelogram One of the Gibson backplate cover styles is a rounded corner parallelogram. It is a solid piece without any slots or view into the tremolo springs. It has four screw holes at equal distance on the plate for attaching the cover. |
| Colours and Graphics | The array of colours and graphic styles that backplate covers are now available in is dazzling. While the classic, somewhat subdued solid black or white covers are still popular, almost any colour and shade can be purchased. Iridescent, pearlised, and 3D effects are available. Semi-transparent options can create an interesting effect with the tremolo equipment underneath being partially visible. Vintage colours – aged cream, amber, aged white can be found for restorers of classic guitars. Covers with '40s and '50s style pinup girl pictures, or a tortoiseshell effect can help recreate the atmosphere of those eras. Any type of animal, plant, landscape, or pattern effect can be found. And for those can't be immediately found, customisation by artists can deliver any required style of backplate cover. |
| Materials | The materials used to construct backplate covers are just as varied as the designs. Wood such as maple is quite common. Semi-precious materials like abalone shell and mother-of pearl are utilised. Swarovski crystals and semi-precious stones like garnet are materials that are found in contemporary designs. Thermoplastic (ABS) is a commonly used material, with a glossy finish. They are produced in several thicknesses - one, two, three, or four ply. Transparent thermoplastic has a reflective mirror glass quality. |
Custom Designs
Custom designs make a statement about the musician's personal style and musical taste. Artists, crafters and specialised guitar shops produce customised accessories for guitars including backplate covers. Here are a few ideas for the guitar owner keen to have their instrument stand out in the crowd.
| | |
| --- | --- |
| Wood Inlays | Exquisitely cut semi-precious materials like mother-of pearl, abalone, onyx and jade can be inlaid into woods like maple and rosewood. Scenes and images can be created from the musicians own sketches. The artist will usually turn those rough sketches into exactly detailed specifications before getting approval from the musician. |
| Electric Lighting for Transparent Guitars | This is a novel lighting idea for plexi model guitars. There are customised backplates with batteries and switches that light up the back of the guitar and shine through the transparent body. They can be set up to cycle through several different coloured globes or to be used on just one colour. |
| Precious Materials | Gold, silver, or platinum can be worked as accents into backplate designs. If money is no object, the backplate can be solely constructed from a precious material. |
| Custom Shapes | A talented artist / crafter can construct a backplate in any shape and create the screw holes so that the cover will fit perfectly over the tremolo equipment. |
Condition
Backplate covers can be purchased in new or used condition.
Related Items
Several items are related to guitar backplate covers, and should be considered when looking for a replacement cover.
Accessory Sets

New backplates are often sold as part of an accessory set. For example: - Fender Stratocaster sets are available that provide both a Scratch Plate Pick Guard and the Tremolo Backplate in the same material, colour and finish. These sets are often suitable not just for 'Strats', but also for generic style electric guitars. Check the specifications to make sure they will fit the guitar model.

- Other accessory kits for the Fender 'Strat' come with the following pieces – backplate cover, control knobs (tone and volume), tremolo knob, switch tips, and pickup covers. This is a cost effective way to upgrade the look of the guitar in one fell swoop.

Backplate Cover Screws

While some backplate covers are sold as a set with matching screws, many are not. Metal screws are available in black, brass, chrome, or gold. The colour of the screws need not match the cover. For example, a contrasting gold screw set in a glossy black backplate can look sophisticated.

Pickup Switch Covers

Some guitar models have a pickup switch cover on the back of the guitar. Many guitar players like these to be complementary in style to the tremolo backplate cover. Pickup switch covers can be purchased in a wide range of colours and styles. Artists and specialist guitar stores can easily customise them to the owners specifications.
Finding a Guitar Backplate Cover on eBay
There are two sales categories on eBay to find backplate covers in, and following the menu paths to these categories is a quick and easy process.
First, select the All Categories link on the homepage. Find the category heading Musical Instruments and the select the Guitars sub-heading. On the Guitars page, select the Accessories link in the top of the left-hand column. From the accessories page select the Parts checkbox listed under the Item Type heading in the top left. Now scroll down to the Parts Type heading further down the page, and select the Backplate Cover checkbox. A comprehensive listing of electric guitar backplate covers is now displayed. The results can then be sorted and refined by Brand, Condition and Price Range
Another area where backplate covers are sometimes listed is in the Musical Instruments category, under the Accessories/ Equipment heading link. On the results page, find the Type heading in the left-hand column, and select the Other Accessories/ Equipment checkbox. Amongst all the listed musical instrument accessories, several guitar backplate covers for sale may be found.
Conclusion
Backplate covers can be found on eBay for a large range of brands and models of electric guitars. They are available in a wide range of shapes, colours, and decorative designs, providing each guitarist with their ideal customisation solution.