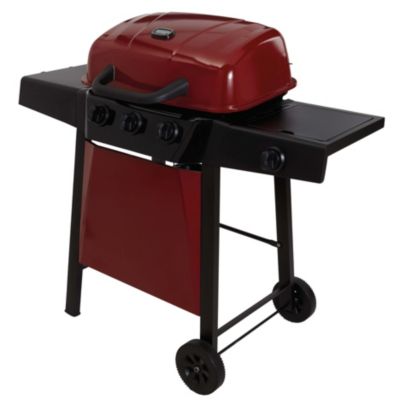 Few things in life can beat a barbecue on a warm summer's evening. Having the right equipment makes barbecuing with friends and family on the patio or in the garden a pleasure. eBay sellers offer a huge selection of gas, charcoal, and electric barbecues at competitive prices. Before you start to shop, know what to look for to help the search process along. Learn how to find the best barbeque for your needs, taking into account aspects such as the size and location, barbecue types, and fuel options available. Barbecue accessories make grilling food a breeze and should be included on your shopping list. Once you know what you want and how to find it, take a few minutes to learn how to search eBay for the right barbecue and how to follow the eBay buying process, including how to evaluate items and sellers, find local sellers, and visit eBay shops.
The Size and Location of the Barbeque
If you have a large family or eat with friends, buy a barbecue that is large enough to accommodate the food that will be grilled on any given day. As a guideline, a cooking surface of 1,800 square centimetres holds enough food for four people; 2,000 to 2,500 square centimetres is large enough for food for six people; and surfaces of 2,500 square centimetres and more can accommodate food for up to eight people. Some barbeques feature racks along the side of the grilling surface to keep food warm.
Also consider where the barbecue will be kept. Small balconies and patios are not suited for larger barbecues, while roomy gardens can accommodate any size model. Remember to put a barbecue cover on your shopping list if the barbecue will be exposed to the elements. If you barbecue often, consider buying a high-end model.
Barbeque Types
Barbecues are available in various designs. Some of the most common design types, such as kettle and portable, are discussed below.
Kettle
Kettle barbecues have lids that make it easier to cook chicken and larger cuts of meat. These barbecues can double as smokers, and the lids can be used as wind shields if necessary. Kettle barbecues are usually portable.
Portable
Portable barbecues feature wheels or trolley bases that make them easy to move around. This is especially handy when trying to move a barbeque out of the wind or into a different section of the garden. It also means that the barbecue can be stored safely while it is not in use.
Built-In Barbecues
Built-in barbecues can be gas or charcoal fueled and are built into a wall or outside room. This is one of the better options for die-hard barbecue fans as the area can be transformed into an outdoor dining room.
Disposable
Disposable barbecues are usually fuelled with charcoal and are ideal for camping or picnics. This type of barbecue consists of a tray pre-filled with charcoal and covered with a grill. Simply light, use it, and dispose of it responsibly once it has cooled down.
Barbeque Grill Features
In addition to the type of barbecue, take note of the grill included. Stainless steel is corrosion-resistant and easy to clean, while cast iron holds and transfers heat well. Opt for porcelain enamel to prevent heat and rust, and for improved heat transfer.
Barbecue Accessories
Barbecue accessories include items like a cooking tool set, digital thermometer, and barbecue cleaning brush. Buying a new barbecue is a wonderful excuse for laying your hands on the barbecue gadgets you always wanted.
Barbecue Fuel Types
Barbecues are available in gas, charcoal, or electric models. Each has its own advantages and choosing a fuel option is mostly a matter of personal taste. If you have a balcony or shared garden space, find out if the use of any particular fuel type is prohibited.
Charcoal Barbecues
Charcoal barbecues are more traditional and give meat a distinct flame-grilled appearance. Charcoal is easy to light and heat is adjusted simply by moving the grill up or down. The charcoal should be lit at least 40 minutes before the food is grilled to allow it to heat up. Choose a barbecue with a removable ash catcher for easy ash removal: remember to wait until the ash has cooled down before disposing of it. These barbeques are generally less expensive than gas or electric barbecues.
Gas Barbecues
Gas barbecues provide instant heat at the push of a button. These barbecues are available with two, three, or four burners and some feature adjustable heat controls. Larger gas barbecues can be used for small amounts of food by turning on only two of the burners. Some models feature side burners and warming racks. A gas barbecue can be used to cook for large groups of people as cooking times are faster. Best of all, this type of barbeque is easy to clean and usually requires only a wipedown after use. There is no difference in the taste of meat grilled on a gas or charcoal barbecue.
Electric Barbecues
Electric barbecues are quick and easy to use, but require a nearby power source. This type of barbeque is an excellent option for balconies and small patios, or areas where charcoal and gas barbecues are prohibited.
How to Buy a Barbecue on eBay
Knowing what to search for is as important as knowing how to search. Before you start shopping, decide on the size and type of barbecue you want. eBay's search function allows you to search millions of listings to find items tagged with specific keywords in a matter of seconds. Type a phrase, such as "Weber barbecue", into the search field, which can be found on every page, to see the listings available.
To see only those listings that apply to your preferred item, select the most appropriate category from those listed. This may be the category with the most listings. Further narrow your search results by choosing the desired item characteristics, for example, the number of gas burners required. For more control over search options and results, use the advanced search feature.
Once you have found a barbecue that is right for you, click on the individual listing title to go to the item listing page. All the information that you need to evaluate the item and seller can be found on this page. This includes the item description and photos, bidding and buying options, the seller's accepted payment methods, and the seller's feedback information. Should you have any questions about a listing, click on the "Ask a question" link to contact the seller.
Evaluating Sellers
eBay's seller feedback feature makes it easy for you to get to know the seller before you buy. On the item listing page, click on the number next to the seller's username to view their feedback information. Basic feedback relates to a seller's products and customer service, while detailed seller ratings provide additional information about aspects such as the seller's communication, the accuracy of the item description in the listing, whether the postage and packaging costs were reasonable, and how long the seller took to dispatch the item. This section also lists previous products sold and comments from buyers.
Local Sellers
When buying something as bulky as a barbecue, consider buying from a local seller. Some sellers allow local collection, eliminating postage and packaging costs and allowing you to start using your barbecue as soon as you have collected it.
eBay Shops
If you find a seller with great products and excellent customer service, visit his or her eBay shop to see if you can find any more bargain deals from the same source. Many sellers list similar items, enabling buyers to find exactly what they want in the same place. Ask the seller about combined postage and packaging costs before buying.
Conclusion
A barbecue is a wonderful addition to any outdoor space. Before you buy, decide on the size of the barbecue and where it will be used. Choose from gas, charcoal, or electric models. Gas and charcoal remain the most popular options. Meat grilled over charcoal has a flame-grilled look and charcoal barbecues are generally cheaper than gas models. Gas barbecues heat up instantly and are easy to clean. There is little difference between the taste of meat grilled over gas and charcoal. Electric barbecues are easy to use and suit smaller spaces where there are restrictions on the fuel types allowed for barbecuing. An increasingly popular way to socialise with friends after a barbecue, is with Shisha Pens.
Buying on eBay is easy when you know how to find the item that you want. Start by using the search bar and narrow your selection by choosing the right category and item characteristics. Evaluate the item and the seller by checking the information contained on the item listing page. Seller feedback is designed to allow you to shop with confidence and can be used to get an idea of what other buyers have experienced when buying from particular eBay sellers. Opt for a local seller to minimise delivery costs, and remember to visit the eBay shops of sellers you like. eBay sellers offer a vast selection of barbecues at competitive prices.