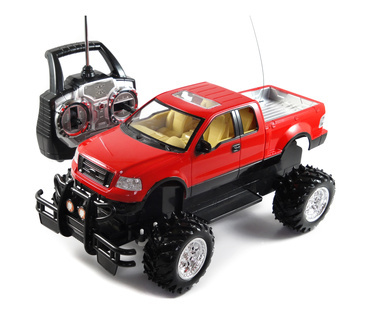 Once upon a time, petrol-powered radio control cars were very popular among the public – until it was realised that electric, or battery-operated radio controlled cars were so convenient and simple to use. Today, battery-operated radio controlled cars are popular both as a starter model for youngsters new to the world of remote control cars, and as an item of interest to the older enthusiast or collector.
Shopping on eBay is the easiest and most affordable way to buy a battery-operated radio-controlled car. Without leaving your home, you can browse all offers and decide where to invest the time and money. Whether it's a car, Formula One vehicle, truck or any other model, it's easy to browse eBay to see what is on offer and check out the price range to suit. Points you need to consider include:
New or Used?
If you are just beginning to use a battery-operated radio-controlled car, it is best to go for the affordable option in the first instance. One factor to consider is whether to invest in a new or used model. Some aspects to consider are listed below:
| New | Used |
| --- | --- |
| Reduced maintenance | Increased choice |
| Longer lifespan | More affordable |
| More expensive | Possible damage |
Browsing on eBay will put you in touch with all sorts of reputable buyers offering used cars at prices to suit all pockets. Your first car doesn't have to be the car of your dreams; any reliable model will give you, or your friends and family, a feel for driving without worrying about crashing and having to pay a huge amount of money on repairs.
Ready to Run or Kit?
You will get a lot of fun from your battery-operated radio-controlled car and experienced users will be confident enough to think about buying a kit to construct and customise on their own. However, for those starting out, it is usually a better idea to buy a 'ready to run' car and get the hang of controlling it before branching out to more expensive and detailed models.
Electric, nitro or petrol power?
If you are just starting out with radio-controlled cars, an electrically-powered model will suit you best. The fewer parts you have, the less there is to go wrong. Nitro or petrol-powered cars are noisier but faster, whereas battery-run models are lighter, have better acceleration and will not annoy the neighbours as much. Because engines in nitro and petrol-powered cars are more complicated, they have many more parts that can go wrong; they also need constant maintenance.
On-road or off-road?
Using a radio-controlled car on a flat tarmac surface will give it a longer life, although you will miss the thrills of an off-roader flipping and somersaulting over natural obstacles. If you are just beginning to use battery-operated radio-controlled cars or trucks, however, you will need to get a feel for controlling them, and an on-road vehicle running on a smooth tarmac or concrete surface will be the perfect place to learn.
Top Trusted Brands
Radio-controlled cars, boats and planes have been around for many years now and some brands are more trusted than others by long-term users. As a rule of thumb, companies that have been trading successfully for many years are doing the right thing and providing good service and products.
Car
You might want to choose a basic car when you are starting with radio-controlled vehicles; there will be less to distract you and fewer parts to go wrong. Trying out basic handling techniques with a simpler model will help you to decide what you would like to progress to. In addition, a basic, non-personalised car will have a stable re-sale value.
Truck
A truck looks great as soon as you take it out of the box. Even beginners will quickly learn to control and enjoy a radio-controlled truck, but it may not be the best type of vehicle to begin with. A truck will demand that you put it through its paces and take it to challenging places.
Monster Truck
Looking around eBay for monster trucks will give you access to a vast selection of trucks that will test your controlling skills to the maximum. Remember, however, that the larger the truck, the harder it will be to control, so although you may really want to own a monster truck, you will have to be prepared to put in a few hours to get the hang of driving over the difficult terrain that it loves.
Customising Your Vehicle
While most 'ready to run' cars on eBay are a delight once out of the box, most users will naturally want to personalise or customise their models in even the smallest way. See below for some popular ideas.
Customise your vehicle by:
putting your name on the number plate
changing the rims and tires
painting some or all of the bodywork
adding decals
giving it more power by 'modding' the engine
improving the handling by altering the gear ratio
Remember, however, that a vehicle's re-sale value may go down as the look of the car or truck may not be to everyone's taste.
Choosing Between Rechargeable and One-use Batteries
Rechargeable batteries will save you money in the long run and will also help the environment by not causing unnecessary wastage. Some models are sold with batteries and a battery pack, while for others you may need to buy rechargeable batteries and a charger as extras. It is quite a simple process to factor in all of the prices to see which deal is best. Remember that, over time, one-use batteries will cost you much more than rechargeables, so the initial outlay when buying a set of rechargeable batteries and a charger will save you a lot of money, as well as hassle, in the longer term.
Insurance
Just because battery-operated radio-controlled cars are only 1/10th of the size of a road vehicle, that doesn't mean they should be treated as a toy. Anything that moves at 40mph can be dangerous if not handled with correct care, and you should look at your existing insurance policies before taking a car outside, even in your own garden. Specialist insurance can be purchased at very affordable rates, and you will regret not having the correct cover if bad luck strikes you. Remember; better safe than sorry!
Tips for Buying a Battery-Operated Radio-Controlled Car on eBay
Hobbies such as driving battery-operated radio-controlled cars attract enthusiasts, just the sort of people who want to help and give advice to each other. Looking at what is available on eBay will put you in touch with other radio-controlled car or truck fans that will always be willing to offer impartial and practical advice, especially to those who are just starting out. Most will belong to a local club. However, although advice may be offered by someone on the other side of the world, such advice will usually apply to all, wherever they are.
Battery-Operated Radio-Controlled Cars can be found on eBay under Toys and Games> Radio-Controlled> Cars>iin the Toys and Games area, or type Radio-Controlled cars into the search area. Some tips on the safe way to trade on eBay can be found below:
Keeping your money safe. The vast majority of those who buy or sell on eBay are honest people who just want to offload unwanted items or buy items for future use. When using eBay, you should always check a seller's ratings and feedback. In addition, always pay by PayPal, a secure method of conducting financial transactions on the Internet. It means you will never have to give your bank details or financial information to anybody. If a seller or buyer on eBay asks you to provide this, simply forward their details to eBay.
Ask seller a question. In addition, don't be afraid to ask questions; you'll find the heading 'Ask seller a question' for just this purpose and a reputable and trustworthy trader will be happy to answer any queries as this helps to maintain a good positive rating.
Read the description. The listing's headline or main description may not tell you everything you need or want to know about the item being offered, so make sure you read the full description carefully, and ask someone else to read through as well.
Shipping price. Make sure you check the shipping or postage price and compare this with other similar items as some sellers may try to overcharge for shipping. While this may just be a pound or dollar on top, if charged on each purchase, a lot of extra money could be made by that seller over time.
Bid or Buy it now. Once you've found a model that interests you, you can either make a bid for it or look for the 'Buy it now' price and purchase it straight away.
Security & Resolution Center. When buying or selling an item on eBay, have a look at eBay's Security & Resolution Center. A range of issues, some of which may not have occurred to you, should be answered or resolved on these pages.