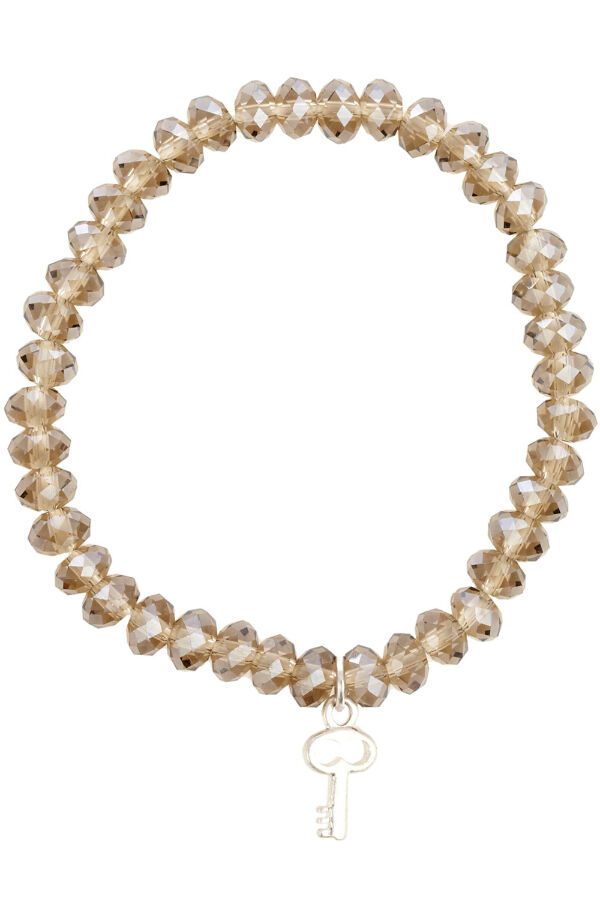 A beaded bracelet can include any type of bracelet with beads, whether of precious metal, collectible glass, or simple plastic. Beaded bracelets can be unique and tailored to the person, made of a variety of materials, and can be quite valuable in some cases. Beaded bracelets can be collectibles, children's bracelets, casual bracelets, and can be worn with a variety of styles and fashions.
Buyers looking for beaded bracelets should decide which type of beaded bracelet they want to purchase before buying. A very cheap bracelet is likely to contain plastic beads and other synthetics, while fine jewellery versions can be genuine silver, gold, platinum, or other precious metal with actual gemstones. Many high-end beads are also made of fine glass and Swarovski crystals, which can be quite beautiful as well. Buying a beaded bracelet involves selecting the types of stones, choosing the style of the bracelet, and determining budget, cost, and value of the bracelet.
Types of Beaded Bracelets
Beaded bracelets can come in multiple basic styles with many variations, but there are a few cornerstone examples that buyers can look out for as general options. These include string bracelets, which use a centre core to string beads of any type, and woven bracelets, which use a material to include beads as part of the design. A variation of beaded bracelets are the Italian charm bracelets, which are similar to string bracelets, but use a special type of bead and often a cable rather than a string, wire, or chain.
Link Beaded Bracelets
Link beads are sometimes not considered beads but are generally sold as 'beads' and use small objects connected together to form the jewellery. Link beads connect using a clasp or jump ring to form the actual bead bracelet without the use of a central core or strap, which makes them significantly different from other types of beads. These beads can have a chain between them, but commonly just have a single ring or loop to connect the one to the other. Links are great options for anyone who does not want moveable beads because the beads cannot be adjusted or moved in any way without taking the bracelet apart.
String Beaded Bracelets
String beaded bracelets use a centre wire, string, or strap to string beads in a single strand. These can include a variety of styles not only due to the versatility of the central core, but also due to the different styles of adding beads. Many people choose to use small beads on part of the bracelet and larger ones on the top. Variations include spacing beads out with smaller and larger options, filling only part of the bracelet with beads, stringing flat and round beads together, knotting the string or wire between the beads to keep them separated, and others. Some string beaded bracelets can also be wound multiple times around the wrist. A common example of a string beaded bracelet would be a pearl bracelet.
Woven Beaded Bracelets
Woven beaded bracelets can involve any number of threads of wire or string, but all include beads into the design of the bracelet. Common examples include a beaded hemp or braided leather bracelet, which can have beads on one or more strands of the weave. These bracelets are most commonly made by hand due to the complexity of construction, but are often sold pre-made to interested buyers who do not want to make the bracelet themselves.
Italian Charm Bracelets
The Italian charm bracelet is another very popular style and is one of the most valuable or collectible. Popular brands of beads, including Troll beads and Pandora beads, are made for Italian charm bracelets. Essentially, this bracelet uses charm-shaped beads to allow wearers to personalise their beaded bracelet with images and shapes including animals, musical instruments, people, furniture, and more. Italian charm bracelets are usually threaded on a stiff cable with a clasp, although some are available as chains.
Collectible Beads for Beaded Bracelets
Collectible beads are very popular, especially when it comes to Italian charm style beads. These are often priced relatively high and can be in a variety of materials including glass, crystal, silver, gold, and many more. Collectible beads are most often made by specific popular designers although some people do collect non-designer beads. There are a variety of places to purchase collectible beads including in many jewellery stores. Buyers can also look online in stores such as eBay to find both new and used pieces, as well as rare beads.
Materials Used to Make Beaded Bracelets
Beaded bracelets are made from a variety of materials, but mainly metals, glass, and rope, hemp, or leather. The band, strap, or bracelet is normally the most important part because if it breaks, the beads can be easily lost, and this can be very unpleasant especially if they are valuable. Buyers should consider what types of materials they like, and then choose a material based on their budget. Important considerations include that precious metal charms can be quite expensive when purchased in bulk.
The Band
The band or bracelet of a beaded charm bracelet can be made of a variety of materials. In cheap bracelets, these materials are most commonly base metals such as copper, steel, aluminium or nickel, imitation leather, or a weavable material such as hemp, twine, or another type of rope. Mid-range beaded bracelets can include any of the below materials as well as 925 sterling silver and genuine leather. Expensive and high-end bracelets can include leather, sterling silver, any colour of gold, or platinum.
The Beads
The beads are more versatile than the band in some respects as they can be made out of any material that can be shaped and drilled to form a bead. Beads can come in many shapes including geometrics, animals, furniture, plants, or pretty much anything else. Popular materials include plastic, pearls, wood, glass, crystal, synthetics, silver, gold, rocks, coral, ivory, gemstones, ceramic, pewter, and many more.
Sizing the Beaded Bracelet
Buyers should choose a size based on the measurement of the wrist and of the hand if the bracelet does not come with a clasp. Bracelets are generally sized in inches and centimetres and ranked according to the wrist circumference. Most beaded bracelets can be used for either male or female, so people with larger or smaller hands can simply switch between the male and female version.
| Bracelet Circumference (centimetres) | Age |
| --- | --- |
| 10.2 | 0 to 3 months |
| 11.4 | 3 to 9 months |
| 12.1 | 9 to 18 months |
| 12.8 | 18 to 24 months |
| 14.0 | 2 to 4 years |
| 14.6 | 5 to 6 years |
| 15.2 | 6 to 8 years (Can fit very small adult) |
| 16.5 | 8 to 13 years (Small adult) |
| 17.8 | 13 + (Average adult size) |
| 19.1 | Medium Adult (Small men) |
| 20.3 | Large Adult (Most men) |
| 21.6 | Extra Large Adult |
| 22.9 | Extra Extra Large Adult |
One major consideration is that different people have different wrist sizes. What fits one woman might not fit another due to hand size, the diameter of the wrist, and factors such as whether or not the bracelet has a clasp. Bracelets without a clasp should be much larger than those with the clasp because they must fit over the widest part of the hand. Most men have hands that are considerably larger than women's hands. Also, many sellers do not make bracelets to one specific size. Most women's bracelets average between 15.2 and 17.7 centimetres in circumference, while most men's bracelets average between 17.7 and 22.8 centimetres in circumference.
Buying a Beaded Bracelet on eBay
Whether you know exactly which type of beaded bracelet you are looking for, or just want to browse until you find something that catches your eye, you can do so you eBay. The site contains thousands of styles from different makers and different parts of the world including top quality name brands, designer beads, and cheap plastic bracelets that can be worn for fashion. You can choose whatever you like based on your fashion style and your budget.
Search from the home page of eBay and look up specific or basic search terms to get the results you are looking for. For example, 'pewter beaded bracelet', or 'Pandora beads' would both be excellent options. You can also choose between new and used items, choose to purchase rare beads from anywhere in the world, or purchase a fully made charm bead bracelet that someone has put together. With options from around the world, buyers are likely to find whatever it is they want on eBay.
Conclusion
A beaded bracelet can include one of multiple styles of bracelets including materials such as synthetics, leather, silver, steel, gold, hemp, twine, and more. The beads can also greatly vary, including everything from gemstones to plastic and everything in between. Beads can be collectible and valuable, or very affordable, and beaded bracelets can be purchased with or without the beads already on the bracelet.
Most people should create a budget before shopping for a beaded bracelet. Prices range from the very affordable to the very expensive, so there are many options to choose from. Sizes also vary from very small to very large, and as many beaded bracelets are unisex, it is important to match the size of the bracelet to the circumference of the wrist when making a purchase. Beaded bracelets can be purchased in thousands of shops including on and offline jewellery stores and eBay. The main things to keep in mind when buying a beaded bracelet include the type of beads, the style of the band or bracelet, the material, the value, and the budget of the buyer.