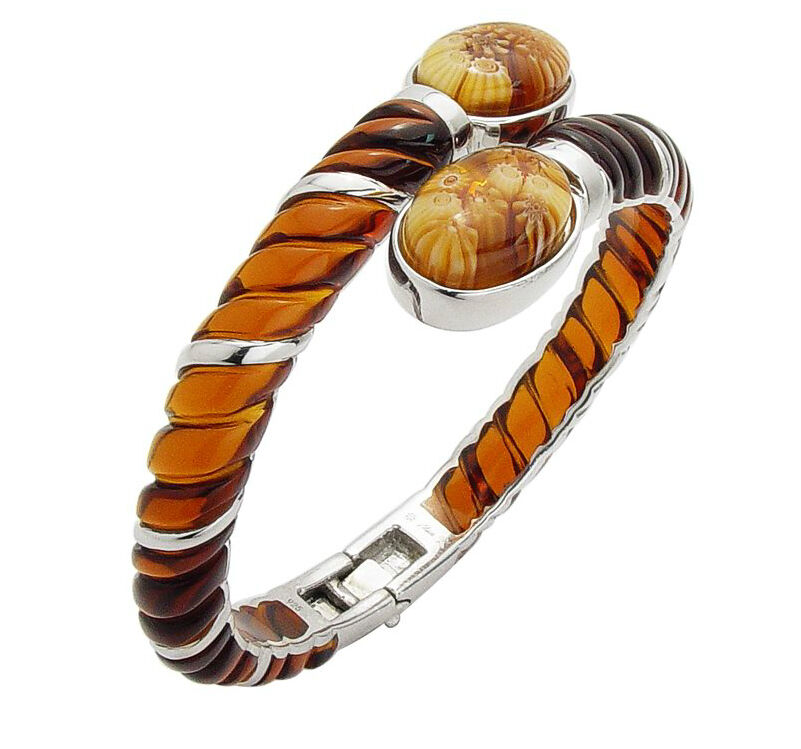 When you are purchasing a bracelet to give someone else as a gift, it can be tricky. If you are already familiar with her personal style, that definitely helps. If you have similar styles, then simply choose a bracelet which is appealing to you, and perhaps it is appealing to her as well. Pay attention to the tyles of bracelets she typically wears, so you are able to see if she prefers bangle bracelets or chain bracelets, or if she likes a lot of beaded jewellery.
Budget is also a consideration. If you are buying a bracelet which is made of fine materials, such as gold, sterling silver, or gemstones, it is likely to cost more than a simple beaded bracelet or cuff bracelet. Any type of bracelet makes a wonderful gift for someone, whether she likes fancy, elaborate pieces or simple, understated bracelets. Consider the various types of bracelets which are available before you make a final bracelet purchase on eBay.
Types of Bracelets
When it comes to bracelets, there are a variety of styles to suit just about everyone's individual tastes. They range from simple and beaded to gem encrusted and elaborate. Charm bracelets are a lot of fun because the gift recipients are able to customise the bracelets by adding charms. Bracelets come in many colours and types.
Beaded Bracelets
Beaded bracelets come in a couple of different styles. There are beaded bracelets which are made with beads that look like pearls, coloured beads or crystals, alphabet beads, or glass beads. Beaded bracelets have several different types of beads and they are either made of stretchy elastic which fits over wrists, or they have clasps.
Some beaded bracelets have embellishments to make them more unique, such as dangling charms, other beads, or other decorations. Beaded bracelets sometimes have charms in between the beads or decorative stones, jewels, or other types of beads. They are oftentimes made of metal, cording, gold, or other materials such as stainless steel. Beaded bracelets range in price according to what types of beads or stones they are made with, as well as what materials are used such as sterling silver.
Bangle or Cuff Bracelets
Bangle bracelets easily slide onto wrists. They are bracelets which generally do not have any type of clasps because they just slide on. Bangle bracelets are very thin or very thick. Bangle bracelets which do have openings are sometimes called cuff bracelets. Cuff bracelets are thick types of bangle bracelets that have small openings to aid the wearers in putting the bracelets on.
Bangle bracelets range from thin silver, gold, or colourful bands to thicker, decorated bangle bracelets. They have writing, flowers, patterns, or other designs on them. Some bangle bracelets are studded with stones or crystals, and some have dangling charms. There are bangle bracelets made from a multitude of materials; even leather. Bangle bracelets sometimes offer charms on the top of the bracelets, such as large bows or animals. For younger girls or teen girls, plastic bangle bracelets or bracelets which spell out words are fun.
Charm Bracelets
A charm bracelet make a great gift for a woman of any age. Since there is such a wide range of bracelets and of charms, it is a fun way to customise a bracelet for someone you know well. She can also add charms to the bracelet herself to create a unique, one-of-a-kind piece of jewellery which adds sparkle to any outfit. The starter bracelet comes in many types of metals, including sterling silver, stainless steel, alloy, and gold. Some bracelets already come with charms, and charms are also purchased separately.
Charms are attached to a bracelet with links, or they are slid onto a thin bracelet. Some charms look like beads with holes in the centre to create a charm bracelet, while others have lobster clasps that attach the charms to the bracelet. Charm bracelets are also made of leather, suede, or plastic, and charms slip on or clip on. Charm bracelets make great gifts for mothers and grandmothers, and can be personalised with children's birthstones or spell out their names.
Shamballa Bracelets
A current trend for young people right now is called Shamballa bracelets. These are bracelets composed of balls which are studded with sparkly stones. These vibrant, colourful bracelets come in an array of colours. Some Shamballa bracelets are solid coloured, and some come with several different coloured beaded balls. They are also called disco beads or disco bracelets.
The beads come in various sizes and are set in macramé or waxed cord. These also make lovely friendship bracelets. The beads are made of crystal and magnetite and are formed from clay. Some are adorned with other items such as larger stones, dangling beads, or charms. These are fun to wear, and several Shamballa bracelets are worn together of various colours for a visually interesting look.
Chain Bracelets
Chain bracelets look very similar to chain necklaces. They are often made of silver or gold chains and may or may not have added embellishments like stones, charms, or beads. Chain bracelets are simple and delicate or heavy and thick. Some chain bracelets, also called hand harnesses, attach to the hand with a ring which is attached to the bracelet and slides over the hand to the fingers. Chain bracelets have simple embellishments in the centre, such as hearts, bows, or flowers, or they are studded with crystals along the chains. Chains are sometimes shaped like hearts for a cute look, or chain bracelets may have skulls linked together for a more gothic look.
Chain bracelets either have toggle clasps or lobster clasps, though some slide on, or they are tied on if they are made of cording. Some chain bracelets are also worn as ankle bracelets. If chain bracelets have links which are large enough, they can possibly be used as charm bracelets. Identification bracelets, or ID bracelets, are popular types of chain bracelets.
Selecting the Perfect Bracelet as a Gift
With all of the options available, selecting a bracelet as a gift can be overwhelming. However, there are some factors that you can consider which may make the buying process a little easier and a lot more fun. Making some choices about your gift before your search begins make the purchasing process go a little faster and makes it a little less stressful. You end up with the perfect gift at a great price.
Occasion
Are you buying the bracelet for your friend or family member to wear to a certain occasion? If you are purchasing a special gift which she can wear to a wedding, a party, or on a holiday, that may colour your buying preference. If it is a piece for her to wear every day, then you do not need to consider special aspects.
If you know she needs a bracelet to go with her black cocktail dress, then search for a style which looks great with that dress, such as a black beaded bracelet or silver chain bracelet. An everyday piece of jewellery is any type of bracelet. Also, if the bracelet is to commemorate a special occasion such as a graduation, you may want to buy a nicer, finer piece of jewellery.
Price
Set a budget before shopping for a bracelet. Since bracelets vary quite a bit in price, and it is helpful to know how much you want to spend on your gift before you start shopping. You may end up being able to purchase other items along with the bracelet, such as matching earrings, if the budget allows.
Costume jewellery is going to cost a lot less than fine bracelets or vintage bracelets, so that may be a factor in your decision, too. If you do not want to spend a large sum of money, adjust your budget according to what type of bracelet you want to purchase, and save on shipping costs by trading with a local buyer who may allow you to pick up your purchase in person instead of having it shipped.
Fine Bracelets
Most bracelets for fun are costume jewellery. They may have some components of being real, such as silver plating, but they may not be made of real diamonds or real gold. If your purchase is just for fun, everyday wear, there are a lot more costume bracelets to select from than there are fine bracelets. However, if it is a special gift for a special occasion, then you may want a bracelet which is made of 14 carat gold or real diamonds to celebrate the occasion.
A bracelet which is a piece of fine jewellery oftentimes costs a bit more, but it may hold up for many years and be considered an investment piece. Prices vary according to the metal and gems that are used to make the bracelet, or if it is a bracelet made of real pearls, or a diamond bracelet is made with quality diamonds.
Style
Of course, the style of the bracelet is the biggest consideration when you are shopping for a gift. If you often see her wearing bangle bracelets, then you know she most likely enjoys a bangle or cuff bracelet. If she likes to layer lots of beaded bracelets, then select a new one to go with her collection. If you know what colours she favours or what metals she likes, that helps with your purchase too.
Select a bracelet that you know she enjoys by picking one that complements her personal style and taste, and with colours she favours. There are many different styles when it comes to buying bracelets, and it should be easy to find one that makes a perfect gift for a friend or family member, no matter what her age or style is.
How to Buy a Bracelet as a Gift on eBay
Buying bracelets on eBay is simply because there are so many options to choose from. Search bracelets to cast a wide search, but the search can be narrowed easily by bracelet type or by searching specific keywords such as cuff bracelets or charm bracelets. Buy bracelets which are costume jewellery or made with fine metals and stones, or purchase armloads of shiny bangles or fun plastic or Shamballa bracelets for younger people.
Charm bracelets are a great gift because recipients can continue adding charms and make the bracelets their own. Purchase bracelets from merchants who are Top-rated sellers on eBay, and who have a lot of great buyer feedback from satisfied customers. Ask the sellers if they can bundle any other like items with your purchases for reduced shipping fees, such as matching earrings, necklaces, jewellery bags, or similar items. A personal pick up from local sellers saves time and money and is a fun way to enjoy a unique, one-on-one buying experience.
Conclusion
A bracelet makes a perfect gift no matter what style the recipient prefers. There is a bracelet available for every girl or woman's taste whether she likes funky, oversized bangle bracelets or smaller, streamlined chain bracelets. Mix and match several types or colours of beaded bracelets to achieve a unique look, or buy a charm bracelet with a few charms which the recipient can add to later to create a personalised look. Bracelets are a great accessory to have on hand, because they add something to even the simplest of outfits, and when you do not feel like wearing a necklace, earrings, or lots of other items, you can slip on a bracelet or several bracelets and feel a little more stylish.
Bracelets vary from fun and trendy, such as Shamballa friendship bracelets or classic and timeless, such as pearl bracelets. Simple silver chain bracelets or even solid gold or enamel bangle bracelets are perfect too. Bracelets can be edgy too, such as skull bracelets and spike bracelets, which add trendy twists to simple outfits and become real statement pieces. Have fun shopping for a fabulous bracelet to give as a gift; you may like it so much, you end up ordering one for yourself as well.