Customisable and fun, Build-A-Bear teddy bears offer kids the chance to choose their favourite bear, dress it as they desire, and accessorise it for hours of playtime. Build-A-Bears are plush, soft, and sturdy, and the perfect gifts for girls and boys. Pick the perfect bear for the little one in your life when you investigate the wide variety of bears and their clothes before purchasing a furry friend.
Bears Options
The traditional teddy is still a beloved toy for kids, and the basic Cub comes in three shades, including Sandy, Salted Caramel, and Almond. The 38 cm bear is soft and huggable, with button eyes and embroidered facial features. One of the most beloved teddies is the store's mascot, Bearemy, with his expressive eyebrows and dark brown fur. Choose a long-haired Curly teddy, which stands at 40 cm. There is even a special-edition One Direction Build-A-Bear, and a Superhero line of bears, with bears representing Spider-Man and Superman. If your child loves colour, then opt for a Rainbow Glitter bear or a bright orange Pizazzy bear. The soft Velvet Hugs teddy has smooth, huggable fur, and the adorable Harajuku Hugs panda is irresistible. Purchase a bear that shows emotions when you buy the Furever Hearts bear or the Big Hearts bear, or gift a special little girl with the feminine Pawrincess bear.
Build-A-Bear Clothes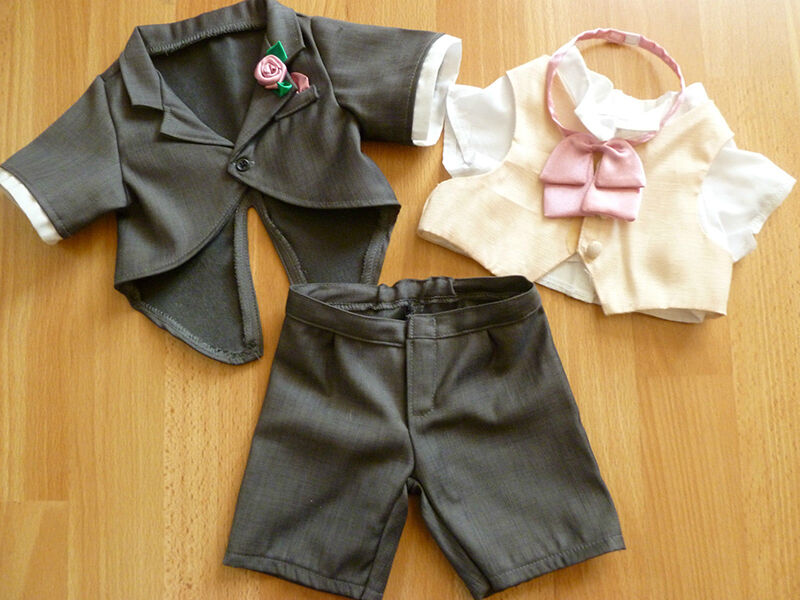 Dress your bear to reflect your child's interests or personality, or the occasion of the bear. Build-A-Bear clothing comes in sets or separates. Separates include underwear (called Underbear') shorts, skirts, pants, and tops. Sets include pyjamas and slippers, costumes, or complete outfits that match. Build-A-Bear offers dressy looks, sportswear, swimsuits, and outerwear for your furry friends, as well as holiday pieces, Hello Kitty clothes, and special occasion garments like graduation caps and gowns, wedding dresses and suits. Find a career look such as a firefighter outfit or palace guard costume. There are bear garments for boy and girl bears, and baby bear clothes too.
Bear Necessities
The most fun part of buying a Build-A-Bear teddy is the tiny accessories. These include everything from sparkly shoes, boots, sneakers, and sandals, to sunglasses and bear-sized handbags. Purchase cute headbands and hair accessories for your bear, or put it to bed each night in a special bear sleeping bag or bed. Your bear may need camping gear, a Liverpool FC football, a skateboard, or roller skates, and kids love adorning their bears with pretend makeup or drying their fur with a plastic bear hair dryer. Your child can customise a bear with crutches or a wheelchair, or add a hearing aid to the bear to represent it even more.