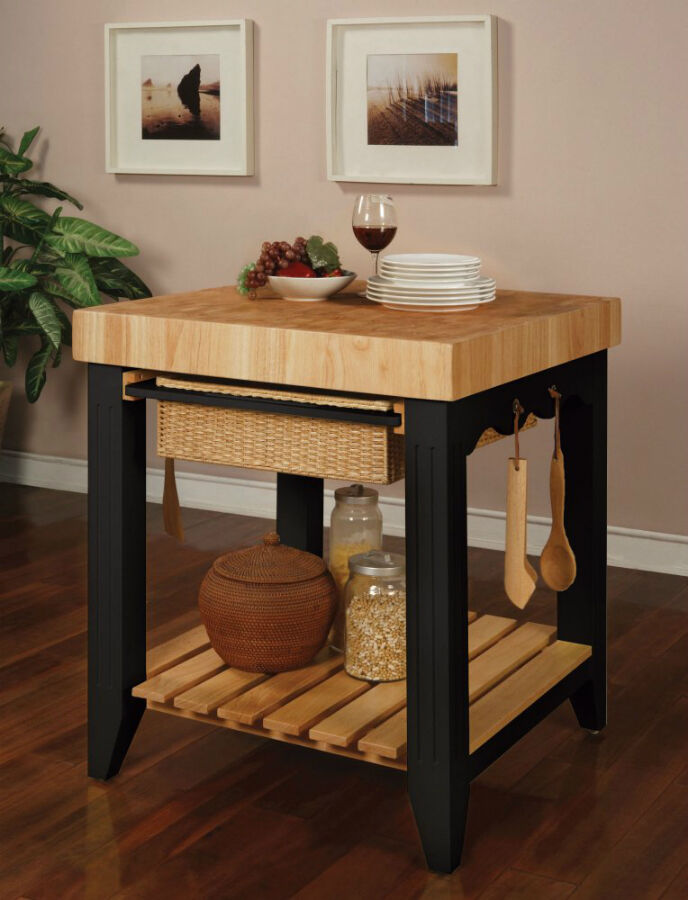 A butchers block is a heavy duty chopping board that is usually made of a thick block of wood. The butchers block owes its name to the fact that it was used only at meat markets and butcher shops. Today, butchers blocks can be found in ordinary kitchens, and can even be mounted on shelves with wheels. The concept of a butchers block is also applied to butchers block tables, which have a thick slab of wood as the counter top.
A good butchers block should be able to resist bacteria and last for a long time. It should be made of sturdy wood that does not easily crack or chip. There are different types of butchers blocks, each with their own advantages and limitations. Making a wise purchase depends on the price of the butchers block, its size, and the kitchen in which it will be stored and used. Butchers blocks are sold in shops that specialise in kitchenware and on eBay.
Why a Butchers Block?
As a counter surface, a butchers block allows for a wider surface area on which to prepare food. That is, foods can be chopped and sliced directly on the counter, without having to use a separate chopping board. As long as a butchers block is properly maintained and cleaned, it can be used for a very long time.
As a countertop, a butchers block can be refinished or sanded down if it is damaged, or oiled if it is stained. The wood of a butchers block can also lend a rustic air to a kitchen, and it can go well with many other appliances and style of furniture. Well-designed butchers blocks, moreover, can keep knives sharp even after repeated use.
As part of a kitchen trolley or shelf with wheels, a butchers block can be moved from one part of the kitchen to the other. This allows food to be prepared and moved safely, preventing spillage. A butchers block is a versatile kitchen tool, no matter where it is mounted.
Different Types of Butchers Block
A butchers block is known for its stability and durability. It is built to withstand blows from heavy cutlery like meat cleavers. In the past, a butchers block was a slab of wood that butchers used to chop raw meat. Today, a butchers block is assembled from wooden strips. These strips are made of straight and strong grained wood. They are glued together to create a strong butchers block which should last a lifetime, if not longer. If the wood is well maintained, it can resist bacteria, making wood the material of choice for butchers blocks.
A butchers block can be classified according to the strips of wood used in its construction. There are two types of butchers blocks: end-grain and edge-grain butchers blocks.
End-Grain
The end-grain butchers block is made by cutting up strong strips of wood, and then assembling them along their length. This allows the cut ends to face upwards, which creates a heavy block that is also quite thick. The wood is, in a sense, assembled into columns, allowing each column to absorb the weight of a blow of a kitchen knife or cleaver. Therefore, an end-grain butchers block can absorb energy better. This helps the knives used on a end-grain butchers block stay sharper for longer.
Edge-Grain
The edge-grain butchers block, on the other hand, is created by joining pieces of wood lengthwise, so that the cut ends face the sides of the butchers block. Such a block is thinner and often less expensive. It does not have the durability of an end-grain butchers block. This makes it more suitable for occasional use only. Therefore edge-grain butchers blocks are used predominantly in home kitchens, while end-grain butchers blocks are used for commercial establishments such as restaurants, caterers, or butchers.
Suitable Woods for Butchers Blocks
A butchers block can be made from a variety of woods. Selecting which woods are most suitable for a butchers block can depend on a variety of factors, like the colour of the wood, the density of the wood, and the type of wood.
Wood Colour
Butchers blocks can be made of a pale or white wood, such as beech, or a darker wood, such as mahogany. There are also many shades of different woods in between. Although this is primarily an aesthetic concern, the colour of the wood needs to complement the appearance of a domestic kitchen.
Wood Hardness
Harder woods can easily dull kitchen knives, but a softwood can also wear out easily due to repeated impact of the knife. A popular option is the nut wood butchers block. The wood is only moderately soft but can still bear the repeated impacts of the kitchen knife. Nut woods such as walnut are popular as material for butchers blocks, although extremely hard nut woods such as pecan can wear out knives quickly.
Wood Type
A common wood for butchers block is maple, specifically hard rock maple. Hard rock maple is dark and can resist scratches. It is also relatively dense. A dense wood keeps moisture from getting into the cracks in the wood, this in turn, discourages the growth of bacteria. Appalachian red oak is also fairly common, and is sometimes alternated with maple in a single butchers block countertop. This wood is also of a lighter colour. This makes it a viable option for a buyer who want to have a brighter or lighter-coloured kitchen.
Other popular woods for butchers block countertops include ash, walnut, cherry, and teak. Cherry, in particular, has become a popular choice, as the wood ages well. Also popular are environmentally-friendly woods such as lyptus and bamboo.
What Else to Consider When Choosing a Butchers Block
When choosing a butchers block, a shopper needs to consider the kitchen the butchers block is to be used in. A dark-coloured butchers block works well in a large kitchen with a lot of open space. However, smaller kitchens might appear even smaller with the same butchers block. Lighter wood such as beech might be better. Such a light-coloured wood allows the kitchen to appear larger and more spacious.
A kitchen with little counter space might also benefit from a trolley with a butchers block countertop. This allows for easy food preparation and delivery to the stove or oven. A kitchen that has a large open space can also benefit from a butchers block trolley, as using a butchers block trolley minimises spills and messes on the floor.
It is advisable to visit a brick and mortar store first, to look at the different butchers blocks available. A shopper should also ask the salesperson questions about the different woods available, the different grain types, and what brands produce the most durable butchers blocks. Once a shoppers has an idea of what type of butchers block they want, they can start shopping for a butchers block online.
How to Find a Butchers Block on eBay
You can visit the main eBay site to search for butchers blocks. Type the search query "butchers block" in the search bar. You can also specify the wood by using search terms such as "butchers block beech" or "butchers block bamboo". The more specific your search query, the fewer the results. If you would rather browse all the listings, stick to using a generic search query. You can always sort the listings by selecting and deselecting various search filters. You can sort the results by type, material, and condition (new or used).
Make sure to ask the seller about the wood, and whether it is an end-grain or edge-grain block. Also ask the seller for more pictures so that you can inspect the butchers block to ensure that it is not damaged or has cracks. To contact the seller, go to their profile page by clicking on their username. Once on their profile page, click on the contact link.
Conclusion
A butchers block is both a practical and attractive addition to a modern kitchen. It increases the surface area available for chopping and is durable enough to take heavy blows from a meat cleaver. Butchers blocks come in various wood types, such as maple, ash, teak, or even bamboo. It can be mounted on a kitchen counter, on a shelf with wheels, or it can stand on its own. When shopping for a butchers block, a shopper has a choice between an end-grain and an edge-grain block. An end-grain block is more appropriate for commercial kitchens and is more expensive than the edge-grain block, which is more suited to occasional use in a domestic kitchen.
You can shop for a butchers block on eBay, where you can find butchers blocks of varying colours and in different types of wood. With a good sense of the style of your kitchen, as well as knowledge of the different kinds of wood used to make butchers blocks, you can make an informed purchase and add a stylish, and functional butchers block to your kitchen.