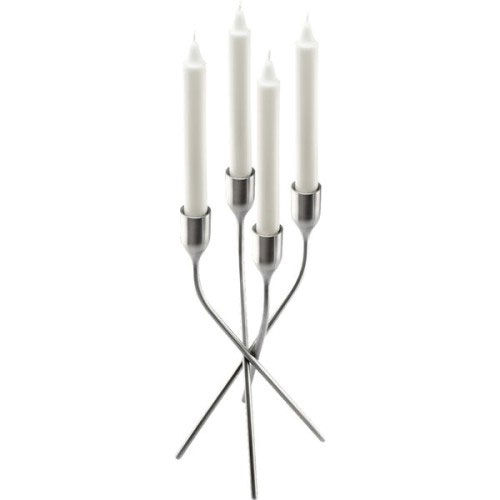 A single candlestick, a matching pair of candlesticks, or an elegant candelabra can bring a touch of class to any space. Candlesticks made for tapered candles are the easiest to find, but sticks and holders are also available for pillar candles and tea lights. Several classic materials are used to make candlesticks in a wide variety of styles. Candlesticks can be purchased from stores and manufacturers, but browsing through used and new candlesticks, by material or style, on eBay offers many choices for the discerning buyer
Typical Materials Used to Make Candlesticks
Metals have long been used in candlestick making. Metal has the advantage of being unbreakable, although it can be dented, and for this reason many antique candlesticks are available in metal. Silver, brass, bronze, copper, pewter, and iron are all used either alone or with other materials. Glass and crystal candlesticks have an enduring popularity but need careful handling as do porcelain and ceramic candlesticks. Less common, but with their own attractions, are wood and marble candlesticks.
Metal Candlesticks
Durable and attractive, metal candlesticks are available for any sized candle. Brass and bronze are often confused. As a quick guide, brass has a yellowish–gold tinge while bronze looks more brown or orange. Silver candlesticks may be solid silver or plated.
| | |
| --- | --- |
| Solid silver candlesticks | Available used or new. Solid, or sterling, silver will usually carry a hallmark. Can be found singly or in pairs. Occasionally a set can be found with candelabra and two sticks. |
| Silver plated candlesticks | These candlesticks usually have a shinier look than solid silver. They may be hallmarked or not. New, used, and antique can be found. Many interesting styles to be found. |
| Brass candlesticks | Readily available in a variety of styles and sizes. Sometimes other materials such as a marble base or wood inserts may be included. Brass candlesticks have been made all over the world, some with a simple look and others (such as those from India) with detailed etchings. Brass looks attractive either polished or left with the natural green patina that develops on the unpolished metal. |
| Bronze candlesticks | These can be a little harder to find than brass, and many are second hand or antique. Like brass, bronze will develop a patina but is less susceptible to corrosion. |
| Copper candlesticks | The warm glow of copper is enhanced by candlelight and can add a pleasing accent to many decors. |
| Pewter | A mixture of copper and tin gives pewter its soft colouring. Pewter is said to go particularly well with oak, and is an easy metal to care for. Not as readily available as it once was as many people prefer the shine of silver. |
| Iron | Wrought iron candlesticks can be particularly interesting. Detailed cut-outs or twisting shapes are common with these candlesticks. |
Glass and Crystal Candlesticks
Few materials compare to the beauty of glass, particularly crystal. Plain, cut, and coloured glass candlesticks look attractive on their own and are further enhanced by a lit candle. As a general rule, the higher the lead content in crystal, the better it reflects light. However, the beauty of a design can have an even greater impact.
| | |
| --- | --- |
| Plain glass candlesticks | Generally inexpensive these candlesticks come in a variety of shapes and sizes. Suitable for weddings and other festive occasions or for those on a limited budget. |
| Coloured glass candlesticks | Available in a variety of colours and shapes both fine and chunky. Coloured glass goes well with plain white candles or with candles of a coordinating colour. |
| Glass with metal trim | Clear or coloured glass may be used. Trim is usually in gold. |
| Cut glass candlesticks | Generally cheaper than crystal. Cut glass alone or lit can liven up a room with interesting patterns and reflections. |
| Crystal Candlesticks | From contemporary designs to antiques, crystal candlesticks have a distinct beauty of their own. Austrian and Slovakian crystal both have a solid reputation for beauty and quality. |
| Waterford Crystal | Quality crystal designed in Ireland. Look for the seahorse trademark for authenticity. |
| Nachtmann Crystal | Famous brand name crystal from Bavaria. |
Ceramic Candlesticks
Cute, elegant, retro, antique, and anything in between can be found. Either new or used a ceramic candlestick or pair of candlesticks to suit any room are available on eBay.
| | |
| --- | --- |
| Plain white or cream ceramic candlesticks | Usually in elegant designs. Emphasis may be on the shape or possibly embossed patterns. |
| Painted candlesticks | Usually fine porcelain with hand painted designs. |
| Bird and animal candlesticks | These are often found on eBay with cute or intricate designs from antique to modern. |
Wooden Candlesticks
Not as common as metal, ceramic or glass candlesticks but an interesting range can be found using many kinds of wood. Sometimes wood is used in conjunction with metal to add interest. Wooden candlesticks can be simple and chunky or intricately carved and decorated.
| | |
| --- | --- |
| Hand turned candlesticks | Usually entail elegant shaping and may be more expensive than factory made. |
| White wood finish | Emphasis is on styling, usually with a French influence. |
| Large floor standing wooden candlesticks | Suitable for large pillar candles. May be used as a focal point in a room. |
| English styled candlesticks | Often made from mahogany or oak with an emphasis on bringing out the beauty of the wood. Frequently period based - e.g. Victorian or Edwardian. |
| African | These candlesticks sometimes depict African animals or people. Often hand carved in black wood (sometimes genuine ebony). |
| Specific woods | Candlesticks made from oak, maple, pine, teak and other woods can be searched for individually on eBay. |
| Unusual woods | Sometimes unusual woods such as olivewood, mango, or even hand shaped driftwood can be found. |
Marble Candlesticks
Marble is often used as a base or accent on metal candlesticks, but some candlesticks are made completely from marble. Marble is at home in most settings but is particularly suited to modern or minimalist decors.
| | |
| --- | --- |
| Marble with bronze or brass | Marble may be the base or used as the centre. Marbles of all colours compliment bronze. |
| Solid marble candlesticks | Available in a variety of styles. Colours may be white, pink, green, black, or grey. |
| Faux marble candlesticks | Usually produced to replicate white marble. |
Styles of Candlesticks
This can be something of a grey area as there is often an overlap of styles or periods. As an example, the terms vintage and retro are often used interchangeably. Buyers need to use their own knowledge and discretion when searching for candles by style. It should also be noted that some new candlesticks will be advertised as vintage, retro, or even antique. This simply means that the candlestick is made in a style typical of that period.
| | |
| --- | --- |
| Antique | As a general rule a candlestick should be over 100 years old to be considered antique. The majority of antique candlesticks available are metal, though sometimes glass, wood, or marble antiques can also be found. |
| Vintage | More of a vague term than antique. These candlesticks are usually reminiscent of times less than a century old but at least more than 20 years old. Vintage and retro are often used as terms together as they intersect. |
| Retro | Reminiscent of a bygone style. Chunky, funky, or oddly shaped candlesticks are often found in this category. |
| Art deco | An interesting range is always available. These candlesticks often make fascinating focal points in a room. |
| Contemporary | Available in all kinds of materials and designs. |
Finding Candlesticks on eBay
Searching the candles and candlesticks category is a good starting point for those just wishing to browse. Searches can be narrowed down according to materials and styles desired. When searching for candelabras a separate search can be helpful as some will not show up in the broader candlestick searches. Some items may be shipped for free while overseas shipping can be expensive. Potential buyers should check everything stated in the auction and, if necessary, ask questions. Few places have such an array of unique or unusual candlesticks as eBay.
Conclusion
Strategically placed candlesticks make an impact in any room. Depending on the type selected they are suitable for the lounge, bedroom, dining room, bathroom, and even the kitchen. While most candlesticks look beautiful or interesting on their own, they are at their best when teamed up with the appropriate candle, or candles. Candles and candlesticks can easily be found on eBay to suit every taste and budget.