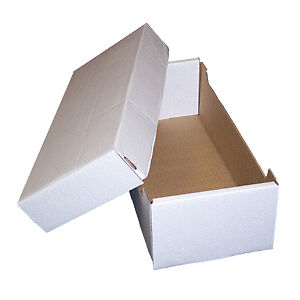 Cardboard is a most versatile material for making storage boxes. It can be a thin, single-walled construction but with reinforced sides, lids, and bases that can be folded in for reinforcement, they deliver a deceptively robust container. A box needs to suit the contents.
Storage Box Size
Some specific boxes match standard sizes of stationery so that reams of paper can be stored neatly. Archive boxes have sensible printing on the front to allow labelling and thus chronological storage of stackable, same-size, lidded containers. The dimensions below for cardboard boxes suitable for A4 contents show how the appearance might differ. Length, width, and height, even when they share the same measurements will give a different configuration. In the table below, the length and width of the boxes 12 x 9 (approx.) remains unchanged and only the height, how high is needed to stack A4 sized paper products, differs. However paper, based on the international standard: ISO 216, may itself be wrapped, which might require more space inside a box. See below:
Example of Cardboard Box Dimensions Suitable for A4/A3 Size Contents and A3
| L x W x H (mm) A4 | L x W x H (ins) A4 | L x W x H (mm) A3 | L x W x H (ins) A3 |
| --- | --- | --- | --- |
| 310 x 220 x 150 | 2 x 8.7 x 5.9 | 430 x 300 x 150 | 9 x 11.8 x 5.9 |
| 310 x 220 x 300 | 2 x 8.7 x 11.8 | 430 x 310 x 250 | 9 x 12.2 x 9.8 |
| | | 430 x 310 x 350 | 9 x 12.2 x 13.8 |
| 305 x 229 x 102 | 12 x 9 x 4 | | |
| 305 x 229 x 127 | 12 x 9 x 5 | | |
| 305 x 229 x 152 | 12 x 9 x 6 | | |
| 305 x 229 x 178 | 12 x 9 x 7 | 432 x 305 x 178 | 17 x 12 x 7 |
| 305 x 229 x 229 | 12 x 9 x 9 | | |
| 305 x 229 x 279 | 12 x 9 x 11 | | |
| 305 x 229 x 305 | 12 x 9 x 12 | 432 x 305 x 305 | 17 x 12 x 12 |
| 305 x 229 x 317 | 12 x 9 x 12.5 | | |
| 350 x 220 x 200 | 8 x 8.7 x 7.9 (A4+) | 430 x 350 x 200 | 9 x 13.8 x 7.9 (A3+) |
Storage Box Shape
Usually cuboids, except for novelty or specialist packaging, boxes could be perfect cubes, long, wide or tall, flat or chunky. They might be cylindrical tubes for plans, or small items packed within. Boxes come in hundreds of different sizes to accommodate various items from a shirt to a fridge freezer and many more between. Novelty boxes, ideal for gifts and storing trinkets, are often cardboard and decorated with glossy printed paper. Some simpler shapes can be folded from flat pack templates to create hexangonal, pyramid, or star shaped boxes, though most are already constructed. Origami skills and an ability to follow instructions is essential if the box needs to be self-built, though practice makes perfect. This is true even for standard cuboids, which may have flaps that require folding back to reinforce lids and bases.
Storage Box Structure
Typically made from pressed Kraft paper, a product with a high percentage of recycled material, corrugations between liners give the box stability and rigidity. The sturdier the box, the more liners it will contain. The corrugated part prevents collapse, making cardboard strong enough to carry heavy items without buckling.
Flat Pack
A basic flat pack cardboard box will have a base, four sides and a top. Some of the side panels may have flaps that slot or fold toward the inside of the construction. Increasingly, to keep boxes environmentally-friendly, most manufacturers are producing glue and staple-free boxes that retain their strength simply through judicial folds that provide reinforcement. This means they can be flat packed for collection and recycled without the contamination of glue or metal, making the process easier and more cost-effective. Some of the folding designs are quite intricate and assembling them requires following instructions step by step.
The Lid
What differentiates boxes most is the lid. Some lids are simply an extension of the sides and folded over to meet at the centre on the top, providing two layers of cardboard and extra ridigity. This type of flap top is the sort most popular with manufacturers, the type most often seen in the post, with tape sealing the centre joins. It bends and overlaps the top flaps to secure the box shut after use and provide a closed 'lid'. Others double upon themsleves and create an internal divider separating the contents. Another style, used for garment boxes and shoe boxes is a large flap that extends the top surface and has a small flap to secure either inside the box or side slots for the wings to slip into. This type of lid offers a closed box that can be open and shut. A clamshell box features an integral reinforced lid hinged over the top of an open box. Its spine is capable of flopping back to reveal the contents like opening a book, but remains attached. Many clamshell boxes are used for stationery as the lid doesn't get misplaced or knocked out of shape. They are also popular for presentation boxes and some have magnetic closure to ensure the clamshell doesn't open accidentally and to keep the lid neatly secure.
Prices
Prices will depend on how much actual cardboard is used in the construction. A single-walled box will be cheaper than the same size box with a double or triple-wall construction or extra liners inside. The finish on a box may also affect its price. Some cardboard is treated to give a glossy surface that acts as a temporary moisture repellent while others have a raw, matt finish and are much more susceptible to moisture damage. Ornamental decorative effects can impact price, and security aspects such as metallic reinforced corners or edges will make a box more expensive. The heavier, more decorative or more unique the box, the greater its price. The number of boxes purchased could affect the price. Specialist manufacturers and suppliers may be able to offer discounted prices because of their product volume. If a bulk order is placed, it is common practice to offer percentage reductions. End of production sales, seasonal specials, or businesses doing stock clearances may also provide bargain price cardboard boxes. Used boxes are often available for sale after a houshold has completed a move, so browse for sellers of used goods. The construction of a box might lend itself to an alternative use such as boxes with dividers or separators. Removal of any dividers will provide the size and sturdiness required for the purpose. Those removed separators do not need to be discarded and they present an opportunity for a different project benefitting from compartments, or by providing protective wrapping for fragile items being stored.
Storage Box Accessories
Once the perfect cardboard box had been found, its safe packing needs to be considered. Light as air plastic bags, about the size of a bag of sugar, are magnificent for stabilising an item without adding to the weight or causing any damage. For smaller items requiring protection, polystyrene beads or peanuts are useful and bubble wrap can keep an item safely in place inside too. Tape to secure a closed box and labels to identify content are useful too.
Find Cardboard Storage Boxes on eBay
Finding cardboard storage boxes is easily done by calling up the eBay homepage. Open the All Categories tab and find Home, Furniture & DIY. Click on more to expand the list and choose the link to Storage Solutions. On the new page, look through the categories listed on the left and click on Storage Boxes. Here, choose the required features by checking the boxes and then choose Cardboard Boxes and browse for the desired product. If preferred, simply use the search bar at the top of any eBay page and type in cardboard storage box and click go.
Conclusion
Establish the size of box to best suit its intended function. When choosing boxes, remember the top of the box ought to stand uppermost. Some designs of box can be jiggled to suit if their flap and fold allow access from a different side. Others will be dictated how they stand by their lid construction. Follow any enclosed instructions on how to assemble flat packs. Price usually reflects quality.