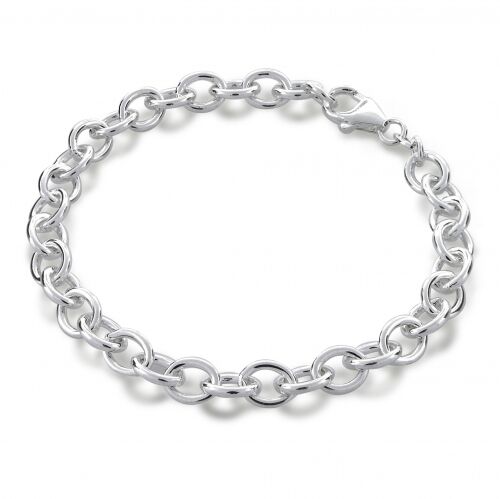 Chains have timeless appeal as jewellery items, and although unisex, their allure is intriguingly different when worn by men as opposed to being worn by women. In other words, the chain holds a distinct place in the jewellery-wearing habits of both genders. As a universal piece of jewellery, there may be a risk of excessive uniformity. Any such danger is avoided through the sheer number of types and thicknesses of chain, as well as the variations in colours of metal. Lastly, chains reflect their wearers' individuality through the adornments optionally hung from them.
Chains come in all qualities and are purchased by all age groups, such is their versatility. Rather than trawling around a series of shops in pursuit of the perfect chain, a shopper can choose one from the most popular online auction site, eBay, which carries impressively extensive listings of chains at any given moment, and is a good place to start. The purchasing of a chain is no simplistic matter. Prospective buyers have a vast array of chain designs, types of metal, thicknesses, and lengths to ponder, as well as factoring into the equation the chain's purpose and the buyer's own budget.
Ways to Wear Chains
Not just worn around the neck, a chain can be used to draw attention to the slimness of an ankle, the dimpled curve of a wrist, or the contours of a waist. The effect when multiple chains are worn can be overwhelming, or very striking. A matter of personal taste for some, the importance of wearing one single narrow chain in order to avoid vulgarity is paramount. Others are happiest with several rope-like chains sending out a "look at me" message.
Neck Chains
At one time, principally used to suspend religious emblems as a demonstration of faith or loyalty, the chain worn around the neck has for decades been considered an item of bodily decoration in its own right. Neck chains are among the most popular types of chains found on eBay for both men and women.
Bracelet Chains
A chain at the wrist is a way of enhancing a pretty or well-sculpted hand, or of drawing attention to a well-toned lower arm. For some men, a chain around the wrist helps emphasise strength. The bracelet, as it is more conveniently called, is often used as a support for a multiplicity of different ornaments, from cherished lockets to heavy precious metal charms, watch faces, crucifixes, and assorted baubles. Goth and punk versions exist, featuring daggers and skulls, and a variation on the plain chain is the chain which has an additional attached length, or arm, extending up the back of the hand and ending with a finger ring.
Ankle Chains
A silver ankle chain, or anklet, always worn on just one leg, has a way of drawing the eye. Sitting on the ankle and nestling just a shade above foot level, the anklet is considered one of the sexiest items of jewellery. Silver is generally favoured but there the uniformity ends, as anklets can take on many forms, from those that mimic handcuffs to anklets hung with charms or weighed down by a single motif, ranging from a heart to a peace sign. The style of chain varies, but most often an anklet is a slender rather than chunky artefact.
Waist Chains
A woman's waist chain, sometimes known as a belly chain, circles the naked waist or rests on the hips and is usually worn either as beachwear with a bikini or as nightclub wear when sporting a bare midriff. Sometimes consisting of different thicknesses and styles of chain with the thickest section sitting at the front, waist chains can be inset with rhinestones, hung with charms, or left plain.
Body Chains
A modern development on the theme of the necklace and waist chain is the women's body chain. Hanging around the neck, then uniting in single length approximately to the navel, the chain then divides again to encircle the waist. There are many variations on this design, including multiple parallel chains.
Types of Chain
Every chain has its point of interest, and wearers become fans of a particular style. There are many different chain designs, several of which are unnamed and simply fall into the classification of "fancy chains". Most types of chains can be found and purchased on eBay from a variety of sellers. Some of the main styles are as follows.
Curb Chains
Often giving the flattest, and hence, sexiest impression against smooth bronzed skin, a curb chain consists of angled links of equal size, which interlock in such a way that they lie flat. A slender curb chain is a good choice for the female wearer as it lies attractively over the collarbones.
Figaro Chains
The interest which a Figaro chain provides comes from having two types of link. After each series of delicate round links, there comes a single elongated oval link. Italian in origin, the Figaro features in men's jewellery.
Liquid Chains
As the name suggests, this chain resembles a fine stream, comprising minuscule metal cylinders, usually silver, threaded on wire. As the cylinders role slightly, the impression of light glinting off of water is created.
Snake Chains
Not unlike liquid chains, snake chains comprise a series of tiny hoops or rings, rather than chain links. The effect of the closely-packed hoops is to suggest a reptilian suppleness similar to the movements of a snake, with an almost slippery feel.
Mariner Chains
Mariner chains, or anchor chains, differ little from Figaro chains, but instead of several round links followed by an oval link, they simply consist of alternating round and oval links.
Box Chains
Box chains comprise square, as opposed to round, links, giving the chain a boxy appearance. The more slender variation of the box chain is a great favourite for women's neck chains, particularly in gold.
Herringbone Chains
Hugely popular in the 1980s, perhaps the flattest of all chains, attractively forming a dense V-shaped pattern along its length, herringbone dropped down in the popularity stakes due to its tendency to permanently kink.
Materials
Taking care to avoid metals, alloys, or coatings that provoke an allergic reaction is fundamental. If the chain is a gift, it pays to ascertain from the intended recipient whether he or she does have an allergy to specific metals. Chains made of all different types of materials may be found on eBay from sellers around the country.
Gold
Gold's purity is measured in carats. For chains, the purest gold used is 18 carat. What this means is that the gold deployed is, in fact, 18 parts gold and six parts alloy. 18-carat gold chains are relatively inexpensive, and are generally worth the extra investment. 14-carat gold is 14 parts gold and 10 parts alloy. The alloy is what makes the gold durable enough to wear everyday. 10-carat gold is actually more durable, but, 10 carat gold is only 10 parts gold and 14 parts alloy, which means it contains more alloy than gold.
Silver
Due to the inherent softness of pure silver, the far more popular and recommended type of silver found in chains for sale is sterling silver, which is actually an alloy made up of 92.5 per cent silver and 7.5 per cent copper. The drawback of silver is its proneness to tarnishing. A trick when it comes to polishing tarnished silver is to use toothpaste on a soft cloth, which restores its sheen.
Platinum
Valuable, due to its relative rarity, platinum is enjoyed for its lustre, the purity of its silver colour, and its malleability. Chains made from platinum do not tarnish. In some cases, the material is, in fact, a platinum-plated metal.
A Sizing Guide
For the online buyer, the knowledge of what any given length of chain actually fits around can be very helpful. The sizes stated here are only approximations.
| Women's Neck Chain | Length (cm) | Men's Neck Chain | Length (cm) |
| --- | --- | --- | --- |
| Choker circumference | 40.64 | Encircling base of the neck | 45.42 |
| Resting on collarbone | 44.45 | Resting on collarbone | 50.80 |
| Hanging a few centimetres below collarbone | 50.80 | Hanging a few centimetres below collarbone | 55.88 |
| On, or just above, standard neckline | 55.88 | Resting a fraction above the sternum | 60.96 |
Be aware when checking out retailers' chain descriptions that lengths are sometimes provided in inches. For bracelets and anklets, measuring the wearer's wrist or ankle, then adding a centimetre should give an accurate size for a chain.
Buying a Chain on eBay
If collecting gold chains is your passion, or if, perhaps, you need to replace the silver chain supporting a favourite cross, pendant, or locket, eBay is a good place to look. With a whole raft of reputable sellers listing chains of virtually every length, thickness, and design, eBay offers a good showcase. Detailed photographs and descriptions help considerably with the decision process. Prospective purchasers can view the seller's history and rating, ask the sellers pertinent questions, and very often find that a return policy is operated by the seller.
Keyword Searches on eBay
Once you have some firm ideas about the style of chain and the preferred metal and thickness, you can confidently input keywords and expect to call forth a useful shortlist of viable items. Hence, typing "silver ladies serpentine chain" into the search field on eBay's website yields a few results from which to make a final decision. Check the cost of postage and packaging when bidding on an item to avoid any surprises.
Conclusion
While it is never really possible to know how well a chain wears until it has been on for some time, a chain that is purchased after a reasonable amount of research and after the weighing up of pros and cons stands a good chance of being the right buy. Purchasers need to consider how much wear and tear the proposed chain is going to be subjected to, and should then choose the thickness and material accordingly. Some thought needs to be given to the weight of any pendant intended to hang from the chain and the right balance struck between the pendant's relative chunkiness or delicacy and the chain's density.
It can be a good idea to plan which garments to wear with a chain. Fussy cuffs, for example, do nothing for a discrete chain bracelet, and necklines that hide a beautiful and expensive chain can render the exercise pointless. A body chain worn over a dress can be a regrettable look and an anklet beneath tights is almost always a no-no.
Taking some time to assess the offerings on eBay and to weigh up their suitability pays off and can lead to a lasting love affair with a particularly attractive chain that has found its rightful home.