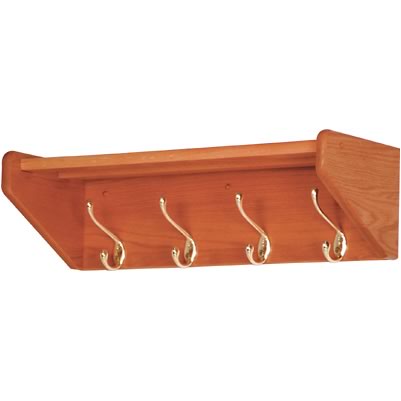 A coat rack with a shelf offers added storage space to ensure entryways, doorways, and hallways are neat and organised. In addition to hanging coats and jackets, coat racks with a shelf are used to store any number of items. Functional and attractive, these coat racks can be used to decorate an entryway with flowers and potted plants or display collectibles and framed photographs. Coat racks with a shelf are also convenient for placing house keys and various accessories, from gloves to shoes.
About Coat Racks with a Shelf
Coat racks are used to hang outwear, such as coats and jackets. They feature one or more coat hook affixed to a panel or rail. Coat hooks can also be used to hang other accessories and items, such as umbrellas, caps, scarves and wraps. For added storage space, some coat racks include a built-in shelf. Shelves can be used to store additional household items, including shoes, keys, gloves and hats. They also provide convenient spaces to display decorative items, such as plants, collectables and souvenirs, mirrors, artwork, and photographs.
Choosing Coat Racks with a Shelf
A number of factors will influence the selection of a coat rack with a shelf. The main consideration is the storage space. The coat rack, as well as the configuration and number of coat hooks and shelves, should meet individual or household storage needs. There should be sufficient space and flexibility for household members to hang outwear and other personal belongings. Consideration should also be given to the size of the coat rack and the available space in a property. The style and design of the coat rack should not overwhelm a space and should complement other furniture and decorative features in a room, hallway or other space. Other considerations include the material of the coat rack, its price, and the style of hook used.
Types of Coat Racks with a Shelf
Coat racks can feature a range of shelving styles and configurations. Baskets made of fabric, bamboo, wire or another material can be used to enhance storage space on coat racks with a shelf. The table below provides additional details on the most common types of coat racks with a shelf.
| | |
| --- | --- |
| Standing Coat Rack with a Shelf | This type of coat rack includes a built-in shelving unit connected to a vertical bar or a narrow panel or frame. |
| Wall-Mounted Coat Rack with a Shelf | Wall-mounted coat racks are fixed to a wall or a door. They include multiple hooks arranged in one or more rows. Mounted coat racks with built-in shelves are used to store various items and accessories. The shelf is generally positioned above the coat hooks. Shelves can also be used to display decorative items, such as collectables or potted plants. |
| Two-piece Coat Rack with Shelf and Matching Storage Bench | Wall-mounted coat racks with a shelf can be purchased with matching storage benches. These benches are assembled separately and placed under the mounted coat rack. Storage benches provide additional storage, and can include shelves or a closed space with a hinged cover. |
| Hall Tree or Stand | A hall tree coat rack or hall coat stand features additional storage space connected by a flat panel that rests against a wall. Shelves can be located at the base or at the top of the stand, or in both locations. In addition to shelving, cabinets and storage benches may also be incorporated into a hall tree. Some hall trees may have a mirror, as well as a top crown for items such as plants and collectables. |
Type of Shelf
Shelves on a coat rack can include a single panel or may be arranged in cubes to maximise storage space. Some coat racks with shelves may also include cabinets or drawers for more secure storage. The table below compares the most common types of shelves found on coat racks.
| | |
| --- | --- |
| Standard Shelf | Basic coat racks with a shelf feature a single panel or ledge to place keys, decorative items and other articles. Additional shelves may also be arranged parallel with the coat rack to provide more storage space. |
| Cubby Shelf | Coat racks can include a shelf arranged with one or more rows of boxes. This style of shelf is also known as a cubby shelf. A cubby shelf provides additional storage space and added flexibility to organise outerwear and other household items. Cubby shelves are ideal for storing shoes or for placing storage baskets. |
Type of Coat Hook
Coat racks feature a variety of hook designs. Hooks are available in a number of configurations, with prongs capable of holding more than one article of clothing. They are also made from various materials, such as metal, plastic, and wood. The following table summarises the most common types of hooks.
| | |
| --- | --- |
| | feature one prong designed to carry one article of clothing, such as a coat or scarf. |
| Double | With two prongs, double coat hooks can hold more than one item. The prongs are generally arranged side-by-side in a horizontal manner or vertically (that is, one above another). Double hooks arranged vertically tend to have a longer prong on the top for larger items and a shorter prong to hang smaller lighter items, such as a purse or scarf. |
| Triple | Triple coat hooks can be used to hang at least three items. They are designed with three prongs, often with one long prong and two shorter prongs. While the longer prong is typically used to hang a coat, shorter prongs are ideal for smaller items such as a bag or scarf. |
| Safety-Release Hook | Safety release hooks automatically drop items that exceed the recommended weight for which the hook is designed. Once the item is released, the hook resets to the original position. |
| Flip Hook | Flip coat hooks are can be moved into a groove in a panel, rail or wall. This provides a neat and streamlined look when hooks are not in use. |
Common Designs for Coat Racks with a Shelf
The table below provides information on common designs for coat racks with shelves.
| | |
| --- | --- |
| Traditional | Traditional coat racks typically have heritage and antique designs. They are often rustic and classic, and are generally built using wood. |
| Contemporary | Contemporary coat racks are understated with modern lines. In addition to wood, contemporary and modern coat racks with a shelf can be constructed with metal and plastic. |
| Decorative | Coat racks designed with innovative, colourful, and decorative shelves cater to unique and niche design preferences. Decorative coat racks may feature elaborate and creative hooks designed in distinctive shapes, such as animals, tree branches, paper clips, and other items. These coat racks may also feature styled or wavy shelves, mirrors, and decorative stained glass. |
Materials Used for Coat Racks a Shelf
Coat racks with a shelf are typically built using wood or metal. They may also include a combination of materials, such as wood, metal, plastic and fabric. Coat hooks used on the unit can also be made from various materials. Both hooks and the coat rack can feature different finishes, depending on the type of material used. Finishes help enhance a design or meet a specific design objective, whether it is a modern matte metal look for a contemporary piece or an elegant wooden surface for a traditional coat rack.
| | |
| --- | --- |
| Wood | Traditional and classic coat racks are typically built using wood. Wooden coat racks and shelves can be designed with either traditional or contemporary lines or styles. Common types of wood used for coat racks include pine, oak, mahogany and cherry. Varnishes and stains are used to achieve different surface textures and sheens. |
| Metal and Metal Alloys | Many contemporary and modern coat racks are made using metal and alloys. A wide range of textures are available, including polished, brushed, matte and antique finishes. Common types of metals and alloys used on hooks, racks and shelves include bronze, brass, aluminium, steel and stainless steel, and iron. |
| Plastic | Although not as common as wood and metal, plastic is also used in coat racks with shelves. Plastic is often used to create colourful and innovative designs. They can also provide light-weight and more affordable storage solutions when compared with coat racks built using metal or wood. |
Find Coat Racks with a Shelf on eBay
To find coat racks a shelf, visit the eBay homepage. From the All Categories tab on the homepage, click on the Home & Garden link. Once on the Home & Garden page, select Home Decor or Furniture from the Furniture & Living tab. From either the Home Decor or Furniture page, narrow down the item listings by entering "coat racks with a shelf" or "coat racks with shelves" in the search bar at the top of the page. Items can also be found by entering keywords in the search bars located on any eBay page. In order to find specific types of coat racks, use specific and detailed keywords or terms. For example, to find wall-mounted units use "wall-mounted coat rack with shelves". When looking for new coat racks, include "unused" or "new" in the search.
Conclusion
Coat racks with a shelf provide additional storage to help organise personal belongings. They help homeowners maintain tidy and neat spaces, including hallways and entryways. If buying a coat rack with a shelf, consider a range of factors when purchasing a unit, particularly individual storage needs and the space where the unit will be located. The utility of the coat rack should also be considered in conjunction with its appearance. A coat rack can add to the overall look and feel of a space, and complement design elements and other furniture. Considering the style, colour, and design of coat rack will ensure a complementary and appropriate unit is purchased.