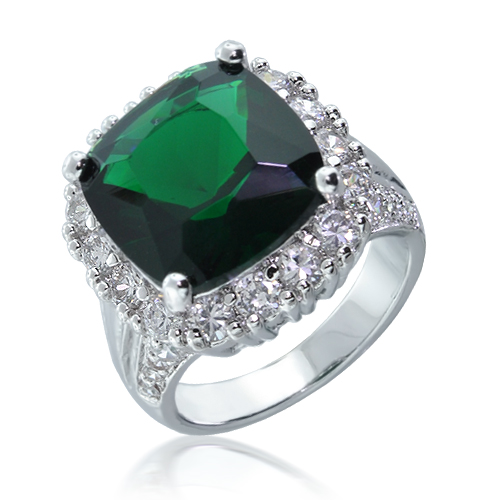 Cocktail rings are the perfect way to add flair to any outfit. Cocktail rings are large, statement rings that feature a large gemstone, such as a ruby, sapphire, or emerald, that is at least 3 carats in weight. Like diamond rings, cocktail rings add bling and sparkle to any attire, but are far less expensive than diamond rings. Cocktail rings are usually worn for a night on the town, but some people choose to wear cocktail rings to spice up a casual outfit. Not only are cocktail rings a quick and easy way to accessorise, they can add a pop of colour to any look.
Cocktail rings are purchased in brick and mortar department or jewellery stores, or online using eBay. With the large selection of cocktail rings on eBay, it is easy to find exactly what you are looking for from the comfort of your own home. Before purchasing a cocktail ring, you should consider the types of gemstones as well as the band metal to find the perfect ring style for you.
Types of Gemstones
Many people wear cocktail rings to get the bling of a diamond with a more personalised touch. Gemstones come in a wide variety of colours, without the hefty price tag of a diamond. When choosing a gemstone, many people choose to go with their birthstones. If you are giving the cocktail ring as a gift, choosing the recipient's birthstone is a great way to personalise the ring. The chart below explains each month's birthstone, and the colour representing each.
| Month | Birthstone | Colour |
| --- | --- | --- |
| January | | Deep red |
| February | | Purple |
| March | | Pale blue |
| April | | Clear, white |
| May | | Green |
| June | | White |
| July | | Red |
| August | | Light green |
| September | | Deep blue, indigo |
| October | | Multi-coloured, predominantly white |
| November | | Yellow |
| December | | Blue |
With the large number of different gemstones, choosing one may seem overwhelming. However, most people are more concerned with the colour of the stone as opposed to the type. By understanding the different gemstones and their unique colours, you can find the perfect cocktail ring for any wardrobe.
Red Gemstones
Red gemstones include ruby, spinel, garnet, tourmaline, andesine, and zircon. Ruby and garnet are the most popular red gemstones, but may also be more expensive than other options. Red gemstones are typically more rare and valuable than other gemstones, and are worn for their sultry, romantic look.
Pink Gemstones
Pink gemstones include sapphire, tourmaline, rhodolite garnet, rose quartz, kunzite, and morganite, with tourmaline and spinel being the most popular options. Rose quartz is also a popular pink gemstone, but is one of the more expensive options. Pink gemstones are one of the most feminine of the gemstones, and add a touch of grace and beauty to any outfit.
Purple Gemstones
Like pink gemstones, purple gemstones represent femininity and grace. Purple gemstones include amethyst, fluorite, spinel, purple tourmaline, purple sapphire, and chalcedony. Amethyst is the most popular purple gemstone, and is similar in colour to fluorite. Spinel, purple tourmaline, and purple sapphire are violet in colour, while chalcedony has a lavender colour. Purple gemstones represent royalty, and are a unique accessory perfect for a night out.
Blue Gemstones
Blue gemstones are much more common than other colours. Blue gemstones include sapphire, tanzanite, topaz, zircon, spinel, aquamarine, apatite, lapis lazuli tourmaline, paraiba tourmaline, rainbow moonstone, iolite, kyanite, agate, and fluorite. Sapphire is the most popular blue gemstone, with a deep blue colour that can also be found in kyanite and spinel. Some blue gemstones are more of a bluish-green colour, such as tourmaline, apatite, and fluorite. Light blue options are also popular, such as aquamarine and zircon. Blue gemstones are beautiful, unique stones that compliment many colours to match with multiple outfits.
Green Gemstones
Another common colour for gemstones is green. Green gemstones include emerald, tourmaline, paraiba tourmaline, chrome tourmaline, tsavourite garnet, demantoid garnet, chrome diopside, peridot, jade, apatite, sapphire, aventurine, prehnite, agate, and ruby-zoisite. The most popular green gemstone is emerald, with a deep green colour, similar to tsavourite garnet, chrome tourmaline, and chrome diopside. Much like blue gemstones, green gemstones come in a variety of green hues, and represent any style and personality.
Yellow/Gold Gemstones
Yellow gemstones also have a wide variety of different gems. Yellow gemstones include citrine, yellow sapphire, fire opal, yellow tourmaline, sphene, zircon, orthoclase, chrysoberyl, beryl, spodumene, quartz, agate, and diamond. The most popular yellow gemstones include citrine, yellow sapphire, beryl, chrysoberyl, and yellow tourmaline. Yellow sapphire and yellow tourmaline are both rare and valuable, and may be more expensive than other yellow gemstones. Yellow gemstones look best on warm skin tones, and add a beautiful pop of colour that suits anyone's gemstone needs.
Orange Gemstones
Orange gemstones are a unique colour choice for cocktail rings. Orange gemstones include spessartite garnet, zircon, fire opal, orange sapphire, orange tourmaline, imperial topaz, moonstone, star moonstone, citrine, and andesine. The most popular orange gemstone is spessartite garnet, but many other orange gemstones are similar in colour. Oranges range from red-orange to yellow-orange, and come in dark and light hues. Like yellow gemstones, orange gemstones look best on those with warm skin tones.
White Gemstones
The most popular white gemstones are diamonds, which are usually too expensive and rare to be found in a statement ring such as a cocktail ring. There are many other options for white gemstones, however, which include colourless sapphire, colourless zircon, moonstone, colourless topaz, fire opal, jade, quartz, and agate. These colourless gemstones have the clarity of diamonds for a much more affordable price. White gemstones are known for their simplicity, beauty, and versatility of style.
Black Gemstones
Black gemstones are another coloured gemstone with versatility to go with any attire. Black gemstones include diamond, tourmaline, onyx, agate, sapphire, and star sapphire. Other gemstones are lighter in colour, similar to grey. These gemstones include spinel, tourmaline, and fluorite. The most popular black gemstone is tourmaline, but all black gemstones are similar in colour. Black gemstones are known for their sultry sophistication, and are suitable for a variety of taste preferences.
Multi-Coloured Gemstones
Multi-coloured gemstones feature multiple colours in one stone, making them both complex and beautiful. Multi coloured gemstones include tourmaline, ametrine, fluorite, andalusite, opal, sphene, sapphire, mystic topaz, and mystic quartz. Multi-coloured gemstones are both unique and versatile in nature.
Types of Band Metal
Since gemstones tend to have a long lifespan, it is important to choose a band metal for your ring that lasts as long as the gemstone. Many people choose to go with one of the precious metals, which include gold, silver, and platinum, since they outlast non-precious metals. The most popular options for cocktail ring metals include white gold, yellow gold, rose gold, sterling silver, and platinum. It is important to choose the band metal to match the gemstone as well as the wearer's personal style.
How to Purchase a Cocktail Ring on eBay
When searching for a cocktail ring, there is no better place to start than eBay. eBay has a large selection of cocktail rings, making it easy to find any colour and style of gemstone. Since there are so many options for cocktail rings, eBay makes it easy to compare styles and prices to ensure you find the perfect ring for your style and budget. Before beginning your search, it is helpful to know the ring size for the recipient of the ring. This saves both money and time on having to resise the ring after purchasing it.
To begin your search, you can start with the use of keywords on the eBay home page. If you already know what you are looking for, you can search specific keywords, such as 'amethyst cocktail ring'. To browse multiple options and prices, you can search a more broad term, such as 'cocktail ring'. eBay also allows you to narrow the results based on gemstones, band metals, or ring size, making it simple to find the perfect cocktail ring. In addition, you can set your price maximum to ensure you do not waste time looking through options outside of your price range.
Conclusion
Cocktail rings are the perfect way to accessorise any outfit with style and ease. Because of their bold and beautiful design, cocktail rings are impossible to ignore. The wide array of gemstone types and colours make it easy to find a ring to fit any style or personality. Cocktail rings come in many styles, from simple large gemstones, to large gemstones embellished with small diamonds for added flair.
Unlike many traditional rings, cocktail rings allow you to express yourself through colours and details. Many people choose to wear their birthstone in their cocktail ring, which makes the ring both a representation of the person as well as a conversation piece. Others simply choose their favourite colour or a colour to compliment their wardrobe. Whether shopping for yourself or for a gift, cocktail rings are a great addition to any wardrobe. With the help of eBay, it is easy to find a unique cocktail ring for any style.