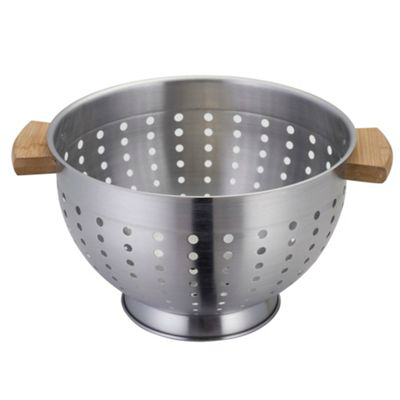 Most people are familiar with the simple colander that is either a metal or plastic bowl-shaped utensil with a single handle or a handle at each side, and a lot of small perforations in the bottom. They are used in every kitchen, mainly for draining water from vegetables after they have been washed or cooked. Pasta and rice is also drained using a colander being poured into it from the hot saucepan straight from the hob. A colander is one of those very useful but quite simple kitchen tools that we all have and take for granted, and use in the kitchen on a very regular basis. Colanders are available in a range of designs and materials and are sometimes referred to as a kitchen sieve (similar but not really the same) or a pasta strainer. Whatever type of colander is purchased the function is the same, and they will all perform the job very well. It is really a matter of personal choice of a preferred design and material when it comes to deciding which to buy.
About Colanders
The precursor to the word "colander" appears to have entered the English language sometime in the 14th century with the Middle English term "colyndore", which itself was probably derived from the Old Occitan word "colatorium." In turn, this appears to have come from the Latin word for sieve, which is "colum" (or "colare", which means "to sieve"). Like the smaller meshed variety, its purpose is to separate liquids from solids and the one characteristic they have in common is that they are wide, concaved vessels with holes in. But today, they come in a great array of colours, shapes and materials, from round bowls to square or rectangular boxes, collapsible versions to fixed sized versions, right through to models that can be expanded to sit over sinks.
Types of Colander
The basic design of colanders does not vary very much but the material from which they are made does. The types most often seen are detailed below.
Silicone Colanders
These are often the best bet for people with limited cupboard space in their kitchens as most of them are collapsible and can be stored flat in a drawer. Available in a broad range of bright colours, with some models incorporating discs of perforated stainless steel (the "business end" of the item which does the sieving), silicone is a hygienic, heat resistant, and tough material that is very easy to clean. It will happily withstand boiling temperatures, so it can be used just as effectively as a stainless steel colander to drain spaghetti or boiled vegetables, and as it does not conduct heat at all well, even with boiling water running through it, it is safe to grip and will not scald the hands.
Stainless Steel Colanders
Probably the version which comes most readily to mind when cooks think of the word "colander," most stainless steel models have handles allowing for a good, safe grip. The holes should be evenly spaced to allow for good drainage and the base of the bowl should be generously wide. These colanders are also exceptionally hygienic and easy to clean; they are also very hard wearing and they never rust. There is also something quaintly appealing about them, so even if cupboard space is too limited for storage, they do not look out of place shining on a worktop, provided it is relatively clear of clutter. There are also collapsible stainless steel models that can be folded flat, making them much easier to store away in a cupboard.
Plastic Colanders
Inexpensive and lightweight, plastic colanders should perhaps fall under the heading "cheap and cheerful". They don't always drain as well as colanders made from other materials and they can also melt if they come into contact with a hot pot, so it is not a particularly good idea to steam any vegetables in them.
Enamel Colanders
Since the 1920s enamelware has been a popular product with UK cooks, being hardwearing and practical. The product is made by fusing porcelain onto steel, producing a hard and easy to clean surface. The only real drawback with enamelware is that the porcelain coating will chip if treated roughly. Enamel baking and pie sets are often seen in domestic kitchens, mostly in the classic ice white with a blue trim design. The colander does form a part of the enamelware range and is usually seen in the original classic shape. Nowadays, however, they are available in a most appealing array of different colours. Some enamel colanders are manufactured with their holes arranged into decorative patterns. Try not to let the prettiness of the colander draw attention away from its functionality: some of them offer less in the way of holes, making for slow drainage. Look for plenty of holes in the bottom of the bowl so that the colander will drain quickly.
Melamine Colanders
These colanders tend to be of modern design and often feature well-known designer names, such as Emma Bridgewater, or are branded with the name of a popular TV chef. They are typically available in stylish shapes and vivid colours and can look rather chic. Care should be taken with melamine kitchenware, however, never put them in a microwave or stove because they degrade in intense heat.
Aluminium Colanders
The aluminium colander is often seen being used in professional kitchens. The metal is used to manufacture the more heavy-duty and larger designs that are favoured by chefs.
Ceramic Colanders
Ceramic colanders are attractive but not nearly as practical as those manufactured from other materials. Often being decorated with floral designs they look very nice but are not very easy to use. Pouring water that is near boiling point into one can be somewhat hazardous. Like the enamel versions the holes in the bottom of some ceramic colanders are quite large and are spaced wide apart when compared with a metal colander. Some ceramic colanders do not have handles large enough to hold them safely, which makes the job even more difficult. It is true to say that most ceramic colanders that are produced in potteries in the UK are designed more to act as decorative pieces than as practical and useful kitchen implements.
Find Colanders On eBay
The search tools that are provided on the eBay site make finding the perfect colander for the kitchen a real breeze. A search can be started on the site's home page by simply typing the keyword, colander, into the search box. This will produce a result's page with numerous different colanders displayed. Alternatively, in order to survey the field and then narrow the focus to more specific items, simply visit the eBay home page and select the All Categories tab beside the search box. On the dropdown menu, locate Home Furniture & DIY and click Search. Scan down the vertical column titled Categories on the left of the new page and then select the category entitled, Cookware, Dining & Bar, followed by Food Preparation & Tools on the next page. Look at the left-hand list again and select Colanders, Strainers & Sieves. The complete eBay range in that category will then appear. Under Type, select Colanders. To refine the search further, study the list of product criteria on the left, and tick the relevant boxes under the main headings. These will list the different colours that are available and the material from which the colander is made.
Conclusion
There are millions of different items on sale at eBay every day, which is the chief reason why the product descriptions on the site tend to be brief. If customers need to know more about an item than the product description can convey they do not have to buy and just hope for the best; by clicking the Ask a Question link on the product page, they can put a question directly to the seller. Looking for and finding the perfect colander couldn't be easier on eBay thanks to the site's advanced search capabilities. And visitors need never worry that they will end up paying over the odds for an item courtesy of eBay's clever automated bidding system.