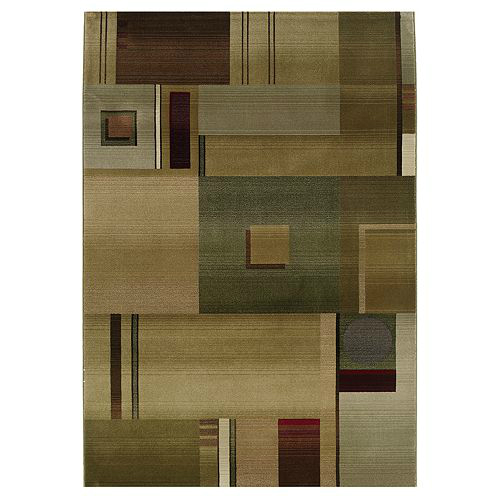 Contemporary rugs encompass a huge range of designs, themes, colour schemes, construction methods, and materials. Aside from the appearance of the rug, which has to complement the rest of the decor, buyers must also consider a number of other factors. The location of the rug is very important, so the amount of traffic in the area should be considered. Areas of high traffic, such as a hallway, require durable rugs to prevent visible wear. The construction method and materials also have an impact on the durability of a rug.
For those who want an entirely unique contemporary rug, it possible to make one at home on a budget with a few simple items. This is the perfect solution for those who like to spend time on craft activities, and can provide and a great sense of achievement when complete. Contemporary rugs can be found at carpet and furnishing shops, as well as DIY shops and department stores. To find an extensive selection of contemporary rugs, buyers can visit eBay.
Types of Contemporary Rugs
There are a number of methods of rug construction. Some are very traditional, but still produce a beautiful contemporary rug, while others use modern, state-of-the-art techniques. Some construction methods produce more durable contemporary rugs than others, and the price range varies somewhat.
Woven Rugs
Woven rugs are constructed from long pieces of yarn woven by hand, by a hand loom, or by a mechanised loom. The yarn is laid out in two different sections, one vertically, the other horizontally, called the warp and weft. Each piece of yarn is alternately placed under and then over the yarn running in the opposite direction. Woven rugs can be very strong and durable, depending on the material that they are constructed from. They have either a berber or a plush pile. A berber pile is an almost flat pile of tightly looped yarn made during the weaving process. A plush pile on a woven rug tends to be a cut pile, with the loops of yarn cut after the weaving process to give a softer texture.
Tufted Rugs
Tufted rugs have a soft, deep pile. The pile fibres are placed into the backing membrane with a needle. A second backing layer is added to make the yarn more secure and to increase the rug's durability. Good quality tufted rugs have a dense pile with a luxuriously soft texture and intricate detailing. Tufted rugs are commonly made by machine, and are among the most common contemporary rug types. Hand-tufted versions are also available, but these are often very expensive due to the time and effort required to make them.
Hooked Rugs
Hooked rugs are those made by hand using a latch hook. A latch hook is a hooked tool that is fed through the canvas backing and yarn is wrapped around it. The hook is then pulled through and the yarn is knotted around the canvas. All the equipment to make a hooked rug at home can be purchased either in kit form, complete with a printed design, or as separate items to allow for experimenting and the creation of a unique contemporary rug.
Materials for Contemporary Rugs
Contemporary rugs can be constructed from just about any type of material. Some materials are more suited to high traffic areas. Often, multiple fibres are used in the construction of a single rug to combine multiple beneficial properties. Materials should be taken into account so that the most appropriate rug is chosen for the area.
Jute and Sisal Contemporary Rugs
Jute and sisal are popular contemporary rug materials. These natural fibres are eco-friendly, tough, and durable. Jute and sisal can be used indoors or out and are commonly used for plain, simple, woven rugs. Jute and sisal can be coloured, and some woven rugs incorporate strands of different colours to enhance the design. Both jute and sisal rugs work well in high traffic areas.
Wool Contemporary Rugs
Wool is a very common material for rugs. It creates a deep, soft pile with a comfortable, luxurious feel. Woollen rugs can be either machine made or handmade. Wool is an absorbent material, but can be cleaned easily. It is reasonably durable, and although it does wear, if properly maintained it continues to look fabulous even as the fibres become worn. Wool can be used in areas of moderate traffic.
Cotton Contemporary Rugs
Cotton rugs are lightweight and available in a wide range of woven designs. Cotton is a durable material. Provided the rug is of good quality, it can be used in high traffic areas. It is popular for use in bathrooms because it is such an absorbent material. The durability of cotton makes it long-lasting. Cotton contemporary rugs can usually be washed easily in a standard washing machine.
Synthetic Contemporary Rugs
Synthetic rug materials include polypropylene and acrylic. Synthetic materials are very hardwearing and are popular for both indoor and outdoor use. As they are so durable, synthetic rugs are well suited to high traffic areas. They are generally easy to clean and maintain.
Recycled Contemporary Rugs
Recycled materials of all kinds can be used to create unique and attractive rugs. Even carrier bags can be used to make homemade hooked rugs that work brilliantly indoors or outdoors. Using recyclable materials reduces the impact of pollutants and non-biodegradable materials on the environment. If made at home, these rugs also save a considerable amount of money.
Machine Made vs. Handmade Contemporary Rugs
Machine made contemporary rugs tend to be less expensive than handmade ones. However, machine made rugs are not unique unless there is an unintentional flaw in one of the designs. Handmade rugs can prove to be more expensive, but each rug is entirely unique. Handmade rugs take considerable time and care to make, and so are often treasured by an owner for many years. It is also possible for buyers to put their creative hat on and make their own contemporary rug. That way they are able to use any design, material, and colours that they desire. They can also learn a new skill and take pride in the finished item.
Styles of Contemporary Rugs
Buyers need to identify the type of style that they want for a contemporary rug. There are a huge number of possible styles that fall within a few categories. Many people choose a classic rug design with a contemporary twist. These rugs include Turkish, Persian, or Oriental designs that are simplified to create a contemporary feel. Alternatively, the rugs may use bright colours with a traditional design to give a contemporary appearance.
Retro Rugs
Retro rugs are considered to be very contemporary, with bright colours and bold, geometric patterns. While the psychedelic colour schemes and iconic geometric designs hearken back to the 1950s, 1960s, and 1970s, retro rugs are hugely popular and fashionable, and are considered to be the height of contemporary style.
Simple Contemporary Rugs
Simple designs with a few clean lines provide a modern, minimalist look. These rugs can have a neutral palette to make them understated and elegant. They can also incorporate dark or vibrant hues to great effect, so that the contemporary rug can act as a visual centrepiece.
Ancient-Inspired Rugs
Another very popular modern trend is to buy rugs of an ancient style, such as those depicting primitive cave drawings, ancient Egyptian hieroglyphics, or the artistic styles of ancient Greece and Rome. While the imagery itself is far from contemporary, the use of rugs of this style is extremely fashionable, and they can be found in a number of modern homes.
Location of the Contemporary Rug
When buying a new contemporary rug, where it will be positioned is important. The intended location has an impact on the type, design, and construction of the rug. The most important concern is whether the rug is to be placed in a high traffic area, such as a hallway or entryway which receives a great deal of use. Rugs placed in high traffic areas need to be very robust, durable, and easy to clean and maintain to maximise their lifespan and keep them looking attractive. Buyers who want a contemporary rug for areas that do not get such high footfall can focus more on style than durability.
Buying Contemporary Rugs on eBay
eBay has a range of contemporary rugs available in every style, size, shape, and material. Contemporary rugs of all types can be found by performing a search from the eBay home page. Buyers can narrow down their search by using the filters to set specific parameters, including price and colour. For those shopping on a budget, it is possible to find a wide range of secondhand contemporary rugs in good condition. There are also eBay stores that specialise in rugs, carpeting, and flooring. Craft stores and sellers also stock all the equipment needed for buyers to turn their hand to making their own rug.
When buying contemporary rugs, buyers should always check the feedback score of the seller before they commit to buy. Feedback indicates the reputation of a seller on eBay, and is made up of comments left by previous buyers. Sellers with high positive feedback scores are known for consistently providing good quality products in a timely manner, and offering excellent customer service.
Conclusion
Contemporary rugs are those that are fashionable and fit into the modern living environment. From simple, functional rugs to large, opulent ones, there is a contemporary rug to suit every home. They come in a wide number of designs and colours, and often include modern designs or depictions of ancient art. The retro style is a common and very contemporary theme for all household items, and rugs are no different. Psychedelic colours and bold geometric patterns are perfect for rugs.
Choosing the right contemporary rug allows buyers to make a statement and accent their interior with style. The construction method and materials need to be appropriate for the intended location of the rug and how much footfall occurs. The more durable the rug, the less wear occurs with heavy use. For those with a creative streak, making a rug at home is a fun and affordable option. Buying a contemporary rug on eBay is easy. There are lots to chose from to suit any budget.