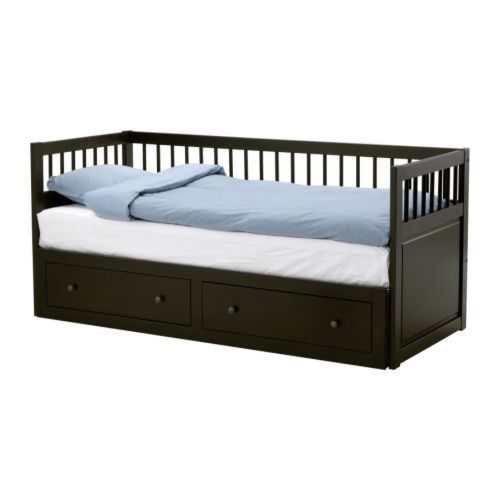 After a baby's first few months, during which parents usually prefer something small and portable like a crib or Moses basket, the cot is one of the centrepieces of a young child's life, until he or she becomes old enough to switch to a bed. Cots are among the more costly items that need to be bought for a new arrival, so it makes sense to choose carefully and ensure the best value for money.
When researching cots, the word "cot" crops up in a wide range of contexts, pointing either to baby goods or else to general home furnishing items with the same focus. A reasonable conclusion is that there is more to buying a cot than just getting the bed frame, though it is important to get the bed frame right. There are various materials to choose from, and different styles to suit different age groups, but the important thing is to identify a strong and durable foundation. Then elements like a mattress and bed linen are also needed; and, for a finishing touch, the cot can be brightened up with some decorations.
Cot Frame Designs
The main characteristic of a nursery cot is that the sleeping accommodation is surrounded by high sides to prevent the child from falling out. Leaving aesthetics aside, the design issues for cots mainly concern the flexibility that many parents seek. There are two transitions essentially: infant to toddler at approximately six months and toddler to preschooler at around two years, as the following table summarises:
| | |
| --- | --- |
| Age | Type of Nursery Bed |
| From birth to approximately six months | Crib, Moses basket, carrycot |
| Six months to approximately three years | Cot |
| Three years and onwards | Cot-bed |
A frame that can accommodate a newborn infant, but which can be reconfigured as toddlerhood approaches, can suit many budgets. More affluent buyers can afford to contemplate more numerous changes and focus more on materials and appearance.
There is a British Standard, number BS EN 716-2:2008, that new cots sold in the U.K. should meet. There are three main topics that it covers: first, that the cot is the right depth to ensure the baby's safety; second, that its bars are spaced between one and two inches apart; and third, that there are no cut-outs or steps.
Newborn Infants
Although a cot can be used for newborn babies, many people prefer to start out with something smaller like a cradle, a crib, or a carrycot. For those who are looking for a flexible option, the main feature to look out for, after safety considerations have been taken into account, is the ability to vary the height from the floor. Early on, a higher position makes it easier to get the child in and out of the cot. Later, as baby starts to pull itself upright, a lower position offers better stability.
Toddlers
Once a child reaches the age and development stage when they start to acquire the capacity for independent locomotion, then the cot becomes a safe haven, and security becomes a primary consideration. There is one issue in particular that involves security on the one hand, and convenience on the other, namely drop sides. A drop side makes it easy to get the child in and out of the cot, but the fastenings are a point of vulnerability. This is something to be especially aware of when contemplating a second-hand purchase.
There are three main kinds of drop side design. One is a simple catch at either side, and another is a trigger, possibly operated by foot. The third is the "nudge and lift", which can normally be operated by one hand.
A useful and hygienic feature that parents seek is a teething rail, which protects the main structure from being damaged by gnawing. Another completely different handy feature is for the cot to be mounted on casters. The cot can then be wheeled from room to room, or even just moved around a short distance to help with cleaning.
Small Children
A cot bed can suit an infant from newborn to over three years old. The upper end can vary from ages four to seven, depending on the speed of growth and development. With these designs, the high sides are removable, allowing for conversion between cot and bed. They are larger than cots, so they need more space and a larger mattress. As such, they might be too large for a newborn.
Cot Mattresses
It is important that the mattress used in the cot fits snugly. Most cot manufacturers offer a mattress that suits a particular frame, so for newly bought items, there should be a minimum of fuss. There are, though, occasions when a mattress is sought separately. One is when the type offered with the frame does not appeal; but more often, it is when the cot is to be re-used for a second or subsequent arrival. More for hygiene reasons than for questions of wear and tear, the Foundation for the Study of Infant Deaths recommends replacing the mattress when the cot is to be used by a new incumbent.
There are two standard sizes for mattresses: 118 x 56 cm, and 120 x 60 cm. Be aware that the smaller size in a larger frame can create dangerous gaps that can trap the sleeping baby. As a rule of thumb, ensure that any gap between mattress and cot is no more than 2.5 cm.
Mattress Types
As with adult mattresses, there are three main kinds of cot mattress. Foam mattresses are the most economical to buy; sprung mattresses are more responsive; and coir mattresses are more durable.
Foam Mattresses
The simplest foam mattresses are made from a single sheet of foam with a PVC cover for waterproof protection and easy cleaning. For a little more money, multilayer foams are available, and some mattresses have removable covers.
Spring Mattresses
Although spring mattresses are more expensive than foam types, the difference is not prohibitive. While the surface is more responsive, and indeed more fun to bounce on, than the foam type, the consequence is that the mattress can start to sag, which might be a disadvantage for a subsequent user.
Coir Mattresses
Coir mattresses are less common than the other two types. They are made with a core of coconut fibre, which brings the advantages of natural material alongside considerable durability.
Cot Bedding
With the foundations in place, attention can turn to the immediate environment that the child can experience. On the one hand, people often pay attention to the child's engagement with its surroundings and focus on providing bright colours and playful imagery. On the other hand, there are the practical considerations to think about.
Since maintaining cleanliness is undoubtedly a continuing task, the main aspects of practicality are the ease with which the bed can be stripped and washed, and the durability of the materials. With the probability of frequent washing, materials that keep their colour are preferable. Some buyers are also concerned that items should be low risk with respect to allergies.
All-In-One Solutions
Some manufacturers offer a complete solution that includes the frame, the mattress, and the bedclothes. Often, there is a theme to the design, perhaps with ties to one or other of the popular media figures that children soon encounter.
Cot Decorations
Once all the essentials are in place, there is still room for some decorations. Mobiles are a popular addition, but there are a whole range of other toys that are designed with toddlers in mind.
Travel Cots
Similar to an all-in-one domestic cot, a travel cot combines all the elements of frame, mattress, and bedding into a single unit. The main difference between a travel cot and a carrycot is that the former is more substantial and intended for a full night's sleep in situations where more permanent accommodation is not available. Even so, if regular childminding by relatives is on the agenda, it might be better to install a full cot if space allows.
Second-Hand Cots
There are two main avenues for receiving a second-hand cot. One is through inheritance or a similar family gift, and the other is through a purchase from a listing, such as those on eBay. In the former case, there can be both sentimental and aesthetic reasons for being attracted to the option. Some caution, nevertheless, is advisable. Inspect the cot carefully for any possible safety issues, and bear in mind that regulations have progressively improved cot safety over the years. An heirloom might not meet modern criteria.
With second-hand purchases from strangers, the same cautions apply. Although the item is more likely to have been recently manufactured in this scenario, perhaps more care is needed with the inspection and evaluation, since prior to purchase is the only time that this is possible. Unlike with family, there is no continuing relationship to underwrite the transaction.
Buying and Equipping a Cot using eBay
The word "cot" is one of those difficult words for modern technology focused shoppers because typical search results can deliver a wide variety of items, some more relevant than others. In some contexts, cot and bed are interchangeable, while in its most common application to bedding for small children, searches often come up with secondary products that go with a child's cot such as covers and decorations. There are two ways to proceed: either start out with a search term that covers all the essential features you seek or else start with something simple and then use the filters to take you to more detailed and relevant listings.
Going about it the former way, you might put in " cot drop side", and quickly arrive at a selection of basic frames. Then, go on to a search for " cot mattress spring", for instance, to add a mattress. Here, though, the drawback of key term searches starts to appear: Some sellers list "spring" mattresses, and others list "sprung" mattresses, so a search on one or other term by itself might miss a substantial number of results. In these cases, you can put both alternatives in at the same time. Finding the balance between a simple search term and an effective one might take some trial and error. Nevertheless, simply adding "cot" to bedding terms normally works well: try "cot sheets", "cot quilts", "cot duvets","cot duvet covers", "cot blankets", "cot pillows", and " cot pillow cases".
Conclusion
There are few things that are as important as getting the sleeping arrangements right when expecting a new addition to the family. Baby is going to spend a great deal of time either asleep or absorbed in some cot-bound activity, so the key aspects to focus on are durability, comfort, and security.
Beyond that basic checklist, many parents want to make sure that they get the best possible value from their purchase. The main aspect that comes into play here is flexibility. A design that can be adapted and reconfigured as baby grows into a toddler and then a confident walker can keep costs down. However, they are usually too big for a newborn, so a crib or cradle for the early months might be needed in addition.
Remember that eBay's listings stand ready to replace or supplement an initial purchase. Maybe a mattress upgrade is wanted, or else fresh supplies of bedding for the laundry rotation. And when the day comes round to replace the cot with a child's bed, eBay can help with that, too.