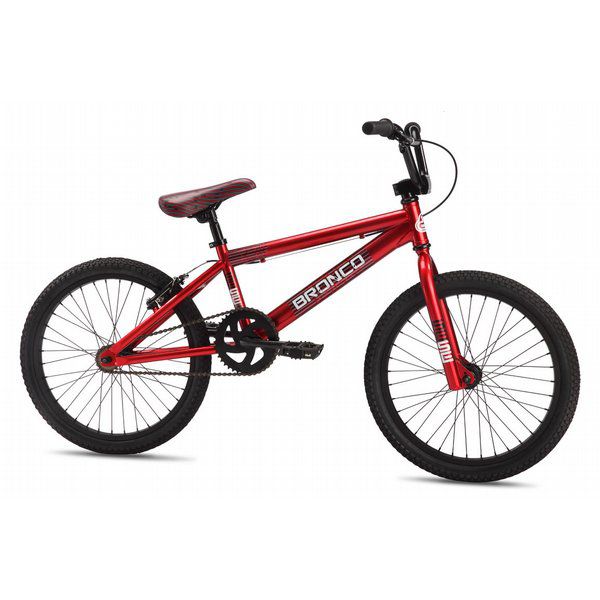 When choosing a custom BMX from the thousands available on eBay, try to work out what it is going to be used for, how often and where. The BMX is designed mainly for dirt and motocross cycling, however stunts and tricks can also be performed by those skilled enough to do so.
There is a wide selection of custom BMX bikes on eBay, which cater for all budgets, variations, and choices of bikes.
What is a Custom BMX?
This section will describe what exactly a custom BMX is and more importantly, the components it comprises of. A custom BMX is a bike that has been purpose built with a selection of components such as the frame, wheels and drivetrain and is specifically designed to perform a particular style of riding.
When choosing a custom BMX it is important to ensure all of the separate components are designed to fulfil the intended purpose, are mechanically sound and not a gimmick or aesthetic based. Custom bikes, which are purpose built for Freestyle BMX riding, are very unlikely to withstand dirt and jumping styles. However, whatever the style, this eBay guide will help with the important components to check before making a purchase from one of the thousands of vendors on eBay.
Racing or Freestyle?
This part will help give information on the types of BMX riding style. Nearly all BMX bikes are designed to fulfill a particular style of riding. There are a handful of different styles, which are explained below. Knowing the style of riding required is the first step in getting the most ideal Custom BMX. Generally, there are considered two categories of BMX cycling:
Racing
The racing style of BMX riding involves competitors racing each other across a 1000 – 1500 foot track, which includes a multitude of bumps, and banked corners called 'berms'.
Freestyle
This is nothing like 'Racing' BMX at all, instead a series of ramps and obstacles are placed in various ways in a setting such as a skate park, which the rider interprets and performs tricks and stunts on.
Type of BMX
Here the types of custom BMX are explained in terms of the setting they are used in. Any of the following types of BMX can be used for any of the styles they indicate. However, there are some key parts of each of these bikes, which make them better for a specific discipline of riding.
Dirt/Ramp/Racing
Honed for dirt and ramp cycling, these types of BMX are specifically designed to handle the off road and high mid-air jumps. Normally lighter than their freestyle cousins the focus is upon agility and speed, which also makes them a good choice for racing. These bikes do not usually have front brakes but have incredibly heavy tread on their tyres in order to deal with the difficult terrain they are designed for.
Freestyle/Flatland/Street
Designed for stunts and aggressive street cycling. These bikes are ready to handle the streets and obstacles of the local skate park. The priority here is a sturdy construction rather than a light frame due to the demanding nature of the sport.
These bikes come with both front and rear brakes in order to get the most amount of control when riding. Usually the front cabling for the brake is connected through a 'Gyro' (rotor/detangler) which allows the handlebars to be rotated 360 degrees without the cable becoming tangled or damaged.
Anatomy of a BMX
Like most things, there are many different types and styles of BMX, from basic to professional sporting specifications. Understanding the anatomy of a BMX goes a long way when it comes to buying one from many of the buyers on eBay. The following section details all of the key components, which are of note on a custom BMX and things to bear in mind before making a purchase.
Frame
Choosing the correct material for a BMX frame is vital, not least for comfort but also to make sure the material of the frame is ready to withstand the terrain and types of cycling the bike is intended for. Different materials differ in weight and strength, which is important to consider when it comes to factoring the weight of the rider, and the severity of the terrain the bike will need to withstand in order to gain maximum cycling comfort and stability.
Aluminium
Aluminium frames are made of 6061 aircraft grade alloy. Whilst more brittle than steel frames, these utilise tear-shaped or box-formed tubing, like in the Haro race series, to generate stiffness and a reduction of vibration. This increases the transmission of power through the drivetrain and saves weight.
Chromoly
Generally heavier than other BMX frames, such as the Steel and Aluminium frames; this type is made from steel tubing, which is lighter, stronger and more resistant to corrosion than most other steel alloys. A Chromoly frame made by Redline or Specialized is tough and light and almost always found in high end BMX frames and forks.
Steel
This is found in basic BMX's. Heavier steel frames can tire the rider and can also be a sign of poor quality. Always check the condition of the frame. BMX's are designed for high octane sports, a poor quality frame or a rusted frame may be likely to damage further, shortening the life span of the bike.
| Rider Height | Rider Age (Avg.) | Rider Weight | Top Tube Length | Tire Size |
| --- | --- | --- | --- | --- |
| 3' 8" & under | 5 & under | <60 lbs. | < 18" | 18" |
| 3' 8" to 4' 6" | 5 to 7 | up to 75 lbs. | 18" | 1 1/8" |
| 4' 5" to 4' 10" | 8 to 10 | up to 110 lbs. | 18" to 18.5" | 1 3/8" |
| 4' 5" to 5' 2" | 10 to 13 | up to 130 lbs. | 19" to 19.5" | 1 3/8" |
| 4' 8" to 5' 5" | 10 to 13 | up to 150 lbs. | 19.5" to 20" | 1.5" |
| 5' 6" to 5' 10" | 13 & over | any | 20.5" to 21" | 1.75" |
| 5' 8" to 6' | 13 & over | any | 21" to 21.5" | 1.75" |
| 5' 10" + | 13 & over | any | 21.5" + | 1.75" |











Size of Frame
The size of frame is important when it comes to getting the ideal feel for the bike. The wrong size frame may make the ride feel uncomfortable or ill balanced. Generally, BMX bikes come with 20" top tubes. These can be a little small for some of the larger riders however there are also 20.5" or 20.75" frames available on eBay.
Below is a sizing chart to consider before making a purchase. Getting the right size of BMX frame is very important for the BMX to handle and feel correctly.
Although the size difference seems marginal, this small amount can alter the feel, the ability to accelerate and the overall control of the bike drastically. Ideally a BMX should be tried out and rode for a short time to get the right feel for maximum comfort and to ensure expectations are met.
Brakes
Having the correct brakes on a BMX is vital to the bike's feel and performance. Different brake types can indicate which type of BMX cycling style the bike is intended for. If the BMX only has one brake on the rear of the frame, it is not going to be able to stop quickly enough in rough terrain environments such as with the off-road or jumping styles. Generally there are two types of brake systems found on BMX bikes:
U-brakes
Most street or freestyle frames use this type of brake. U-brakes focus on the need for control rather than sheer stopping power and grip, like the Colony Transformer or the Mankind Truth U-brake. They surround the sides of the wheel in a U shape, activating the brake will press the pads against the wheel frame. Remember, check for wear and tear on the brake pads and the cabling - poor brake set-up can hinder their capacity to stop in time or harness the control you might require.
V-brakes
Otherwise known as 'linear pull.' These brakes can be found in most racing style BMX bikes and have more stopping power then U-brakes. Preferred by the racing and jumping BMX riders, brakes like the TRP Dr. have sheer stopping power and grip.
Remember, if you are only buying a frame and building a custom BMX from scratch, then the location of the brake mounts on the frame will indicate what type of brake is needed - also indicating what kind of frame it is. Generally, the higher the brake mounts are located (very near the seat) requires V-brakes, however lower brake mounts usually indicate the frame is made for U-brakes.
Drive Train
The sizing of the sprockets and chains make all the difference. Generally smaller is considered better given that they are less intrusive when riding the bike. For example, if a BMX is being used for Freestyle riding, a small front sprocket made by brands such as SNAFU or Odyssey are not only better quality but also less likely to cause damage or injury.
Large sprockets for example a 45t, is probably a sign the bike is outdated. Try not to get sold on exciting paint jobs or gimmick components, these generally disappoint.
Look out for rust and wear and tear, especially on the sprockets and chain. Bent or damaged sprocket teeth can affect the likelihood of the chain staying on the sprocket and can lead to the chain slipping off, this can be dangerous when cycling.
A rusty chain is also something to look out for; this component takes the weight of the forward movement and needs to be sturdy, especially for racing and freestyle where transfer of power from the legs to the wheels is important.
Wheels
Having the correct wheels on a BMX is crucial. The standard size of a BMX wheel is 20" in diameter, such as the Diamondback 9T. This size is fine for riders with a height above 4 feet, 10 inches. However advanced BMX riders tend to choose a 22" wheel as it helps to increase sturdiness on rough terrain.
Wheels on a BMX are much lighter than those found in regular bikes, however certain wheels are not designed for particular types of riding. For example, a 32-spoke wheel will not hold well to dirt BMX riding or heavy stunts performed in a skate park as they are designed for racing. However 48-spoke wheels are more robust and can withstand for freestyle riding. This type of wheel is the most commonly found on BMXs.
Whichever style of riding the BMX is intended for, please note - the thinner tyre and rim sizes (20 x 1 1/8-3/8) and (24 x 1 1/8-3/8) are not equivalent with each other or with (20 x 1.5/1.75) tyre and rims.
There are many types of BMX wheel to be found on eBay but before making a choice, remember to research which type of wheel most suited and robust enough to deal with the type of riding it is intended for.
Tyres
Like the varieties of BMX - the types of tyre cover the same spectrum. BMX tyres are heavily treaded to ensure optimum surface traction, speed and surface control when dirt riding or jumping, as they often become filled with mud and debris from the track. Freestyle or Street BMX tyres are designed for control on the pavement and indoor surfaces such as wood and metal bars. Good quality tyres can normally inflate to much higher pressures than regular tyres. This has the benefit of lowering rolling resistance and decreasing tyre deflation when they are put under heavy strain, for example with a heavy landing.
Finding a Custom BMX on eBay
There is a huge selection of custom BMX bikes and also components available on eBay. The initial step to accessing the listings of available custom BMX bikes is to find the Sporting Goods portal and then into the Cycling Section.
BMX frames and other components such as the U-Brakes and V-Brakes we talked about can be accessed under Bike Parts. Within this section it is possible to explore the total listing of products, which are ready to be purchased. Parameters can also be set according to date listed, item condition, item location and also price.
Information, pictures and specific component descriptions such as materials the BMX may be made of will generally be displayed clearly within the item listing. This makes it easy to see, at a glance, whether the particular listing is up to the required specifications.
Information about the seller is also clearly displayed on the listing and it is possible to ask the seller a question about the item if further information is required. If specific components are required it is a good idea to use the eBay search function, which can be found at the top of every page. This can be the easiest and quickest way to find the ideal item.
For more information on searching on eBay, TheSearch Tipspage contains further insight on effectively using eBay's search function. A Buying Basics guide is also available for the junior eBay buyer, which can be found along with a comprehensive set of guides also provided by eBay.
Summary
Finding a Custom BMX is made easy with this eBay guide. Remember to always think about what kind of BMX is required before making a purchase, according to the style of riding it is intended for and therefore the correct components to think about.
Look out for quality and not gimmicks, ensuring that each component on the Custom BMX is best suited for the purpose it was intended for. The quality of components also has a huge impact on the feel, usability and lifespan of the BMX such as components, which resist corrosion and rust and ones, which are undamaged.
Finally it is important to remember, whichever style of cycling the BMX will be used for to always wear the appropriate safety gear. Finding the best Custom BMX is important and eBay offers an accessible and wide range to choose from.