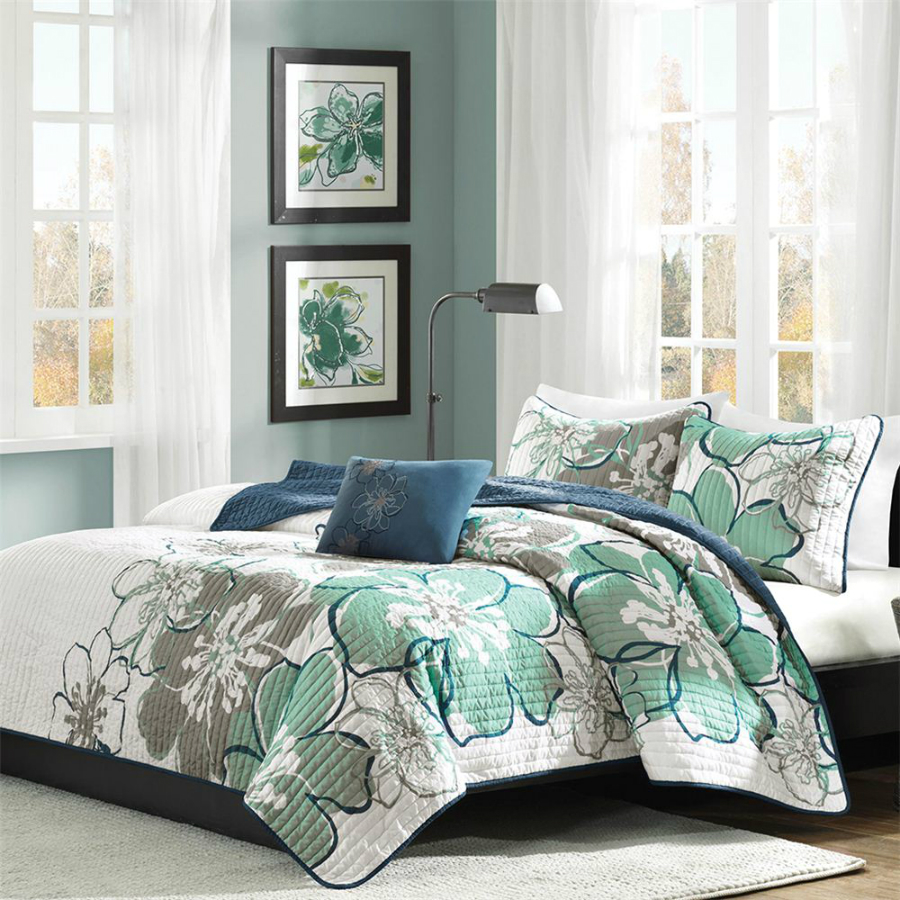 Decorative quilts can liven up a room or tie all of the decorative elements together. When used as decoration, shoppers might place it over the bed, drape it over another piece of furniture, or hang it on the wall. Quilts add colour, warmth, and homestyle charm to a room, which is why they are often used as decoration. Shoppers can find a large selection of decorative quilts on eBay to match the style and the price range that they're working with.
When buying a decorative quilt on eBay, shoppers need to know how to search for a quilt by choosing the options that describe its appearance, find a reputable seller, and consider all shipping options. Shoppers who wish to save money by purchasing a used quilt need to know how to evaluate a used item to determine if it is a bargain or if they should keep looking. No matter what kind of decorative quilt a shopper is looking for, thousands of options in all colours, designs, and price ranges are available on eBay.
Searching for a Decorative Quilt
There are thousands of listings for decorative quilts on eBay from all over the UK. Finding the design that best matches the decor of a room and fits in the shopper's budget is dependent on being able to search the site effectively. When shopping for a decorative quilt on eBay, a shopper need to consider the size, material, colour, and pattern.
Size
One of the first options a shopper can choose from is the size of the quilt. People who are purchasing a decorative quilt to use on the bed should select a quilt that corresponds with the size of the mattress. Shoppers can choose between King, Super King, Double, and Single. Non-Specified refers to listings that don't have a specific size listed. This is usually because the quilts don't have standard measurements. The quilt might be too small to fit on a bed and so such a quilt would be used to hang on a wall or as a decorative piece in a room.
Material
Shoppers also have the ability to narrow down the listings for decorative quilts by the type of material they're made from. Quilts made from 100 Percent cotton are the most common, but shoppers can find Polyester, Satin, and even Suede quilts on eBay. The type of fabric that a decorative quilt is made from determines how easy it is to care for and how well it will maintain its appearance over time. Cotton quilts are easily machine washable, whereas satin and suede quilts need to be professionally cleaned in order to maintain their appearance.
Colour
When shopping for items to decorate a room with, the colour is often very important. Choosing a decorative quilt that ties in with the rest of the decor of a room is important when trying to bring the whole room together aesthetically. The decorative quilt might serve as the focal point of the decor in the room, or its simple pattern might allow attention to be pulled to another decoration in the room. Most quilts have multiple colours rather than just being a solid colour. However, eBay shoppers have the ability to sort the listings based on the main colours in the quilt.
Pattern
eBay shoppers may also choose to narrow down the listings for decorative quilts based on the pattern or design. Some of the most common designs for decorative quilts are Floral, Patchwork, and Embroidered. These types of quilts usually have intricate patterns on the top that incorporate many colours and styles. Additionally, they may be hand-stitched which adds character and individuality. Shoppers looking for something a little bit plainer will also find Solid, Striped, or Geometric patterns amongst the listings for decorative quilts.
Keyword Search
Shoppers who already have an idea of the type of decorative quilt they're looking for can search for it directly rather than sorting through categories and selecting different options. Each eBay page has a search bar to make it easy to locate items no matter where the user is on the site. In this search bar, the user types keywords to describe the quilt, such as "purple floral quilt", and then search all of eBay for listings that contain those words. Selecting a category makes it easier to refine the search. The Decorative Quilts and Bedspreads section within the Bedding category allows shoppers to narrow down results by size, material, type, and other options. The Advanced Search feature allows shoppers to focus their search on a very specific item and saves time by allowing shoppers to select several options before performing the search.
Buying a Used Quilt
Shoppers who wish to save some money when purchasing a decorative quilt might consider buying a used quilt. Shopping for a used quilt requires a closer inspection before making a final decision on a purchase. When looking at new quilts, shoppers can feel confident that the quilt is in good condition and the price reflects the quality of the quilt. When looking at used quilts, a shopper have to examine the condition of the quilt to determine its quality. Then they must decide if the price reflects the quality of the quilt. This close inspection ensures that shoppers get the most for their money.
Examine the Quilt's Condition
Quilts that are used for decoration don't necessarily need to handle wear and tear like other blankets. At the same time, shoppers don't want to invest in a quilt that is too worn out to launder if needed. When shopping for a used quilt, the shopper should check for tears, holes, discolouration, and stains. The quilt should show minimal wear and tear, and the stitching should be intact. When purchasing a used quilt to be used as bedding, shoppers should be sure that they can launder it appropriately before placing it on the bed. This removes dust mites and other allergens that may be present from the previous owner.
Evaluate the Price
The price of the decorative quilt should correspond to its condition. Quilts that show excessive wear or have significant damage should be priced much lower than those in very good or like new condition. Likewise, shoppers should expect to pay more for quilts that are new or like new. Because the condition and the price of the quilt are directly related, shoppers have to evaluate the two characteristics simultaneously.
Finding a Seller
Once shoppers have narrowed down their selections to a few quilts that they're interested in, they can choose the seller that they wish to do business with. Shoppers can evaluate the sellers based on the feedback rating system that shows the number of positive transactions as a percentage. With the feedback system and the ability to identify top-rated sellers, shoppers can feel confident in all of their decorative quilt purchases on eBay.
Feedback
The feedback rating system is the easiest way to investigate a seller's reputation. Buyers have the ability to rate a seller that they have conducted business with. Each listing shows the seller's name, total number of completed transactions, and percentage of positive transactions. Sellers with high scores have a better reputation for providing quality service. Shoppers should be sure to take the total number of transactions into account though. Sellers with a lower score may be new to eBay and are working to build up their reputation. Shoppers can read comments left by previous buyers to get a better idea of the type of service the seller provides.
Top-Rated Sellers
Sellers who have provided great service to their customers and have received positive feedback time and again may be recognised as eBay top-rated sellers. These sellers can be identified by checking the seller information in each listing. Additionally, shoppers can refine search results to show only sellers who have received this recognition.
Delivery Options
The cost of postage and the amount of time it takes for the item to ship are two other factors shoppers should consider when purchasing a decorative quilt on eBay. Some sellers offer express delivery. This means that the item will reach the buyer in a shorter amount of time, but the buyer usually has to pay the additional fees. To save money on delivery, shoppers should look for sellers who offer free postage and packaging or consider buying from a local seller.
Free Postage and Packaging
Some sellers offer free postage and packaging on the quilts they offer for sale. The total price of the item may be slightly higher to compensate for this free service. Additionally, some sellers may charge for postage and packaging but offer a lower price on the quilt itself. When evaluating offers of free postage and packaging, shoppers need to consider the total cost of the item to determine if it is a good deal or not. Since decorative quilts can be large and heavy, the cost of postage can be quite high. If the seller is willing to cover the cost of postage, then this usually saves the buyer a significant amount of money. Shoppers can refine search results on eBay to show only listings that offer free postage and packaging.
Local Sellers
Shoppers can sort the listings for decorative quilts based on how close the seller is located to the buyer's home. This is done by entering the shopper's postcode and selecting the number of miles around that area to search. If the item is located close to the buyer, then it won't take as long to get from the seller to the buyer when the quilt is shipped. Additionally, shoppers may be able to drive to the seller's location, pick the item up, and avoid postage fees altogether. This is something the seller would have to agree to first.
Conclusion
Decorative quilts are available in all sizes, colours, and designs, which makes them an ideal choice for accenting a room. eBay is a site that allows buyers and sellers of decorative quilts to connect in one place. With thousands of quilts for sale at any time, shoppers are sure to find just the right quilt to liven up a room on eBay. In order to successfully find the perfect quilt, shoppers need to know how to effectively search eBay and refine the listings to show only those that match what the shopper is looking for. After selecting the size, material, colour, and pattern, shoppers can choose a seller to work with and evaluate different shipping options. eBay offers more than just new items. Shoppers will find a wide range of hand-stitched and used quilts that can't be found anywhere else. Whether looking for a great deal on a new quilt or a unique quilt with lots of character, eBay has it all.