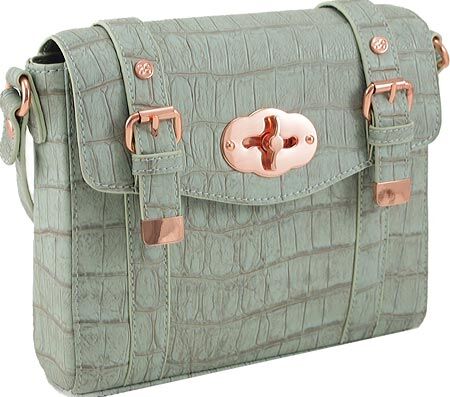 Most women have always dreamed of owning a designer handbag, as this is considered to be the epitome of elegance and style when it comes to accessories. Whether you need a handbag for a special occasion such as a wedding, a night at the theatre, or a business event, it is important to consider a number of things when choosing it. Some of the most popular designer handbag names include Chanel, Gucci, Louis Vuitton, and Fendi.
Women who are interested in purchasing a designer handbag can do so either online or in specialised stores, but, in both cases, they should be careful when it comes to the authenticity of the bag. For each of the famous brands mentioned above there are numerous replica companies, some of them even claiming to offer authentic items. In order to make sure you always buy an original designer handbag, you need to be well informed before starting shopping.
What to Look for in a Designer Handbag
Women who intend to invest a considerable amount of money on a designer handbag should take several things into account before making such a purchase. A versatile and practical handbag that is both casual and smart should be preferred over a funky handbag that may not be in style next season. This is especially something to consider if you only wish to own a single designer handbag.
The size and weight of the handbag should also be considered carefully. Women who constantly carry a lot of things around should opt for a spacious handbag. On the other hand, those who are simply looking for a fashion accessory and are less interested in the functional aspect of a handbag can opt for a small-sized bag.
As a designer handbag is likely to last for a few years at least, it is important to choose a style that is comfortable and practical at the same time. Buyers should have a look at the handles and straps and assess whether they are comfortable to wear over a coat or jacket. Safety is also important, so women should consider the placement of outside pockets, the clasps, and zippers in order to keep their valuable items safe.
Designer bags may require some extra care in order to preserve their like-new look. For this reason, buyers should pay attention to the information provided by the manufacturer regarding cleaning and drying. Most designer handbags come with a guarantee, so if the handbag develops a technical fault, it should be repaired or replaced.
Types of Designer Handbags
Some of the most sought-after women's high-end accessories, designer handbags are not simply bought for their functionality, but also for simply making a fashion statement. Designer handbags come in a variety of styles, thus allowing women to match them with their lifestyle and personal preferences. Many women actually prefer several designer handbags in order to accessorise various outfits. The most popular designer handbag styles include satchels, hobos, clutches, totes, and duffels.
Satchel
Satchels are handbags that feature one or two straps that may go either across the body or over a shoulder. This is a popular style for women who work in an office, as a satchel is ideal for carrying files and all sorts of paperwork. Satchels are also a popular choice with students, as they are a fashionable way to carry textbooks and notepads in style. Satchels are versatile accessories and they go well with a wide range of outfits, from winter coats and boots to short skirts and sandals.
Hobo
Hobos are usually very large handbags and their main characteristic is the crescent shape that is designed to be worn over the shoulder. Hobo handbags are ideal for women who wish to carry numerous belongings around, but still look fashionable. Many designer hobos feature stylish and feminine designs and they are made from soft, flexible fabrics.
Clutch
Clutches do not have any kind of handles, as they are designed to be carried in the hand. Designer clutches are suitable for formal occasions or any kind of evening event that requires an elegant outfit. These handbags are very small, but enough for carrying some essential items such as ID, currency, credit cards, a few cosmetic products, and a mobile phone. Clutches come in an incredible range of colours, fabrics, and designs and buyers can either choose them in colours that complement their outfits or in contrasting shades.
Tote
A tote is essentially a carry bag used for holding personal belongings, but in the case of designer totes, these are fashionable accessories at the same time. These kinds of designer handbags are ideal for casual wear because they are extremely versatile and practical. As in the case of other types of designer handbags, totes are available both in classic, timeless designs and in funky styles, being suitable for any kind of occasion.
Duffel
Designer duffel handbags, also known as weekend bags, are the perfect choice for travelling because they usually have extra compartments that can accommodate plenty of personal belongings necessary for a trip. These bags are versatile and many of them feature additional accessories such as removable straps and wheels for increased comfort when travelling.
How to Spot a Fake Designer Handbag
Perhaps the most efficient way of making sure the designer handbag you buy is authentic is to know as much as possible about your favourite designer. Inspecting closely certain design features allows buyers to ensure they buy the real thing. Some of the features one should be careful about when shopping for designer handbags include the logo placement (both inside and out), zipper styles, fabrics, and stitching.
Shopping online is the best way to compare prices and find designer handbags that are also budget friendly. However, one should pay attention to details when buying handbags online. Perhaps the best way to tell whether a handbag is authentic or not is by looking closely at the photos offered by the retailer. An authentic designer handbag retailer should never use photos grabbed from the website of the manufacturer, nor stock images. Another thing that allows buyers to spot a fake quickly is the price. As a rule of thumb, if the price for a certain designer handbag is too good to be true, than it is probably a fake.
When the designer handbag arrives, it should be accompanied by special care cards and a certificate of authenticity. The bag should be wrapped in a protective dust bag featuring the logo of the brand. If the bag comes with wrapping around the buckles or packaged in plastic, chances are it is a fake.
How to Buy a Designer Handbag on eBay
If you have decided to buy a designer bag online, it is advisable to shop for such a bag on a reputable website in order to avoid unpleasant surprises. eBay is an excellent place to look for the ideal designer handbag, as it offers a wide variety of styles as well as a search system that is very easy to use. You should also consider buying a designer handbag from a seller that has a good reputation on eBay.
Start your search by typing the name of your favourite brand in the search bar on eBay's home page, followed by the word 'handbag' ('Chanel handbag&', for example). You will immediately get hundreds of results and you should carefully navigate through them in your quest to find the ideal designer handbag. If you know what particular handbag you are looking for, you can type the name directly in the search bar to avoid having to browse too much before finding the desired item. Results can also be refined by price, colour, style, location, and more.
When buying designer handbags on eBay, communication with the seller is important. If you have any questions at all, you should contact the seller with your queries. Reputable retailers are always more than happy to answer questions in a professional way. Pay attention to the reviews left by other buyers before committing to buy a designer handbag on eBay.
Conclusion
Designer handbags can be a wise investment, especially if they are chosen with the rest of one's wardrobe in mind. These bags are made from high-quality materials that look and feel good. Moreover, with proper care, a designer handbag can last for years. Buyers who do not afford to buy multiple designer handbags should choose classic styles that never go out of style. Buying vintage designer handbags is another option for those who would like to have a designer handbag without paying the full price.
When chosen right, shoes and handbags may lift the rest of an outfit and thus a woman can easily camouflage a less-than-perfect suit or dress simply by wearing a good quality handbag. For many women, designer handbags work well when it comes to feeling good about oneself and gaining some extra confidence. Wearing high-quality accessories can work wonders for a woman's attitude and carefully selected designer handbags are ideal for this purpose. Shop the look on eBay for more inspiration on ways to wear fashion.