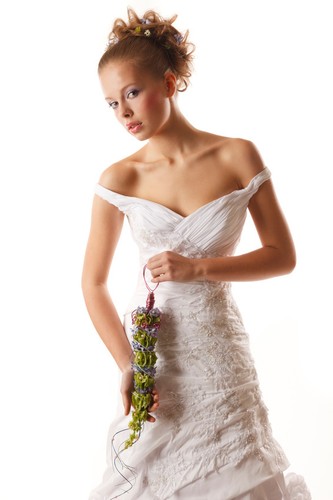 During a wedding, all eyes are on the bride, and that is why for many women choosing the right designer bridal gown is the most valuable part of the wedding. After all, on this single day the bride will have enough pictures taken of her to last an entire lifetime. She wants to look fantastic on this memorable day, and there is no better way to do so than by wearing a beautiful bridal gown. Choosing the right gown is a lengthy process that starts eight to ten months before the actual wedding. Bridal shops sell wedding dresses, but they usually operate on appointments only. Increasingly, many brides choose the convenience of buying their wedding dresses online using a website like eBay. The best way for women to start shopping for a wedding dress is to choose a style that fabulous on their body, and then start narrowing down the search by the designer and price.
Wedding Dress Styles
Each wedding dress has a lot to say about the woman who wears it, and while every dress is different, they can be grouped into six main styles. Understanding the difference between these styles is the first part of buying a wedding dress. Certain styles look better on some body types than others. Tall women, for example, look smashing in almost any style, but short women may have to reevaluate their choice if they look almost overwhelmed in a ball gown. Keep in mind that the body type suggestions are just that, and in the end chose a style that looks and feels right.
Ball Gown
When most women picture a wedding dress, it is the full skirted ball gown that they see. Ball gowns have a tight bodice, the upper portion of the dress, and waistline that is highlighted by an exceptionally full skirt. A famous example of a ball gown wedding dress was the one worn by Princess Diana during her wedding to Prince Charles. This is a traditional wedding gown and is best suited for traditional wedding locations. Ball gowns do well indoors where their full skirts and long trains cannot get dirty, but they do not make good choices for beach weddings. Pear body types, those with small chests and large hips, look amazing in this style because the skirt conceals the hips and keeps the emphasis on the upper half of the body. Banana body types, those whose measurements are almost the same across their bust, hips, and waist should try a ball gown with a basque waistline that makes the waist seem smaller than it truly is. Petite women, however, often have difficulty wearing a full ball gown, while tall women pull this style off admirably.
Empire
Empire wedding gowns have a very high waistline that begins right underneath the bust. The skirt then drapes down the rest of the body for a slimmer silhouette. The top of the dress comes in many different options, from long sleeved to strapless. Empire wedding gowns can be worn indoors as well as out, but be careful wearing an empire dress with a train outdoors. This style looks best on slender shapes like a Banana body type, since the high waistline enhances the bust while bringing out the curves in the rest of the body. They are also the ideal type for anyone who is pregnant and shopping for a wedding dress since the waistline is above the belly. Designers like Amsale and Lazaro offer many beautiful dresses in this style.
Princess
Princess wedding dresses, also known as A-line gowns because of their shape, have tight tops that cut at the hips. Underneath the hips, a full skirt flares out in this highly flattering silhouette. Women who like full skirts, but don't want the overwhelming dimensions of a ball gown, often choose a princess gown. Like the ball gown, the princess dress is best for indoor weddings since its large skirt does not do well outdoors. Short women who like the look of a ball gown should try out a princess gown, since the extended top gives them an elongated torso. Pear-shaped body types also look wonderful in a princess cut. A sample of high end designers who create exquisite dresses in this style include Alita Graham, Amsale, Monique Lhuiller, and Anne Barge.
Sheath
Sheath wedding gowns are cut closely to the body, showing off its natural curves. Some sheaths have a slightly flared skirt while others hang completely straight. Sheath tops include everything from halters to long sleeves. Since sheaths lack voluptuous skirts, they are a convenient option for outdoor weddings. This style looks ideal on tall women since the cut of the dress highlights their figure, but it also looks lovely on slender petites. However, it is one full-figured women need to stay away from since the sheath dress can give the illusion of adding extra pounds. Pnina Tournai has an excellent selection of sheath gowns.
Mermaid
The bold silhouette of a mermaid is tight throughout the entire dress until it reaches the knees, where it flares outwards, resembling a mermaid's tail. The bold look of a mermaid wedding dress will certainly draw all eyes towards the bride. Depending on the length of the lower skirt, a mermaid can make an ideal outdoor wedding dress. Full figured women who want to accent their curves without making them look heavy can find the perfect solution in the mermaid cut. Justin Alexander and Pnina Tournai have stunning mermaid wedding dresses.
Trumpet
Trumpet wedding dresses are similar to mermaid and princess cuts, though are not as dramatic. In the trumpet cut the top of the dress is tight down to the mid-thigh, where it flares outwards into a skirt that is larger than a mermaid dress but smaller than a princess dress. Since these skirts tend to be somewhat large, trumpet dress styles are best for indoor weddings. Women who look terrific in either the princess or the mermaid cut, such as tall, petites, and full figured will also look fetching in a trumpet. However, pear-shaped body styles should stay away from the trumpet, since the flare under the thigh makes their hips look big. Maggie Sottero and Christina Wu have a large selection of trumpet dresses.
Budgeting for the Dress
Once the style is chosen, now is the time to set up a budget. Some shoppers may want to do this before trying on dresses, since experts say it is never a smart idea for a bride to try on a dress she cannot afford. The other dresses will pale in comparison to the overly expensive one and can lead to an impulsive purchase. When setting a budget, check out the different designers and see how much a dress from one of them will cost. If the original designer dress is too expensive, visit a local wedding boutique or look online on a website like eBay for dresses that are similar in style, but cheaper in price. Keep in mind that some designers will use a different fabric or less beading detail on the upper part of the dress for a cheaper option.
New vs. Pre-Owned
Another way to really save money on a wedding dress while still buying from a top designer is to purchase a used dress. While some women may scoff at this idea, it is actually quite sensible. Consider that the used dress has only been worn once, which makes it almost as good as new. Chances are the bride will need to have the used dress fitted to her shape, but since she would have to do the same anyway with a new dress, this does not present a problem. In fact, purchasing used wedding dresses allows brides to buy the dress of their dreams without having to sacrifice their budget.
Buying a Wedding Dress on eBay
Experts recommend that a wedding gown should always be tried on, since what looks fantastic on the hangar may not look ideal on your body. However, savvy shoppers also know that the best deals for wedding dresses are from online marketplaces such as eBay. Therefore, brides on a budget can come up with a winning strategy that allows them to visit their local boutique bridal store and get the five star sales attendant service complete with glasses of champagne while they try on dresses. However, refrain from actually buying any of the dresses in the store. Instead, take note of which dresses look the most appealing, and then return home to search online for those same dresses. Chances are, you will find the same dress new or used on eBay for a more reasonable price.
Sizing an Online Wedding Dress
When trying on dresses, take note of your dress size. Once the dress is purchased, it will need alterations to fit your body which can take up to four months. Because of this long time frame, most brides buy their dresses well in advance of their actual wedding. When purchasing a new or used dress on eBay, chose the one that fits your current dress size, even if you hope to lose a few pounds before your wedding. Remember that it is always easier to take the fabric in than to let it out. Once the dress arrives in the home, bring it to a local tailor for the necessary alterations.
Conclusion
Buying a wedding dress is the highlight of the wedding preparations for any bride. While at first the selection can seem overwhelming, brides can start whittling down their choices by focusing on styles that appeal to them and their body type. Once the right style is chosen, select a designer that fits into the budget. If a designer dress is too expensive, then brides have the option of looking for a used dress, or settling for a cheaper dress that resembles their original designer choice. Buying a used wedding dress on eBay is a wonderful way for brides to stick with their original designer choice while still coming in under budget. Remember that since the dress will need alterations, it must be bought well in advance of the wedding. Try not to compromise with wedding dress choices. After all, even though it will only be worn once, she will remember her wedding dress forever.