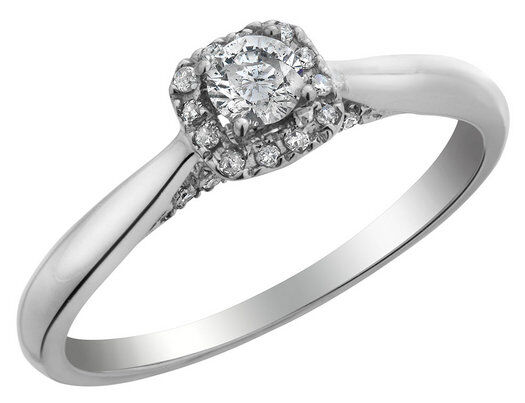 When it comes to a diamond engagement ring, the cost is sometimes staggering. If you are on a budget but you still want to get a diamond engagement ring, there are plenty of ways to save money but still get the type of ring you want. Diamond engagement rings vary widely when it comes to the metal used in the rings, the settings, cuts, and clarity of the rings, and of course, the shape and style of the diamonds themselves.
All of these factors should be considered when you are purchasing a diamond engagement ring. Once you have determined what your budget for the diamond ring is, it is easier to narrow down the selection which is available in your price range, and to narrow down which style you like the best. Choose the perfect diamond ring based on the style, price, and cut of the ring. There are so many rings available; you do not have to spend a lot to get the one you want. Consider the metal, setting, and clarity of the diamond along with the price when you are shopping.
Types of Diamond Engagement Rings
Shopping for a diamond engagement ring is overwhelming, especially for a buyer who do not know much about diamond rings. There are so many styles, diamond shapes, settings, and cuts, that it becomes confusing when you start to look at rings. Knowing a few basic types of rings helps you whittle down the ones you like the best and to narrow the field to choose the perfect ring for you.
Diamond Solitaire Engagement Rings
The most common type of diamond engagement ring is the solitaire. A solitaire diamond ring essentially has one main diamond which is any size. Diamond solitaire engagement rings vary in style; some have thin bands, some have thick bands, and they are made with a variety of metals such as yellow gold, silver, or white gold. Diamond solitaires are a traditional, classic choice for engagement rings.
The band may also be studded with smaller diamonds or decorated with engravings or embellishments. The cut and setting of the diamond varies, and some popular cuts for solitaire diamond rings are round cut, oval cut, and princess-cut styles. The cut essentially refers to the way the diamond is shaped.
Diamond Band Engagement Rings
Another popular type of diamond engagement ring is a diamond studded band. This generally has small diamonds around the entire band which are of equal size as opposed to one larger diamond in the centrepiece of the ring. A diamond band makes a simple but elegant statement. The band and stones are any size, and the band is made of any type of metal you prefer.
Another type of diamond engagement band has only a few diamonds on it instead of being covered with diamonds. For a buyer who does not want a lot of sparkle but still enjoys the look of diamonds, this is a good option. A diamond studded band is also called an eternity ring. On some rings, the diamonds also only go across the top of the band instead of around the entire band. There are many ways that diamonds can accent a band.
Diamonds Engagement Rings Set with Stones
Another popular type of diamond engagement ring not only has a diamond setting but also has other types of stones as accents around the diamond. Diamond engagement rings which offer other stones are set with rubies, sapphires, pearls, or amethysts. The gemstones are sometimes smaller and surround a large solitaire diamond, or perhaps they are clustered around the diamond forming a circular pattern or design.
A diamond engagement ring set with gemstones or pearls is a unique type of engagement ring that offers the consumer a less traditional and more interesting take on the diamond engagement ring. Another option is a diamond eternity band which includes diamonds around the band as well as alternating with another gemstone to form a sparkling ring.
How to Buy a Diamond Engagement Ring on a Budget
Buying a diamond engagement ring can be extremely costly, but there are ways to do it that may be less of a headache and less expensive. You need to do a little planning to execute the buying process though. There are several steps to take to ensure you get the best price for a quality diamond engagement ring, no matter what style, size, shape, or cut of diamond you prefer.
Set a Budget
Before you start shopping, have a budget in mind. It helps to make it a bit flexible, but you do not want to spend more than you are able to. You can still get a good ring for a lower price. It may not be as elaborate or large as a more costly ring, but can still be lovely. Of course, it helps to be reasonable with your expectations. A platinum ring with a large diamond is not cheap, however, a 14 carat gold diamond ring with a reasonably sized diamond may be within the budget you have.
Select a Metal
The metal is a large component of what constitutes a ring on a budget. For instance, while platinum is very costly, a sterling silver ring set with diamonds is likely to be more reasonable. A sterling silver engagement ring is very pretty, and real sterling silver lasts when cared for properly. Another affordable option is yellow gold. Yellow gold ranges in purity, and the higher the number of carats, the more pure and expensive the gold is.
For a less expensive gold diamond engagement ring, consider a lower purity, such as 14 carat gold, which is still a quality metal and does not cost as much as 18 carat yellow gold. White gold is another option which is affordable if you choose a lower metal purity, such as a 10 carat or 14 carat white gold engagement ring.
Select a Setting
The size and clarity of the diamond is a big determining factor when it comes to cost. Of course, a larger, purer diamond is more expensive than a smaller setting. An average sized setting is roughly about 1 carat for the diamond size. This is a small diamond, but an even smaller diamond is better, if you are on a budget. A delicate, 1/4 carat diamond is small and inexpensive, and still a good choice for a diamond.
When it comes to the diamond setting, the higher the carats of the diamond, the larger the diamond is. Stick with a smaller number of carats for more affordable stones, and the less adornment on the ring, the cheaper it is. For instance, a simple solitaire with a small diamond is less costly than a larger diamond set with other stones, diamond clusters, a band of diamonds, or pearls.
Select Cut/Clarity
There are four basic factors which are used as guidelines when a consumer is looking for a diamond engagement ring. These are called "The Four Cs". The "Four Cs" is a basic set of items to look at when you are looking at rings to determine the quality of the ring as well as the quality of the stone and setting. When you are looking at diamond engagement rings on eBay, check the listings to see what is mentioned about the "Four Cs".
Cut

The way a diamond is cut, how many facets it has, and how it is shaped

Clarity

Whether the diamond is flawed; a flawless diamond is an F1 and a flawed diamond ranges from SI (small flaws) to I (imperfect, a lot of flaws)

Colour

There are many colours of diamonds available; D is the clearest diamond available, Z is a yellow diamond

Carat

The weight of the diamond

The more carats, the higher quality of the diamond and the larger the diamond is
Follow the "Four Cs" when you are shopping or simply use it as a loose guideline. You do not want a diamond which is very flawed because the flaws are revealed to the naked eye. A smaller diamond that is less flawed (VS, VVSI, or IF) is better than a larger diamond which has visible flaws. The colour of the diamond is irrelevant; that is up to personal choice. Diamonds range from black to pink and to yellow and many colours in between.
How to Buy a Diamond Engagement Ring on eBay
Buy a diamond engagement ring for an amazing price on eBay. Search for diamond engagement rings to bring up an array of options, but to make it simpler to search on a budget, search for rings by your price range, ring size, the metal you have chosen, or the cut or shape of the stone. If you know exactly what type of ring you are looking for, this can simplify the search because you can use more specific search terms such as "sterling silver engagement rings". Look at the seller's listings to see if any of the "Four Cs" are mentioned. Read the description of the engagement ring carefully and ask questions if you need to, and make sure the seller has provided many details about the ring, as well as photographs of the ring.
The user-friendly search engine which eBay provides consumers with should make it very convenient for you to find the exact engagement ring you are looking for within your budget. If you have never shopped on eBay before, you should be pleased with just how simple it is. Once you have purchased and received your diamond engagement ring and are satisfied with your purchase, do not forget to go back to the seller's page and leave positive feedback about your purchase; this can be very helpful to other consumers looking for a seller to buy a diamond engagement ring from.
Conclusion
There is nothing more exciting than getting engaged, but the money which goes along with this momentous occasion can leave you in debt. Avoid overspending just to get a beautiful engagement ring. Simply look for a ring within your budget that you love on eBay. There are a wide variety of rings, and though you may have to select a smaller diamond or a gold band instead of a platinum one, you do not have to compromise on a beautiful, sparkling, quality engagement ring.
Price is not necessarily indicative of quality when it comes to a diamond engagement ring, and there are so many different styles and cuts of rings. There is definitely one that pleasees you without having to spend a fortune. Diamond engagement rings vary widely in price, so shop carefully, read the seller's listings, look at images, and comparison shop by type, metal, and cut of ring until you find the ring of your dreams for an affordable price.