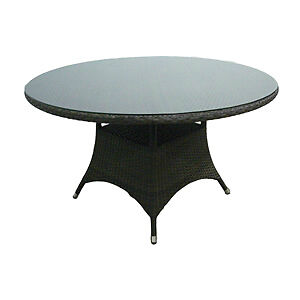 Having a family feast or a dinner party is quite impossible without a table to sit around. Dining room tables afford people the ability to come together around a warm meal. Shopping for a dining room table, however, tends to be a somewhat intimidating experience. Pinning down the needs of an individual can be quite difficult if the proper research is not performed beforehand. Figuring out whether one needs an expandable table, a larger option, or a small setting, helps to ease potential purchasing issues.
Some furniture stores offer a wide range of dining room table options, but such options tend to be somewhat more expensive than prices online. Online marketplaces such as eBay, often offer more affordable solutions than their traditional counterparts. Before jumping into a purchase, understanding the style options available is an essential concept. Figuring out what material of table works best for the situation at hand, can be quite helpful as well. Determine the usage possibilities of a dining room table before ever setting out on a shopping adventure for the best results.
Dining Room Table Size
One of the first steps in buying a dining room table, is to determine size requirements and limitations. The necessity of size often determines the overall type of table an individual is likely to purchase. With seating sizes and actual table size varying from table to table, contemplating exact measurements is vital. Make sure, however, to factor shape and expandable tables into the equation. Sometimes, the most adequate option is the one never considered.
Seating Size
Most dining room tables are labelled in concern to maximum seating size. When shopping for a dining room table, list certain events that are likely to be held at the household in question. Adding chairs and seats is simple, but adding a table tends to be both, expensive and cumbersome. A six chair dining room table is likely to be a much more effective option than a smaller, four chair option. A rectangular table option will usually seat a higher number of people as opposed to a smaller, circular option. Consider seating size as one a vital determinant as to what dining room table to purchase.
Expandable Dining Room Tables
A cramped household, due to an obstructive, behemoth of a dining room table, is never an ideal situation. Taking up an entire room to hold a couple of events per year, is simply not feasible as well. Those with limited space, but also a need for quite a bit of seating during holidays, should consider a drop leaf dining room table. These tables are expandable when needed, but can also be quite compact when the ends are folded down. Expandable dining room tables are often the premier choice for apartment dwellers and those with smaller living spaces.
Shape
Choosing a shape of dining room table should be a direct reflection of the needs of an individual room. Although an oval dining room table might be an attractive option, its aesthetic in a room that is squarely shaped and backlit with windows, might not be quite as attractive. Square dining room tables tend to save a little more space when they are not being used, but might not be the most pleasing option. Those with ample space in a dining room are likely to seek a longer, more rectangular, table to be the premier option.
Taking the Proper Measurements
Make sure to measure a room before determining the size and shape of dining room table prior to purchase. A table must have ample room to allow space for chairs to be pushed in and out. Also, do not underestimate the space needed to allow people to come and go from the table with ease. A cramped eating space tends to be both awkward and uncomfortable. Make measurements with ample room outside of the table measurements in order to create a more comfortable dining atmosphere.
Dining Room Table Styles
Selecting a dining room table style tends to become quite the task for those with a wide range in taste and style. With a number of material choices, design aesthetics, and colours, consumers can easily become overwhelmed by the seemingly endless amount of options. Thanks to online marketplaces such as eBay, however, people are able to narrow down search results and browse through images from the comfort of home. Make sure to weigh the various options available before committing to any single purchase.
Material
The number of material options available for those shopping for a dining room table is almost astronomical. Everything from an oak dining room table, to a metal dining room table, is available to the savvy shopper. Weighing usage needs against table material type, helps to mitigate the extensive material choices available. For instance, a glass tabletop is likely to be a more fragile option for those with young and adolescent children. A classic wooden table, however, might not fit into the predilection of the younger, single crowd. Make sure to consider the available options before ever committing to a single purchase.
Design Aesthetic
Selecting a design style that is capable of being easily integrated into a room, is an essential element of purchasing a dining room table. Those with a more contemporary style, should consider a modern dining room table as an adequate option. Larger families that have a more traditional style, however, might have an aversion to a modern design approach. With classic, traditional dining room tables constructed with various types of wood, more elegant design tastes are easily accommodated.
Dining Room Table Colour
Although the majority of shoppers choose a wooden, finished colour for a dining room table, there are a range of other options available in order to meet an array of tastes. Brightly coloured tables such as red dining room tables are easily found through a basic search on sites such as eBay. Almost any colour table can be found, but after selecting a bright colour, style tastes can change in a hurry. With a simple tablecloth, however, individuals can easily change the overall colour and aesthetic of a dining room table. For a more neutral, or timeless look that does not require a tablecloth, consider a finished wood option that matches the room in question.
Dining Room Table Usage
Understanding the different capacities in which a table is likely to be used is essential in making an educated purchase. A large family that eats dinner every night should make sure to select a durable table. Heavy wooden dining room tables, tend to be supportive enough to easily accommodate a daily dinner routine. As a larger table option, however, wooden dinner tables are often too cumbersome for a smaller dwelling. Searching for a table that fits both design tastes and usage needs, tends to be quite cumbersome with a scattered approach.
Matching the Table With Your Style
Shoppers in the market for a table that is expandable are likely to find drop leaf tables as an adequate choice. People who have decorated a house to mimic a certain style should shop for a table that meets that style. If the table is simply for decoration, consider a glass top dining room table to increase the appeal of the room and open up visual space. Shoppers who know the table will take a physical beating, however, might be more satisfied with a metal or aluminium option.
Dining Room Table Accessories
The most obvious item needed to accompany a dining room table is a quality set of chairs. Many dining room tables come as a dining room set, allowing individuals to purchase everything they need in one action. A tablecloth is another rather vital accessory in concern to dining room tables. Those who want to throw dinner parties should also consider purchasing placemats as well. Look for dining room table sets that include everything one needs to entertain, to maximise value.
Using eBay to Buy a Dining Room Table
With the amount of style categories and usage options, narrowing down a dining room table search is a great way to begin your search. Although difficult to do while travelling from furniture shop to shop, narrowing down a search through an online marketplace such as eBay is quite simple. All shoppers need to do is visit the eBay homepage and enter the term "dining room table" into the search bar. From there, users are now able to narrow down search results with a variety of options. Those who want to filter results from the start, however, should take advantage of the advanced search feature.
Before committing to any singular purchase, shoppers on eBay should employ the use of the advanced seller ratings offered up by each individual seller. Searching for a seller that is consistently ranked high in categories such as shipping and communication, make for a more pleasant buying experience. If the search is still somewhat overwhelming, consider shopping through local sellers first. Many options on eBay offer up exact specifications to further assure the potential buyer of legitimacy.
Conclusion
Shopping for a dining room table can be made much simpler, if the desires and needs of the table are determined beforehand. Outline the size needs, and shape issues required for determining the space that the table will be located. Making sure the seating of the table is sufficient, is another important element in selecting a dining room table. Once the size, shape, and seating requirements of a space have been determined, narrowing down the style and material options desired, is another essential shopping strategy.
In order to select from a wider variety, shoppers should consider using more non-traditional shopping methods. Sites such as eBay offer thousands of products from which to choose. With detailed item descriptions and seller ratings, consumers can be sure of what it is they are purchasing, and from whom they are making that purchase. A variety of colour options, design aesthetics, and accessories, are listed throughout eBay. Find a table that meets your needs, space requirements, and style preferences and enjoy meals for years to come at your new dining room table.