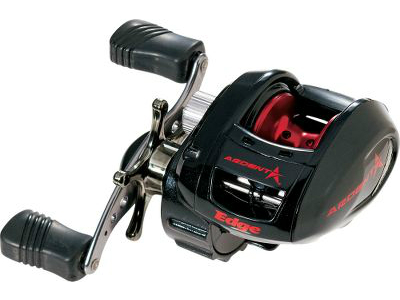 The fishing reel, long an integral piece of fishing equipment, is a device fitted to the fishing rod in order to retrieve and stow the fishing line. A range of different fishing reels are available, suitable for many different skill levels and kinds of fishing.
For example, a young, inexperienced angler may require a simpler to use, versatile reel whereas a more experienced angler who fishes for sport will likely be interested in a higher end, more specialised model.
Ensuring that a reel matches the intended use and ability of the angler is important, as the right reel can greatly improve the fishing experience. A wide range of fishing reels, and other tackle, is available on eBay.
Types of Fishing Reel
There are a number of main types of fishing reel available, and each type offers suitability to different skill levels and fishing environments.
| Type | Description |
| --- | --- |
| Spinning Reel | Spinning reels are among the most popular kind of reel, and are available in a wide range of sizes. This kind of reel offers a greater level of control to the angler, though it can take some practice to use them well. These reels are generally used with light line and flexible rods, making them suitable for catching small to midsized fish. Even so, spinning reels are available in a wide range of sizes, from those made for ultra light fishing up to heavy duty reels designed for deep sea fishing. |
| Spincast Reel | Spincast reels are 'closed face', which means the risk of tangling the line is greatly reduced. In addition, the process of casting is made considerably easier through the use of a simple push button. While the spincast reel is among the easiest reels to use, they offer less control to the angler while casting. This makes spincast reels most suitable for younger and less experienced anglers. Spincast reels are available in a wide range of sizes, suitable for both fresh water and salt water fishing. |
| Underspin Reel | The underspin reel, also called a 'triggerspin reel', is a spincast reel designed to be positioned beneath a spinning rod. This position allows the weight of the reel to hang down, and can make the rod more comfortable to hold for extended periods of time. The underspin reel utilises a trigger or level mechanism, which performs the same casting control functions as the spincast reel's push button. |
| Fly Reel | The fly reel is designed for use in fly fishing, with a fly rod and fly fishing line. Fly fishing involves the use of a specially weighted line in order to cast a near weightless artificial 'fly' lure. There are two key kinds of fly reel. "Spring-and-pawl' reels use gears to ensure that the line exits the reel at a steady rate, while the 'disc drag' reels use brakes to allow for adjustments to be made by the angler. While the spring-and-pawl reel is generally more suited for use with smaller fish, the disc drag reel is cheaper and more commonly available. |
| Baitcast Reel | The baitcast reel offers a greater deal of control to the angler, particularly during casting. This kind of reel, however, can be somewhat difficult to master and use effectively. Baitcast reels often include 'casting control', which helps prevent line backlash during casting. This involves the angler lightly touching the reel with their thumb as it spins, and it can take some practice to use effectively. |
| Centrepin Reel | The centerpin reel features a pin in the centre which allows free movement on its spindle. This allows the line to be drawn off by momentum, which significantly increases the distance a line can be cast. Modern centrpin reels are primarily used for coarse fishing, and particular when catching heavier fish such as carp with relatively light tackle. |
Aside from their type, fishing reels are further differentiated by a number of key specifications.
Fishing Reel Drag Systems
The drag system on a reel is the mechanism which applies pressure to the line, allowing the angler to control and retrieve it. There are two main types of drag system, the star drag and lever drag. The lever drag system generally provides a smoother performance, and allows for smaller and more specific adjustments to be made. The star drag system is the most commonly used, and less expensive, alternative.
Ball Bearing
All models of fishing reels have either bushings or ball bearings placed within them for support and stability. The materials of these components are important to performance, and steel ball bearings are generally considered to offer greater durability and a smoother experience than bushings. A greater number of ball bearings or bushing in a particular reel can be indicative of the reel's performance. At least two ball bearings are often considered good, with higher quality reels often containing three or four. Some high end reels can contain as many as twelve.
Gear Ratio
Another factor to be considered is the gear ratio of a reel. This refers to the number of revolutions made by the spool with every turn of the handle, determining the speed with which a line can be recovered. Generally, faster ratios, between 4 and 6-1, are better suited to the quick retrieval of lures. Slower ratios, such as 2 or 3-1, are often stronger, making such reels suitable for bottom fishing. Some high end reels are available as two speed models. These can offer substantial versatility, with the angler able to switch from a faster ratio for line retrieval to a slower, stronger ratio for reeling in fish.
Housing
The material of a reel's housing can be an important factor to consider. The majority of reels are made with either aluminium or graphite housings. Aluminium reels are generally heavier and more durable than graphite, making them more suited to use in heavy duty fishing and adverse conditions. Graphite reels are lighter and resistant to corrosion, and often more suited to use with smaller fish.
Spool
The design and constitution of the spool is a key specification to consider. Aluminium spools are generally stronger and more durable, but heavier and graphite spools are lighter and resistant to corrosion. There are two basic spool design types, internal and skirted. Older reels may be fitted with an internal spool, while skirted spools are generally found on more advanced reels and stop the line becoming tangled within the reel's housing.
In addition to aluminium and graphite bronze, chrome and steel spools are available. These spools are less commonly available, and can slightly restrict the spin of the spool. They can, however, provide a high level of durability and corrosion resistance. A key consideration to make is the capacity of the spool. The spool should be able to house the needed length of fishing line.
Finding a Fishing Reel on eBay
A variety of reels suitable for a range of ability levels and kinds of fishing are available on eBay. The entire listing of available reels can be found in the Sporting Goods section, under Fishing.
The fishing section is further divided into kinds of fishing so reels suitable for coarse fishing, for example, can be found under Coarse Fishing. As well as price, condition and distance to seller, reels can be categorised by key specifications such as gear ratios, maximum line weight and reel type.
Key information about a reel will be prominently displayed in the item listing, making it easy to quickly establish if a particular item meets any requirements.
Further information about a particular item can be found on the item page. This page not only offers further details about the item, but also contains information about the seller such as feedback ratings and user reviews. This information allows a purchase to be made with confidence. It is also possible here to ask the seller a question regarding the item.
An alternative way to find a reel could be through use of the search function. Available at the top of every page, the search function may provide a more efficient way of finding a specific item. For more information on how to get the most out of the eBay search function visit the Search Tips page.
In addition, there are a range of options available when it comes to making the purchase. An item can be purchased through the Auction, which is the most commonly used format. Alternatively, the Buy it Now option may be used to purchase an item immediately at the listed Buy it Now price. Some items may also offer the Best Offer option.
Conclusion
As is the case with most fishing equipment, the most suitable fishing reel depends on the needs of the user. This includes the skill level of the angler, the kinds of fish they are trying to catch and the environment in which they are fishing. High performance reels may be preferred by experienced anglers who fish for sport, while simpler and more generally versatile reels may be preferred by others. Finding the right reel can greatly improve the fishing experience, and eBay offers a wide range of reels, rods and other fishing tackle.