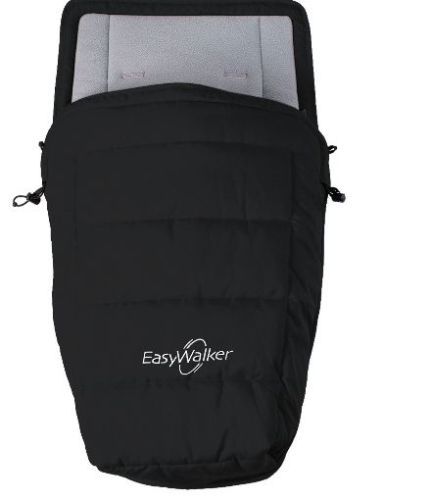 Footmuffs or cosytoes are both names for a one piece cover up for baby that fits in a pushchair, travel system, car seat, or pram. Footmuffs are an option to using several layers of blankets to keep your baby warm in the cold outdoors. Since footmuffs are in one piece and are designed to attach through the harness of the pushchair or car seat, they are also warmer and more reliable than blankets and cold weather clothes.
When searching for footmuffs, there are several things to keep in mind. Besides the different names for footmuffs, you may need to search for one that fits your pushchair, pram, or car seat. Some pushchair manufacturers have footmuffs made to specially fit their products, but you can also find universal footmuffs. Footmuffs come in different configurations, colours, and materials. As with most other baby products, there is a range of prices for footmuffs. If budget is a factor, you can also consider purchasing a second-hand product. Finally, as with all products for baby, safety should be kept in mind. Once you have considered all these factors, you can find a wide range of footmuffs to choose from on eBay.
Different Footmuffs for Different Systems
When you are choosing a footmuff, you need to keep your intended use in mind. Not only do you need to choose between a warm weather or cold weather footmuff, but you also need to ensure your footmuff fits your system. There are footmuffs that are designed for pushchairs, car seats, and prams. In all cases, the footmuff should allow the safety harness to be used properly and easily. It may take some work to thread the belt straps through the footmuff, but there is much less chance of your baby slipping from kicking or wriggling around. Look for footmuffs that can unzip to remove the top layer. This allows you to change a nappy easily or keep your baby from getting too warm.
Some pushchair designers have footmuffs that are specifically developed for their products. These can be good for people who want a coordinated look to their system. Other companies also design footmuffs for pushchairs and buggies. These are usually designed to be a universal fit. When looking at universal footmuffs on eBay, you should be able to choose between materials, colours, and designs. Since there are so many companies making footmuffs, and many of them sell their products on eBay, you are likely to find one for your needs and taste.
Footmuff Features
Footmuffs are available on eBay in a number of different styles, colours, and designs. Single leg footmuffs allow you to put your baby in one compartment. Split leg footmuffs require you to put the baby with one leg in each side of the footmuff. In addition, there are also many different options for colours and materials in footmuffs sold on eBay. If you live in an area with snowy winters, you can look for insulated and waterproof material. Some manufacturers have a 'comfort rating' to give you an idea of the lowest temperature you can expect your child to stay warm in the footmuff. On the other hand, if you are expecting to use your footmuff in a warmer climate, you may want to choose one with lighter, breathable fabric. A natural fabric lining the inside of the footmuff is more breathable than a synthetic fabric; however, it may not be machine washable. Be sure to check the manufacturer's suggestion before making a decision.
Footmuff Brands
There are many different brands of footmuff manufacturers. Some footmuffs are produced by pushchair or car seat manufacturers, while others are made by well known baby brands. Some of the more common brands and the features they are known for are outlined in the table below.
| | |
| --- | --- |
| Footmuff Brand | Footmuff Features |
| JJ Cole | Comes in different colours; is wind and water resistant; can be used with many different types of pushchairs and car seats |
| | Designed to fit any type of Maclaren pushchair; comes in different colours and is lined with faux fur |
| | Made specifically for Quinny pushchairs but can fit other brands |
| Snunkie | A range of colours and appliqués available for made-to-order footmuffs; waterproof fabrics available; universal fit |
| | Water repellent, breathable fibre that fits on all branded strollers |
| Uppababy | Designed to fit Uppababy pushchairs; rated to -6 degrees Celsius; water repellent |
| | Available in different colours; made for specific pushchair lines |
| | Works with most five point harness pushchairs; material wipes clean; comes in different colours |
This table is only a small sampling of the types of footmuffs available on the market. If you are looking for something truly unique, you can always look for footmuffs that have been handmade. This type of footmuff is usually made with a more lightweight fabric and may not be appropriate for the rain or snow. At the same time, if you are inclined to sew, you can find many patterns and fabrics available on eBay.
Footmuff Budget
Prices for footmuffs run in a range from very inexpensive to expensive. When considering footmuffs, remember that it can only be used for the time that your child is small enough to be in a pushchair or pram. On top of that, footmuffs can also be a seasonal product if you purchase one to protect your baby from the snow. If budget is a concern, you can always look for second-hand footmuffs. While they may not be brand new, second-hand items are less expensive and likely to be in good condition due to the short time they are in active use. You may also find that universal footmuffs are less expensive than ones specifically designed for a particular brand.
Footmuff Safety
As with all baby products, you want to ensure that the footmuff you choose to buy is safe for your baby. When looking for footmuffs on eBay, check to make sure that it can attach to your pram, pushchair, or car seat by at least three points. It should also accommodate the type of safety belt system your device has, with holes for three or four strap points. Footmuffs that do not have these features tend to slide around, creating a safety hazard for your child. In addition, once you have the footmuff, you can check to make sure that your child's face is always clear and there are no fabric pieces that can fall in the way. Finally, as with any product, there is a chance that a product has had a safety recall. You can always check with the appropriate agency to ensure that there has been no recall on the product you are considering.
Buying a Footmuff on eBay
While footmuffs are available in many different places, eBay has a wide range of brands and styles available, new or second hand. You can start your search by typing ' footmuff' in the search box on any page. This brings up all the available listings that include the word 'footmuff' in them. From there, you can see the wide range of options available. Once you find a style or brand you are interested in, you can also narrow down your search. For example, looking for ' pram footmuff ' or ' Mothercare footmuff ' can narrow down the options available. From there, you can sort the results by condition or even show the listings offering free postage and packing. If you are on a budget, you can sort the listing by price or filter the search results by a price range.
Once you have found a footmuff you would like to purchase, read the item listing carefully. Make sure that the footmuff fits your pram, pushchair, or car seat. Inspect the photos to ensure there are no surprises when you receive the footmuff. If you have any questions, contact the seller. You can also look at the seller's feedback by clicking on the number next to their name. This may give you an idea of the satisfaction of other buyers.
Conclusion
There are various types of footmuffs buyers can choose from. You and your baby's needs, the weather, and your budget are all factors in choosing the right footmuff. There are a few types of footmuffs that may fit in both a pushchair and a car seat; however, there are usually two different types. You may also want to consider if you are committed to buying a footmuff that is made by the same manufacturer as your pushchair. While coordinating footmuffs are stylish, they can be more expensive. The universal footmuffs also tend to have more features, so that you have more choice in the warmth, weather resistance, and size of the footmuff. This way, you can end up with one that lasts from infant through toddler years.
Finally, consider your budget and the safety of the product. Make sure that the footmuff sits snugly in the pushchair and not slide around. You should be able to thread the safety belt through the back of the footmuff so that your baby can be safe whilst out for a walk. Whether you are buying a footmuff, cosytoes, or bunting bag, you are likely to find the right product on eBay.