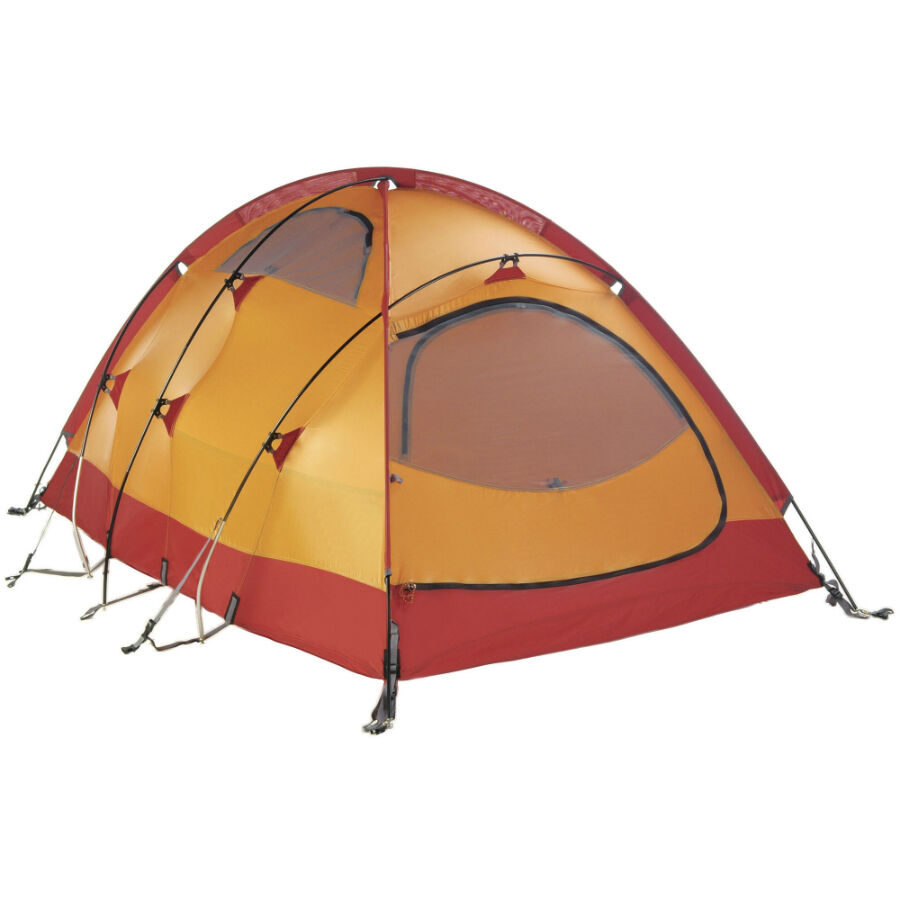 Group camping is a great way of sharing the challenge and excitement of outdoor living with others. It provides a sense of camaraderie and assurance having friends or family alongside you in the same unfamiliar conditions. When coming to make a tent purchase the model being considered must be able to comfortably fit in an increased amount of people but also suit what environment it is being used in.
This guide will run through the options available in the tent market. There is plenty of camping outlets in the UK that have a range of four-man tents on offer, along with auction websites such as eBay which can offer both second-hand and brand new tents at a more affordable rate.
Different Parts of a Four-Man Tent
Below is a run through of all the parts that make up the basics of a general tent. This will help when coming to decide which kind of tent is suitable for the specific type of camping it will be used for. It will also be useful if coming to buy additional parts.
Poles – The support of the tent is provided by the poles which will keep it upright. The type of poles required can differ from tent to tent but one of the main considerations is if they are rigid or foldable. Foldable poles are sometimes referred to as semi-rigid, which means they are linked together with shock cords and make storing and transporting them much easier.
Inner Tent – The main body of the tent is referred to as the inner tent and is basically is wall of the living quarters. Remember that double walled inner tents are not waterproof and need to be protected by a waterproof cover, commonly known as a flysheet. Polyester is often used to make inner tents.
Flysheet – The purpose of the flysheet is to protect the tent from precipitation. It will be waterproof as to keep the main body of the tent completely dry. It also must be able to deal with the build up of condensation, causing it to run onto the ground and not collect on the inside of the tent itself. Water inside the tent is often attributed to a leak in the tent when it is really the inability of a poor flysheet to deal with condensation. When coming to erect a tent make sure the flysheet does not come into contact with the tent itself.
Groundsheet – The groundsheet is to provide a layer between the user of the tent and the ground itself. A lot of modern tents have the groundsheet already sewn into its design but additional ones can be bought also if needed. A high-quality groundsheet can make the difference between a good nights camping and a bad one.
Other parts that make up most tents include vestibules, air vents, pegs and insect netting. Look into what is needed for certain types of camping.
Characteristics of a Four-Man Tent
Specifically looking for a four man tent eliminates some of the potential tents to consider such as small sized pop-up or dome tents. Models for an increased amount of people are sometimes categorised as 'family tents,' which are obviously extended in size to deal with an increased amount of people. Some design features include:
Separate living quarters for each person or for sharing in pairs; this provides extra privacy and can allow for a more homely camping experience. The traditional 2.4 children family will most likely prefer separate living and sleeping areas.
Multiple entrances; with four people coming in and out of the tent then additional entrances can be very useful and make access easier.
A porch type cover; along with a vestibule which can help to keep equipment safe and dry, larger tents can incorporate a large canopy type area that can be used to relax in without worrying about the conditions.
Good ventilation; due to the excessive amount of people sharing the same space an efficient ventilation system will be needed. Vent panels should be included in the tents design so look out for these when coming to make a purchase. These panels need to have a mesh cover to prevent insects coming into the tent also.
Four-Man Tent Buying Considerations
There are some important aspects to consider that some campers, especially those new to the pursuit, will find useful when coming to make a purchase. Some of them may seem obvious but they are essential for having an enjoyable camping experience.
First of all, due to the extended size of four-man tents, think about how the tent will be transported to the desired location. If travelling by car then does it fit inside the vehicle easily enough? Remember the equipment of four other people may also be in there. Consider the poles aswell; four-man tents may come with poles which are rigid and not foldable. Storage is also something to bear in mind when the tent is not being used.
If embarking on a camping trip for the first time, then it is advisable to know how to set the tent up securely and safely before setting off. Pitching a tent is only easy when you know how. A good tip is to practice putting it together in the garden beforehand. Some larger sized tents may require 2 or 3 people to set it up.
Taking spare parts may also be advisable in case the original set are faulty or become damaged. Components such as additional pegs, poles and groundsheets can be found on eBay easily at affordable prices, especially if second hand. Ensure to take masking tape aswell in case the seams of the tent begin to rip.
Consider who will be using the tent and their height in particular. Insufficient headroom can make life much harder for taller people.
Tents are often advertised for a range of people, not necessarily just for four. For example, they are often marketed for either 2-4 or for 4-6 people. Think about how much space is needed and also the size of the people who will be using it and buy in view of that.
The cost of a four man tent will be higher than the traditional one or two man model; be prepared to pay a bit extra. Prices can range vastly for these types of tent from around £20 to over £600. Think about how often the tent will be used and for how long each time and adjust the budget accordingly.
Where to Buy a Four-Man Tent From
The outdoor camping market is plentiful and there are many different stores, both online and in the high street, that offer four man tents. Buying in-store provides the invaluable benefit of seeing the tent first hand and actually stepping foot inside. By doing this, it can be evaluated if the tent will fit in the four people planning to use it comfortably. In addition, it will be possible to ask the shop attendant any potential questions and advice on additional parts, etc.
When a suitable model has been found then don't feel pressured to buy there and then. To get the best deal it is advisable to check out the prices online from different websites. It will also be possible to check out reviews of the tent from other people. This provides an objective and unbiased opinion of the tent that may not be found from sales people or outdoor sports websites.
When coming to buy online then don't forget to check out eBay where the particular tent required could be found at an even more affordable rate. The following is a quick run through of how to use the site efficiently and also securely.
Using eBay to Buy a Four-Man Tent
There are two ways to bring up four-man tents on eBay. They depend on how the different sellers have listed the item and in which way they have worded its description. Typing in "four man tent" into the search bar will bring up the results where people have included those words in the listing. However, some eBayers may not have used those specific search words so by doing this the entire set of possible results may not appear. To get around this then the preference bar on the left needs to be utilized.
Start by simply typing in "tents" into the search menu. Then use the bar on the left to narrow down the results by selecting 'Camping' and then 'Tents' from the options available. Now a category will appear labelled 'Berth,' for which a tent designed for four people can be selected. Further preferences can also be selected on this side bar to tie in with the preferred condition, brand and price of the tent.
Remember to use eBay safely by checking out the seller's rating and reading the item's description thoroughly. If any details appear to be a bit vague then be sure to ask the seller a question. Using Paypal is an efficient method of paying for an item on eBay and can safeguard a purchase.
Conclusion
Whether a professional or leisure camper, the four-man tent offers an excellent and social method to enjoy your camping trip whatever the situation. This guide has acted as a buying guide for purchasing a four-man tent to suit your needs. By looking at the contents required for a tent to the different characteristics associated with the purchasing of a tent; this guide aims to help you make the right decision.