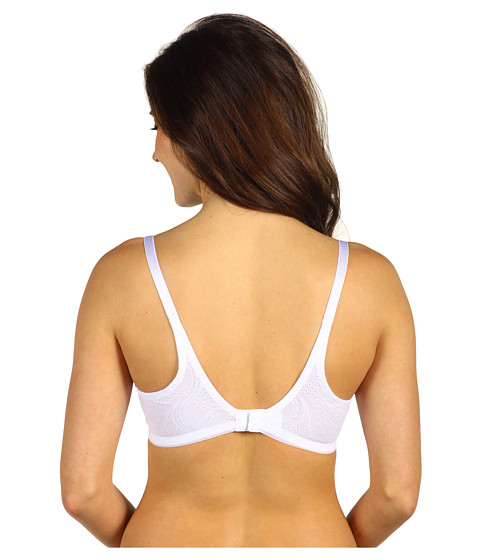 When you have large breasts, you need more coverage in a bra. If you're looking for a bra that is more supportive than sexy, you may need a full coverage bra as opposed to a demi cup, balconette, or bra without added support. A full coverage bra will usually have an underwire for support, and can be padded or have no padding at all, depending on personal preference. A full coverage bra will cover the breast entirely and provide a smooth silhouette in your clothing and offer extra support for your back as well as your chest.
The words "full coverage bra" may make you think of dowdy, frumpy bras that come in those little packages, but the truth is, not all full coverage bras are created equal. There are many styles and brands of full coverage bras available on eBay, and there are lots of pretty colours to pick from, so do not be worried about being stuck in a badly coloured, unattractive bra just because you need full coverage. This guide contains your buying options when it comes to selecting a full coverage bra, including styles and brands.
What to Consider Before Buying a Full Coverage Bra
Before buying a full coverage bra, there are several factors to keep in mind. First and foremost is size. The purpose of a full coverage bra is support and comfort, and it should not be comfortable if it does not fit properly. To find out what your bra size is the most accurate way, you'll need a soft tape measure. Use this chart as a guide to help assess your bra size. Measure underneath your breasts where the band of your bra hits to find out your numerical size, and add round up to the nearest even number. For example, a 36 measurement will be a 38 band size.
Bra Size Measurement
Then measure at the fullest part of your breasts, right across the centre of your breasts, for the cup size. Subtract the numbers and the difference between the two will help determine your cup size.
| Under-Bust Measurement (in) | Bra Band Size |
| --- | --- |
| 25 - 26 | 30 |
| 27 – 28 | 32 |
| 29 – 30 | 34 |
| 31 – 32 | 36 |
| 33 – 34 | 38 |
| 35 – 36 | 40 |
Use this chart to determine what your exact bra size will be. For example, if your band size is a 36, and your breast size is a 40, then your bra size will be 38D. The proper size bra should fit comfortably, not dig into your shoulders, and lie flat across your back without pinching too tightly. Adjust the bra properly the first time you wear it so it will fit correctly every time after that.
Types of Full Coverage Bras
Full coverage bras do not just come in one type or style. There is actually a wide range of selection when it comes to buying a full coverage bra on eBay, so you'll have a lot of options to choose from. Some options of full coverage bras may be more supportive than other styles, for instance, if you have a larger bust you may want an underwire bra with smooth cups that either do or do not have padding.
Lace Bras
Some full coverage bras can be lace bras and have cups made entirely of lace or have lace accents. Lace bras are a feminine way to add support and they often come in many colours. Lace full coverage bras can either be padded or unpadded, depending on your preference, and the full cups will keep you feeling supported all day long. A lace bra is a good bet for you if you still want a touch of sexiness with your bra, but you also need the support of a full cup bra.
Seamless/T-Shirt Bras
A seamless bra, sometimes known as a T-shirt bra due to the fact that it creates a smooth shape under even the tightest T-shirt, is a good option for a full coverage bra. Seamless bras may not be the most provocative bra you've ever seen, but they cannot be beat for comfort and support. Seamless bras have an underwire for added support and full cups that provide superior coverage. To get the most out of a seamless bra, make sure the back straps are wide enough to provide back support, especially if you are large chested.
Underwire Bras
For a woman with a larger chest, an underwire bra is a must. Smaller women can still be supported in bras without a wire, but larger women must have an underwire for the support that is needed. Underwire bras that are full coverage come in all styles, including lace and seamless types of bras.
Sports Bras
Sports bras do provide full coverage, and they are perfect for a active women that may need a more flexible and less restrictive bra for high impact activities like exercising, running, or walking. Sports bras provide support for activities as well as a large amount of coverage. Most sports bras are seamless and have thick straps for optimum support, and some sports bras do come with a built in underwire.
They are often made of comfortable cotton or stretch material to allow free range of movement. A full coverage sports bra can be the perfect solution for a day of running errands, activities, or an exercise class. They also come in a range of colours and brands.
Full Coverage Bra Brands
There are some common brands that make excellent full coverage bras. Some of these brands may be worth checking out to get your search for a full coverage bra started. The brand you select may depend on whether or not they make styles or colours you like, they offer the support you need specifically, or the bras are within your price range.
Marks & Spencer
Marks & Spencer offers a couple of different bras that give the wearer total coverage. One style is called Total Support bras, and it is a full cup bra that does not have a wire, but still offers good support for the chest and back. Total Support bras come in seamless and lace styles. These are affordable bras that offer support for women of all sizes.
Playtex
Playtex full coverage bras are known for being comfortable and providing all day long support. Their Cross Your Heart bra comes in many styles and colours and offers support and comfort to minimise back pain for large breasted women. They are either lightly padded or have no padding to provide control and support.
Triumph
Perhaps offering the widest range of full coverage bras, Triumph has a lot of variety when it comes to this type of bra. Triumph full coverage bras have soft, comfortable cups and most of the full coverage bras do not have any additional padding or lining. They come in many colours, styles, and types, to fit a wide range of sizes. They offer bras with front closures or back closures, and with lace or without.
Do not give up sexiness just because you need a bra with full coverage; try the Triumph Amourette bra for the best of both worlds.
How to Buy a Full Coverage Bra on eBay
Bra shopping does not have to be exhausting, frustrating, or embarrassing anymore. Purchase your full coverage bras from the comfort of your own home by selecting the perfect bra on eBay. Armed with your correct bra size, you'll easily be able to narrow the selection to find the exact bra you want. Choose full coverage bras from the style options to eliminate other types of bras, and then pick a bra from brand, size, or colour options.
Purchase from Top-Rated Sellers so you do not have to worry, and pick a bra from a local seller and communicate with the seller; perhaps she'll let you pick the bra up in person to avoid shipping costs. Make bra shopping more convenient by selecting several bras you like from one seller and having them all shipping together for a reduced shipping rate. Ensure you're buying a quality product by looking at lots of images of the bras, and ask sellers any questions you might have before purchasing to ensure a satisfying shopping experience.
Conclusion
Bras are something that every woman needs but not every woman likes to shop for. Picking through lots of racks to find your size, not knowing where to purchase the right bra or becoming easily frustrated by having to go to many shops can be exhausting. Skip the hassle and purchase full coverage bras on eBay instead. You'll be able to take your time looking, carefully select the bras that you want and not have any sales people bothering you or asking questions. Make the experience of shopping for a full coverage bra easier and more enjoyable by doing it on eBay.
You'll get a great bra that will fulfill your needs for a much lower price than you would in retail stores, and you cannot beat the convenience of having your bras show up at your door mere days after you order them. Find the perfect bra without the frustration, and you may even be able to put together some sets with matching knickers so you'll feel pretty under your clothes, too. Grab a sports bra for full coverage on those active days, and a couple of seamless full coverage bras for everyday wear and to give you a gorgeous shape underneath your favourite T-shirt.