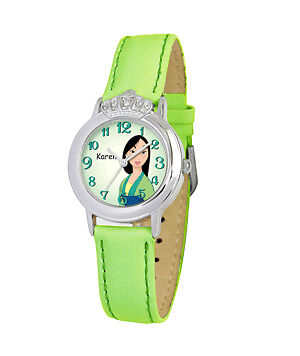 Watches can be a fashionable and fun way for girls to keep time. They can help young children learn to read analogue clocks, and provide them with the means to follow a schedule. Older girls can also find watches that suit their interests and clothing style. Girls' watches are created from a broad selection of designs, styles, and materials. In general, they can be separated into two categories: novelty items and jewellery. Novelty items typically have a digital readout, and are built from inexpensive materials like plastic. They are colourful, and feature the likenesses of animals, flowers, or cartoon characters and other figures from pop culture. Fine watches are built with metals and other quality materials, like leather wrist straps. They have analogue readouts, and may be either quartz or mechanical. Buyers should also consider the different types of watches available, such as wristwatches, key ring watches, and necklace watches.
All types of girls' watches can be purchased on eBay. These products are located by entering keywords on the homepage, or by clicking on category links. In many cases, a combination of the two methods is the best way to search for products. Begin shopping by learning how to navigate the eBay website, then decide which types of watches are the most suitable for a wearer.
Shopping for Girls' Watches on eBay
eBay has listings for a high number of girls' watches, and makes it easy to find the best products. Learn about the two ways of searching for products on eBay to begin shopping for girls' watches.
Keywords
One of the easiest ways to begin a search on eBay is to enter general keywords into the search field. For example, to see listings for digital watches for girls, search for "girls digital watch." A high number of search results is produced this way, and these can be refined further with additional terms, such as a manufacturer name or material. It is also possible to refine listings using category options.
Categories
Like search terms, category links can be used from the homepage and search results pages. Use these options to browse listings by condition, materials, price, and more. The number beside each category name indicates the amount of relevant listings a section contains. Try using keywords and category options together to find specific products.
Choosing Girls' Watches
There are several things to keep in mind while shopping for girls watches, including the price, quality, design, and materials. It is also worth considering the size of a watch and how its band or strap attaches. In many cases, it is possible to replace the bands on a quality watch, allowing it to be used by a girl as she grows into adulthood.
Novelty Watches vs. Jewellery
The first decision buyers of girls' watches should make is between fine and novelty products. Although both are functional, they can vary greatly in terms of their design, materials, longevity, and price. Keep in mind that some watches fall somewhere between these two categories, and it is possible to find a balance of the pros and cons of each.
Novelty
A high number of girls' watches are designed as novelty items. These are typically produced with a plastic material, and are not particularly durable. However, they are inexpensive, and are created in a broad variety of styles and colours. In many cases, these watches can be purchased for under five pounds, making them an excellent choice for younger girls that may be likely to lose or damage a watch. Most novelty wristwatches have a digital readout.
Fine Jewellery
Some watches for girls are produced as pieces of fine jewellery. These can be high quality, and are normally designed as analogue instruments. Most jewellery watches are plated with either gold or silver, and wristwatches either have bands made of the same material as the watch, or straps made from a quality material like leather. These items can be significantly more expensive than novelty ones, and may not be suitable for daily wear by children.
Types of Watches
In addition to standard wristwatches, a number of necklace watches and key ring watches can be purchased. These products can be located on eBay by using either keywords or category options. Consider the design and use of each type of watch to choose the most appropriate items.
Wristwatch
Wristwatches are the most popular type of timepiece available. They are inexpensive, and can range from plain to highly decorated. When shopping for wristwatches, consider whether the band is detachable. If it is an expensive watch, it is preferable to have a detachable band or strap, as it can be replaced when it wears out or becomes damaged. This can greatly prolong the usefulness of a product.
Necklace Watch
Necklace watches are an alternative to wristwatches, and as with other products, they can be produced as fine jewellery or as novelty and toy items. Look for a necklace watch with a durable chain that cannot be easily broken, and consider the clasp design. Hooks and magnetic clasps are likely to be easier for young children to use than other designs, though they may also be more difficult to find. Spring rings are the most common clasp, but can require more patience to fasten. Look for necklace watches shaped to resemble animals, cartoon characters, or flowers for fun ways to keep time.
Key Ring Watch
Key ring watches fit into a user's pocket, and are commonly made from bronze and other metals to enhance their durability. Key ring watches can be shaped like ladybugs, butterflies, dolphins, teddy bears, and other forms. Shop around to find products in the shape of favourite animals or objects.
Readouts
Girls watches can be made with either a digital or analogue readout. Consider the pros and cons of each to choose the best product available.
Digital
Digital readouts are often easier for young children to read. These watches can also be quite durable, making them ideal for active girls. Digital watches can be powered by button cell batteries or solar energy. They are also commonly built with additional features like a date display, stopwatch, and alarm.
Analogue
Analogue readouts are generally better suited to older girls, as their moving parts make them more fragile. Analogue watches can be powered mechanically or with a quartz crystal resonator. Quartz watches are more accurate, and tend to be less expensive, though they are not as desirable among buyers of fine watches.
Additional Features
Girls watches are created with a variety of special features to improve their use. The following table describes some of the most common features available.
| Feature | Description |
| --- | --- |
| Date Display | Shows today's calendar date |
| Easy to Read | Larger readout for easy viewing |
| Backlight | Allows users to see the readout in the dark |
| Compass | Indicates direction in relation to the Earth's poles |
| Stopwatch | Allows users to time an event |
| Alarm | Can be programmed to sound at a specific time of day |
Several other features can be found on girls' watches. Shop around, and try searching with eBay's category options to find the full range available.
Buying Used Watches
eBay also has many used watches available from its sellers. Buying used is an excellent way to find quality jewellery watches at discounted prices, as well as vintage watches that could be difficult to obtain otherwise. Look for the category link to used girls' watches.
Research Item Listings and Sellers on eBay
Once you have located the types of girls' watches you are interested in, take the time to review item listings and seller profiles. This helps ensure a positive transaction, and reduces the occurrence of return shipping charges. To see an item's full listing, click on its name or primary image in search results. Check the price of the item, as well as any shipping charges. You can also find information on the shipping methods and forms of payment accepted by the seller. In many cases, sellers offer their own description of the item, and include information from the manufacturer about materials, performance, and other technical aspects of the product. Take a look at available photos, and check for signs of wear or damage when purchasing a used watch.
Item listings display a positive feedback rating for the seller, as well as the number of transactions the user has completed. Use this information to gain a quick estimate of the seller's reliability. If you'd like more details about sellers' eBay history, click on their names. Seller profiles include comments left by previous buyers, as well as average ratings based on the user's performance in key areas like shipping speeds and accuracy of item descriptions. Once you've received your watch, leave feedback about your experience to inform future buyers.
Conclusion
Girls' watches are produced in a wide variety of styles and designs. Buyers may begin shopping by deciding between fine watches and novelty or toy items. Fine watches are designed as jewellery, and are typically plated with gold or silver. These products are more expensive and can be more delicate than other items, but are designed to last longer, and have higher visual appeal. Novelty watches are normally built with plastic, and can be inexpensive. They have bright colours, and often feature images and figures from popular culture, such as cartoon characters. Decide between wristwatches, necklace watches, and keychain watches to find the most suitable timepieces for a user.
All types of watches can be purchased on eBay, and the site makes it easy for buyers to find specific items by navigating listings with keywords and category links. In many cases, a combination of the two methods can produce the best results. Take the time to inspect item listings to be clear on the specific watch being sold, as well as its full price. Sellers on eBay have feedback ratings that can be used to determine their reliability, so research their profiles to ensure a positive buying experience. The high number of girls' watches available makes it easy to find attractive and functional items.