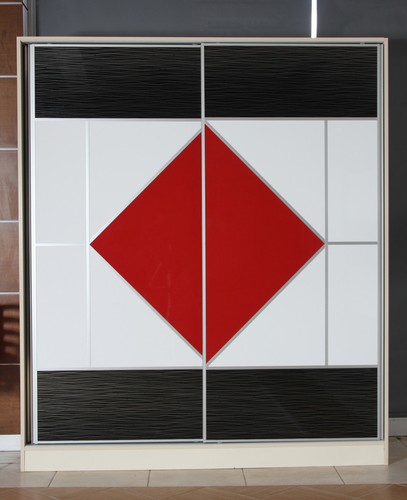 A wardrobe needs to keep clothes free from dust, but it should also make the clothes easy to see and manage. A glass wardrobe offers both benefits. Many glass wardrobes come with sliding doors, which can be shut to keep out dust. Some glass wardrobes also have translucent glass, making it easier for a person to see their clothes without having to open the entire wardrobe. Glass wardrobes add an element of style to a bedroom, whether the bedroom is minimalist and modern, or opulent and ornate.
With the right know-how, you can install a glass wardrobe after you buy a good one from the eBay marketplace. The eBay marketplace has all sorts of glass wardrobes, from minimalist modern to traditional, clear glass, mirror, and wooden wardrobes with glass doors. You need to have a good sense of style, as well as a set budget in order to select a glass wardrobe that complements the interior decor of your bedroom. When shopping for a glass wardrobe, you should consider the size of the wardrobe, where it is to be located, the type of glass in the doors, as well as the door fixtures.
The Benefits of Glass Wardrobes
While for most a wardrobe is just a place to put away clothes, a wardrobe can be an important decorative element in a bedroom. Depending on its design, a glass wardrobe can lend a modern look to a room, or a wood panel and glass wardrobe can be reminiscent of bedroom furnishing from the early to mid 20th century, like the Art Deco style, which is characterised by geometric lines.
A glass wardrobe with clear to translucent glass doors allows you to see your clothes. The benefit here is that you can make your selection without having to open the doors. Translucent glass wardrobes shield the clothes while still allowing the clothing to be seen. Translucent doors also provide some style. Their appearance is much softer than the starkness of mirrored glass doors. However, mirrored doors can make a smaller room appear much bigger, and a north facing room appear much brighter, even on a dull weather day. Mirrors also reflect sunlight, creating the illusion of a larger, lighter, airier room.
The sharper, defined lines of a glass wardrobe with its sliding doors and metal frame offers modern styling to a bedroom. Frosted or translucent glass can also add to the modern look, and can provide dimension and depth to a pastel room. Some glass wardrobes come with frosted glass doors with etchings, designs, and patterns.
Important Factors to Consider When Choosing a Glass Wardrobe
There are many different factors to consider when shopping for a glass wardrobe. In addition to the price of the wardrobe itself, these factors are important when considering what glass wardrobe to buy. These factors include the size of the wardrobe, and how it is located in the room. The type of glass doors is also a factor, as is the choice of door fixture and frame.
The Size of the Wardrobe
There is no single standard size for glass wardrobes, and the size of a glass wardrobe can differ depending on the size of the room that it is in. What is important is that the wardrobe is able to hold all that it needs to hold, which might include clothes, shoes, and other items, like accessories that need to be stored and valuables to be kept out of reach.
The Location of the Wardrobe in the Room
A wardrobe can be recessed. That is, it can go into a wall, which can increase the floor space in a room. A wardrobe can also be installed but be separate from the wall. This allows for more storage space. This is refereed to as a freestanding wardrobe. It is easy to move a freestanding wardrobe to another room or another house.
The Type of Glass
There are likewise many different kinds of glass that can be used for the wardrobe doors. Clear glass is popular, although it might not be suitable to hide a messy, disorganised piles of clothes. Clear glass, moreover, can be difficult to wash or clean, as it can accumulate dust and skin oils left by people's handprints and fingerprints.
Translucent, frosted, and milky glass are all popular choices. Mirrors are also popular and practical choices for a wardrobe door as they can make a room feel bigger. Also popular are stained glass wardrobe doors, which can add old world charm to the look of a bedroom.
The Types of Door Fixtures
Glass wardrobes often have mounted sliding doors . This can save space in a room, because once the doors are opened, they will not bump or scratch against anything. They can also be securely closed. Hinged doors are also common, and they are less expensive. They can be used in larger rooms where there is sufficient space to open and shut wardrobe doors without damaging other furniture. Moreover, hinged doors can be mounted with hooks on which accessories, such as ties, necklaces, and even bags, can be hung.
The Materials in the Doors and Frames
A wardrobe can be made of various materials or combinations thereof. Wood is a popular choice, as it is durable and can enhance the look of a room by complementing other wooden furniture. Dark woods such as cherry and lighter ones such as pine are popular choices for glass wardrobes. The lighter woods, along with mirrors, translucent glass, or clear glass can make a room appear larger, wider and brighter.
A wardrobe can also be made of metal, resin, or even entirely of glass. These materials can fit into modern households, where their sleek lines can complement the minimalist tone of the bedroom.
The Style of the Interior Decoration
A glass wardrobe can have more defined lines and angles, which can allow it to fit in a modern bedroom. On the other hand, traditional wardrobes with heavy woodwork, and can work with any of the antique or vintage inspired decorating styles. There are many different styles of wardrobe available, and they can work with different styles of bedrooms.
The following table summarizes the important factors for choosing a glass wardrobe. This table can assist buyers in making a choice as to which glass wardrobe to buy.
| Overall Factors | Sub-Factors |
| --- | --- |
| Buyer-Dependent | Price; volume of wardrobe's interior |
| Door Mounting | Hinged or sliding door; material choices like wood and metal |
| Type of Glass | Degree of opacity (mirror to clear); decorative elements like etching |
| Location-Dependent | Size of bedroom; style of bedroom; furniture quality; location of wardrobe (recessed or separate from wall) |
Before venturing online, a buyer should go to a traditional store, preferably one that specialises in cabinets, and glass wardrobes in particular. They should bring along pictures of the room as well as measurements of the area that the wardrobe is going to go into. They should also bring along photos of the furniture in the room, as well as the curtains and the bed linens. All this will help in selecting a wardrobe that will complement the furnishing and the interior decoration, and not clash with it.
Once the buyer knows what type and style of wardrobe they want for their room, they can start looking for an equivalent online.
How to Find a Glass Wardrobe on eBay
To begin your search for a glass wardrobe online, start by visiting the main eBay site and using the local search engine to search for the 'glass wardrobe'. You can also specify the colour, material, and even style of the glass wardrobe you want. On the search results page, you can narrow down your search by scrolling down the page and selecting the 'bedroom' option, this will narrow your search to only those glass wardrobes appropriate for bedrooms. You can also filter the results based on materials, such as walnut or beech wood.
You also have the option of sorting the listings to only show select brand new glass wardrobes or used glass wardrobes. You can specify your price range and select additional features, such as sliding doors or additional mirrors. You might also want to think about searching for local listings. Shipping a huge glass wardrobe from one end of the country to the other may prove very expensive. If you are able to find a local seller, the shipping costs will be much less. To sort the results for local listings, simply enter your postcode under 'Distance' and specify a search radius in miles.
Conclusion
A glass wardrobes is both stylish and functional. The doors can be made to shut completely, keeping out dirt, dust, and grime, insects and other pests. A glass wardrobe offers a sleek modern exterior that lends sophistication to a room, while making a room appear substantially bigger than it really is.
A clear glass exterior is not only attractive, but it allows you to pick out your clothes without having to open and close the doors. Mirrored doors reflect sunlight, making the room appear bigger and brighter, even if the room is north facing. When shopping for a glass wardrobe, consider the size of the room. If the glass doors are hinged, the size of the room should allow for sufficient clearance to open and close doors. If space is at a premium, consider a glass wardrobe with sliding doors. Before going on to eBay, consider doing a little window shopping on your local high street to get an idea of what types of glass wardrobes are out there.