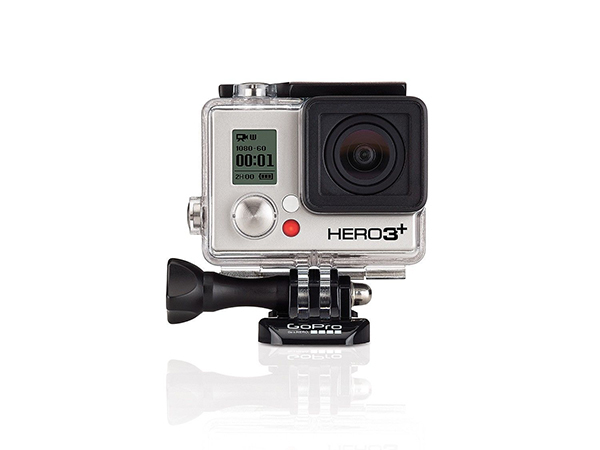 GoPro produce professional-quality photographic equipment which can function as a camera or a camcorder. The GoPro range is attached to an object or directly to the operator and records events in a variety of challenging locations. Moreover, GoPro products are small and light enough to not get in the way of the user. The various mounting options, types of camera, and sizes available mean that every user can be sure of finding a GoPro to meet their needs. Investigate the various styles and specifications of GoPro cameras in order to find a model that will continue producing excellent results for many years to come.
About GoPro Products
GoPro cameras are popular with many users; extreme sport lovers, professional photographers, and wildlife enthusiasts find them particularly helpful. They are designed to be an action sports camera. Surfers, snowboarders, and rock climbers attach the GoPro to their body or a fixed point before beginning the sport. Photographers can then edit, add slow motion sections, and save the footage before sharing it with other viewers.
The GoPro company was created by Nick Woodman; he was driven by a desire to create an affordable piece of professional level equipment aimed at buyers like his friends. He had seen that surfers were not able to get good shots of their skills using their existing cameras, but were priced out of the specialist market.
From its beginnings as a provider of short clips, the GoPro has been transformed to produce a wide screen, cinema style format, with 3D capabilities. There are three main lines of GoPro camera, the original GoPro HD Hero, the HD Hero2 and the HD Hero3. Within each line, there are a number of different cameras. Each has variations on the special features, the size, and price. The Hero3 cameras can be used in conjunction with a smartphone app, called GoPro App and a Wi-Fi remote control.
Choosing a GoPro
Selecting the right GoPro camera for an individual photographer will be down to personal preference, the intended use and the type of result expected. In order to refine a search, there are a variety of factors to take into consideration: these are the size, special features, and cost as well as the design of each GoPro.
The GoPro HD Hero
The GoPro Hero range was introduced from April 2005, beginning with the GoPro Hero 35mm camera. It was marketed as a sports camera, suitable for year round use. Here is a table to show the four cameras included in this early range.
| | |
| --- | --- |
| HD Hero | Sometimes referred to as the HD Hero Naked, this version is both mountable and wearable. The battery is rechargeable, and a USB cable is included in the packaging. |
| HD Hero 960 | The HD Hero 960 has an improved high definition video capture, plus a time lapse photography tool. The audio element is better in this later model. |
| Digital Hero 5 | The digital version of GoPro Hero was a step forward. It includes a 5 mega pixel camera and an inbuilt 16MB memory. It boasts a wide lens and is capable of working to a depth of 30 meters. |
| GoPro Hero 35mm | This first GoPro was sold with a glove attachment and a wrist strap. It is waterproof to a depth of 15 meters and uses 35mm film, one roll of which was in the original box, ready for use. |
The GoPro HD Hero2
The GoPro HD Hero2 was marketed as being two times more powerful than its predecessors. It uses a professional recording format, an 11 mega pixel camera, and can function in reduced light. Like the other GoPro cameras, it can be worn or mounted. Each pack contains extra accessories that are specifically designed; therefore, it is sold as either a Motorsport, Outdoor, or Surf edition.
| | |
| --- | --- |
| GoPro Hero2 Outdoor Edition | The pack includes a helmet mount and a head strap, allowing the camera to get a personal perspective while the user is riding a bike or climbing, for example. |
| GoPro Hero2 Motorsport Edition | This pack has a suction cup for mounting on a dashboard and a number of self-adhesive fixed mounts, for other locations in or on a vehicle or boat. |
| GoPro Hero2 Surf Edition | The surf edition pack has surf board mounts and a device known as a floaty; this ensures that the equipment will stay on top of the water rather than sinking to the bottom should it come adrift. |
The GoPro HD Hero3
The GoPro Hero3 cameras were released in 2012. They include all the features of previous generation GoPro cameras, but are lighter and more compact. The GoPro Hero3 camera comes in three different types, the White Edition, the Silver Edition, and the Black Edition. All three are Wi-Fi enabled, and the Black Edition comes with a Wi-Fi remote control. Each edition has a specific pixel and frame count, with the Black Edition being the most powerful and expensive of the three. There is a mini USB port that can be used for charging or syncing to a computer.
| | |
| --- | --- |
| Hero3 White Edition | The Hero3 White Edition houses a 5 mega pixel camera and can shoot at 3 frames per second. This is a good, slightly cheaper, starter version for fans of the GoPro range. |
| Hero3 Silver Edition | The Silver Edition shoots at a rate of 10 frames per second, using an 11 mega pixel camera. It includes a feature for taking time lapse pictures and automatic photography |
| Hero3 Black Edition | The Black Edition is a powerful camera that can shoot 12 mega pixel shots at a rate of 30 frames per second. The camera provides film at cinema quality. |
The Types of GoPro Mounting Systems
The GoPro mounting systems provide a huge degree of flexibility and ease of use. For any activity the user intends on filming, there is a mount for that purpose - or one that can be adapted. The mount usually comprises a robust plastic base, metal securing bolt, and a finger joint. Here is a table showing four of the most common mounts.
| | |
| --- | --- |
| Roll Bar Mount | This mount is suitable for fixing to any tubular shape; handlebars, the radiator cap of a kart, or bull bars. |
| Tripod Mount | A tripod can be set up in moments and lets a photographer take a long steady shot with little effort. The tripod mount fixes a GoPro camera to any conventional tripod. |
| Chest Mount | The chest mount is made using elasticised materials. It allows the user to take shots and video from a different perspective; it is useful for climbers and skiers. Some photographers attach the Chest Mount to their pets for a unique method of filming. |
| Camera Tethers | Camera tethers ensure the equipment remains anchored to one spot during adverse conditions. |
How to Care for a GoPro
Although the GoPro range is designed to be extremely hardwearing and resilient, taking care of the product will ensure its performance remains high.
Regularly wipe the body of the camera with a lint-free cloth, and then gently clean the lens with a lens cleaning solution. The waterproof housing will bear the brunt of any knocks or bumps as well as being exposed to the elements. If it begins to collect dirt, there is a danger that those particles could end up damaging the lens. Similarly, wiping sand or grit away could cause minute scratches; therefore, it is advisable to use an air duster for removing them.
Buying a GoPro on eBay
To buy any of the cameras from the GoPro range on eBay, start by opening the homepage. Select the All Categories section and choose theCameras & Photography tab. From here, click on the link marked Digital Cameras and choose GoPro from the Brand section to the left. Alternatively, from the Cameras & Photography tab, choose Camcorders,, and then click on GoPro in the Related Searches options under the main query bar. Search through the individual listings, or use the options menu to the left hand side of the page to refine these results further. In order to find a more specific item, enter the desired criteria into the search bar at the top of any eBay page. For example, to look for an unused GoPro Hero3 Black Edition, type 'new GoPro Hero3 Black Edition' into the query box.
Conclusion
The GoPro is a versatile and sturdy camera, suitable for many users, terrains and environments. They are available in a variety of sizes and specifications, to match the different needs of individual photographers. Deciding on which GoPro camera to buy will be a matter of personal choice for each customer, take into account the performance level expected and the features of each model before making a final choice. Be sure to read up on each device before looking at sellers and reviews in order to buy the best GoPro at the most reasonable price.