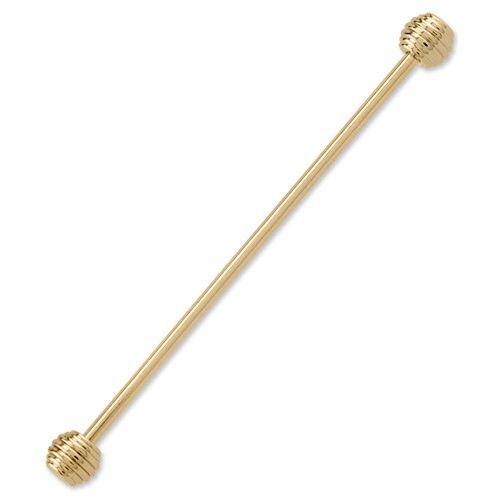 It does not matter what type of gold pin a buyer is considering, since each is as individual as the craftsman or the wearer. Buying a gold pin is about making a personal choice based upon a piece's design. Buyers need to understand a few rudimentary facts about buying gold to feel confident that the gold is actually what the seller has advertised.
The terms "pin" and "brooch" are often used interchangeably, but in fact, smaller, more delicate pieces are technically pins whilst brooches are larger and more dramatic pieces. Understanding how jewellery pieces are described, often in terms of the artistic movement that inspired the designer, is also a useful way to identify potential purchases.
When considering the gold pin marketplace, buyers should be aware of some of the many styles of pins and the types of gold used to create them. This can also help buyers looking for a gold pin using an online platform such as eBay.
Styles and Themes for Gold Pins
For many women, a gold pin or brooch is the centrepiece of a jewellery collection. There are nearly limitless design options, although some themes occur regularly. Some take inspiration from nature, whilst others are rooted in the classic design periods of the nineteenth and twentieth century.
Animals
When it comes to brightening up a plain dress or shawl, animal designs are a popular choice. Capturing the beauty of a wild animal in a mixture of precious stones, pearls, and crystals has been a favoured style of gold pins for hundreds of years. Even today, designers such as Cartier are famed for their gold pins shaped like panthers, with jewels for eyes.
Birds and Insects
Some of nature's most delicate creatures are birds and insects, and their beauty translates well into gold pin jewellery. Simple, classic shapes such as those of a hummingbird or a butterfly provide inspiration for delicate eye catching pieces. Gold married with enamel creates a pin with all the colour of the hummingbird in its natural world. Butterflies, with their wonderfully delicate wings, can inspire delicate creations that complement any lady's outfit.
Flowers
The world of flowers provides a wide range of gold pin designs. Delicate blooms of individual petals seem to lend themselves especially well to gold craftsmanship adorned with jewels. Flowers occur naturally in a variety of shapes and sizes, and this provides plenty of opportunity for a jeweller to create a unique thing of beauty.
Arts and Crafts Style
Between 1860 and 1910, the world of design and fashion was led by the arts and crafts movement. As a design school, the movement arose as a protest over the lack of patronage traditional arts were receiving at the time. The protesting artists focused on traditional craftsmanship and used that to produce pieces based in folk history. The movement was very influential, and whilst not actively being developed today, it still gives rise to some quality gold pin jewellery items.
Art Deco Style
Art Deco is a visual arts style that became fashionable during the 30s and 40s, and which is still popular today. It is hard to define the style because it is very eclectic in its makeup. It combines the modern age imagery of the period with traditional motifs, and uses bold colours to create eye catching designs.
Art Nouveau Style
Art Nouveau was a popular style of art and architecture that reached its height between 1890 and 1910. It took much of its inspiration from floral and organic forms. Despite its short popular period, art nouveau pins are still regularly seen in the marketplace, and art nouveau style pins remain popular with jewellery craftsmen.
Victorian Style
During the nineteenth century, Victorian design became known for its mixture of revived historical styles and Middle Eastern and Asian themes. It is known for excess in its use and quality of embellishments, and is recognised as the root of both the Art Nouveau and Art Deco styles. Victorian gold pins are popular items, and new versions of old Victorian designs still make popular jewellery items.
Edwardian Style
The Edwardian era followed the death of Queen Victoria in the early days of the twentieth century. This new era was forward-looking rather than steeped in the history and tradition that surrounded the previous monarch. New sleek lines in fashion were reflected in jewellery design, and themes associated with icons of the time (e.g. the Titanic) can be seen in Edwardian style gold pins today.
Gold of Different Purity
Jewellery is rarely made of pure gold. Gold is a very soft metal, and when it is pure, it is likely to wear. It can be hardened by adding other metals (e.g. silver or nickel) and the amount of alloy metal is indicated by the gold's carat rating. In other words, the pureness is measured in carat.
It can be mixed in a variety of ways, but the purest (i.e. 99 per cent pure) gold is 24 carats. Next, 22 carat gold is 22 parts gold to 2 parts other metal, and thus is 92 per cent pure. 18 carat gold is 18 parts gold and 6 parts other metals, resulting in a gold alloy that is 75 per cent pure, and so on.
Clearly the gold content of any piece of jewellery significantly affects the price of the piece. Under law, the true gold (or silver or platinum) content of any item must be displayed using a special mark stamped into each item. Hallmarks vary from country to country. British gold carries 5 hallmarks, each stamped by an assay office. The hallmarks identify the type of gold to potential buyers. Starting from the left, the first character tells who the crafting jeweller was, the third character indicates what the metal is and what it's purity in fineness is. Gold is hallmarked with a rectangle that has its corners cut off, and the fineness, or percentage of gold is displayed inside the rectangle. Prior to 1972, gold was stamped with a carat rating rather than with its fineness rating.
Not only does it affect a gold item's purity, but the alloy metal mixed with the gold both hardens the gold and can change its colour. Alloy metals are only used in certain, specific proportions. This ensures its purity and malleability, and also results in consistent colourings.
There are several different common colours of gold on the market. The following table lists each type and indicates the alloy metal mixes needed to achieve each colour.
| Colour | Alloy Metal |
| --- | --- |
| Yellow | 50/50 copper and silver |
| Red | copper |
| White | nickel, palladium, rhodium or even platinum |
| Green | silver or cadmium |
| Purple | aluminium |
| Blue | steel |
Jewellery can be solid gold, or only gold plated. Gold plated pins are made from metal that has a very fine layer of gold deposited on a base metal (e.g. brass) using chemical or electrochemical techniques. Unfortunately, the gold can wear, as gold often does, and can lose its lustre. When this happens, eventually, the base metal can show beneath the gold.
How to Buy a Gold Pin on eBay
You can begin your search for a gold pin on eBay by entering the phrase "gold pin" into the search bar. At first, you may be surprised by the number of listings this returns, and you may wish to narrow down the results to a manageable number. You can do this by customising your search phrase to be more descriptive. For example, entering "art nouveau pins " or"Victorian gold pins&" returns fewer, more relevant results. eBay also suggests a number of filters that can be applied to any search. These filters let you exclude listings based on materials, price, and the location of the seller. You can also choose to see only new or only used gold pins, depending on your preference.
Once you find gold pin you want to buy, it is worth spending a few moments to research the seller. Find out the seller's track record on eBay by looking at feedback ratings and reading what previous buyers have said. Buyers with a lot of positive feedback are your best bet, since they are likely to provide you with a smooth transaction and quality merchandise.
Conclusion
Buying a gold pin on eBay can be the first step to a jewellery collection that you build over your lifetime. A well-chosen gold pin can easily become the centrepiece of a fine jewellery collection. Adding additional pins is straightforward, and eBay can help you find the right pieces to match your style and sensibilities.
eBay lists a large number of gold pins that can be combined with the clothes in a wardrobe to great effect. The convenience of using eBay allows shoppers to return to the shop at their convenience if the exact gold pin is not listed. New items for sale are being listed all the time, which means that checking back regularly is easy and can be done 24/7 and from the comfort of home.