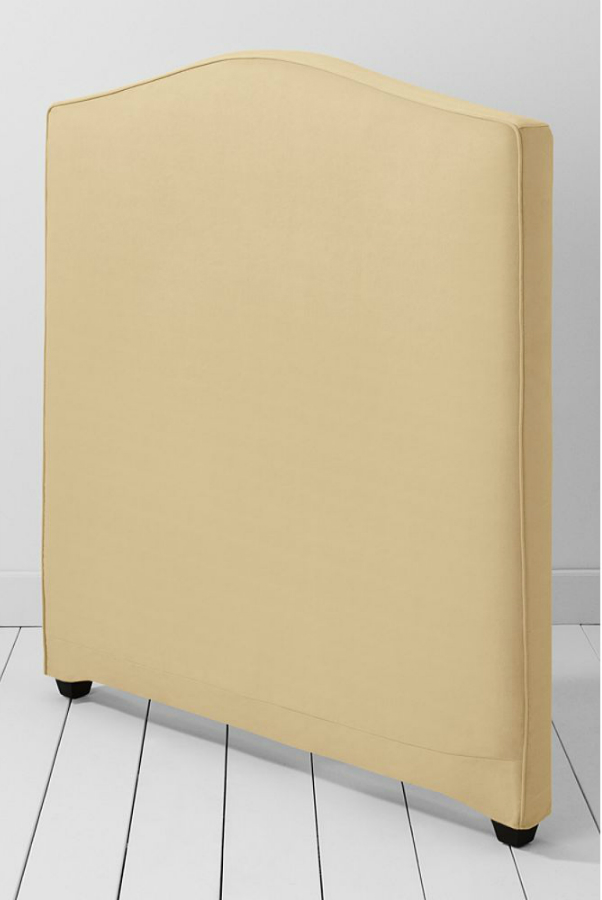 A headboard is a beautiful addition to any bedroom decor. It is purely decorative, used for storage, or provides back support while sitting up in bed. A headboard usually makes a bed look more polished and adds beauty to the overall appearance of the bed. There are headboards in every shape, style, material, fabric, and size to suit just about every buyer. Whether purchasing a one of a kind headboard or a hand-carved headboard, there are varying options to consider. Some headboards are suitable only for specifically sized beds and others are larger than life.
You can purchase a headboard at local thrift shops, rummage sales, or online on websites like eBay. Buying a headboard is an involved process especially if there are certain decor requirements or space issues to consider. The right headboard ties the whole room together or elevates it to the next level of posh. The material, size, and shape options are endless.
What to Consider Before Buying a Headboard
The main factor in purchasing a headboard is size. A headboard is bought to fit a twin, full, queen, or king bed, so the buyer needs to know which type of bed the headboard will be purchased for before looking at headboard options. Existing decor is another factor for consideration. What colour or material does the buyer want for his or her headboard? What style headboard sounds most appealing? An individual who simply wants a comfortable, luxurious headboard may want an upholstered headboard, but if functionality is all that matters, a simple wooden headboard may suffice. The buyer who needs a headboard to be more than aesthetically pleasing should look for a storage headboard, for example.
Headboard Styles
There are endless styles, shapes, and silhouettes when it comes to headboards. There are four-poster headboards, oval-shaped headboards, fence headboards, as well as fabric headboards. Elaborate scrolled iron headboards are popular and add a shabby chic look to a bedroom. The style of headboard the buyer selects depends on personal preference and room decor.
Headboard Materials
Headboards are made of many different materials. A solid wooden headboard is a sturdy choice that lasts for years, but an upholstered headboard sometimes becomes cracked or torn over time. You need to be aware of the maintenance of the headboard in order to keep the integrity of the materials. A child may outgrow a small headboard, but a king-sized headboard might be passed down to the next generation. A beautiful headboard is an investment no matter what material it is made out of, but quality should trump any other factors when picking a headboard material.
Wooden Headboards
The most common headboard material is wood. Wooden headboards come in various styles, such as four-poster wooden headboards, carved and wooden headboards, wooden panels, or simple frame headboards. A charming style for a kid's headboard is the picket fence headboard. Wooden headboards can also be painted or stained any colour to match existing decor, and wooden headboards made of sturdy wood, such as oak or pine, last forever with the proper care. Wooden headboards are budget friendly and are unusual and unique additions to any room, such as log headboards or speciality carved headboards.
Upholstered or Tufted Headboards
Upholstered headboards are a way to make any bed look elegant, expensive, and luxurious. Whether the fabric used to upholster the headboard is leather, microfibre, velvet, or linen, an upholstered headboard makes a statement.Available fabrics come in various colours and patterns to match any room, and tufting adds charm to the upholstery pattern. Sometimes upholstered headboards are framed in wood. For an interesting twist on an old style of headboard, a leopard upholstered headboard fits the bill.
Iron Headboards
Iron headboards are beautiful, modern, and classic or trendy. Iron headboards are anything from simple to very ornate and detailed; with scrollwork and designs in the iron. There are four-postered like wooden headboards or headboards with a lot of curves and twists. A heart iron headboard is an adorable addition to a little girl's room, and a Victorian iron headboard adds vintage charm to any bedroom. Wrought iron headboards usually last for years if taken care of properly. Iron headboards may be painted, but are better appreciated when they are left in their natural state.
Types of Headboards
There are a number of different headboards available on the market to choose from. A few examples include storage headboards and bookcase headboards.
Storage Headboards
Storage headboards are larger than average headboards to account for the extra room. The width and depth might extend beyond the width of the bed. Further, they might have a long shelf across them for placing items, or they may have many small shelves inside of the headboards. Some storage headboards even come down around the bed to the floor to offer more space. There is sometimes a place to put a reading lamp or small decorative items inside the headboards as well.
Storage headboards are sometimes made of wood or even iron. The units are also either intricate or minimalistic. Storage headboards come in various colours and shapes or are painted to reflect the buyer's taste. Storage headboards are tall or short and extends out or not. When it comes to storage headboards, one size does not fit all. There are many types of storage headboards and space is definitely a factor when a buyer is considering purchasing one.
Bookcase Headboards
Bookcase headboards are a another way to enjoy more storage space in the bedroom. Bookcase headboards are generally taller than other types of storage headboards, and they offer bigger shelves where books comfortably fit. Some bookcase headboards also have drawers in them where the buyer stores reading glasses or bookmarks. They come in all colours, shapes, and styles which reflect the buyer's taste. Decorative items are also placed on top to add embellishment. The top shelf may extend upwards to form a shape such as oval or square. Bookcase headboards are purchased for smaller beds as well as larger beds, and they and are a great way to add extra storage for a shopper who loves to read or has a lot of books.
What to Look for When Choosing a Headboard
A buyer needs to check several details when buying a headboard. Answering a few simple questions jump starts the decision tree. Will it fit your bed? Is the headboard used? Is it easy to assemble? Will it fit with your decor? If it is previously used, or maybe even vintage, does it have any cracks, stains, or scratches? Will the headboard fit your budget?
A headboard should have exact dimensions noted in the specifications so the buyer can determine if it is appropriate for the space allowed. Finally, budget is a large consideration. Headboards vary from very inexpensive to extremely costly, mostly depending on how elaborate the headboard is and what it is made out of. Sticking with a budget helps narrow the search for the buyer's perfect headboard.
How to Find Headboards on eBay
eBay's search options make it easy to find the perfect headboard. To find new or used headboards on eBay, first make a list of the headboard features which are important to you. If you are looking for a king headboard, consider what fabric or style you prefer and search accordingly. Whatever your search criteria, you can search from any eBay web page by simply typing the query into the search bar on the screen. A general search for "headboards" brings you to the maximum number of options. However, if you are overwhelmed with the results, you can filter the rendered results by price, condition of the headboard, and geography of the seller.
Seller Feedback
Try to purchase from those with positive seller feedback and those who have good reviews and communicate well. You want to do business with sellers who have a history of excellent customer service. Listings by these sellers show an award ribbon which is easily recognisable. As with any online transaction, be sure to ask the seller any questions you might have about the headboard prior to buying. You may want to know how many pieces it comes in or how it is shipped, for example.
Conclusion
A headboard dresses up a bed and a bedroom. Choosing a headboard is a fun experience because there are so many types and styles to choose, including beautiful scrolled iron headboards or ornate wooden options. No matter what size headboard you aim to purchase, there are a lot of kinds to choose from. A headboard is either purely for decoration or a place to prop a pillow and get comfortable while reading a book at night. It is also be a solution to a storage problem. A quality headboard is a good investment and a lovely addition to a bedroom for years to come.
Buying a new headboard is a good way to liven up an old bed if a new bed set cannot be purchased. A headboard is less expensive than buying a whole bed, and it is easy to install with the right tools and patience. A buyer should select a headboard that he or she really loves and feels comfortable with, and the buyer should choose a headboard in which he or she is happy to see every day, as well.