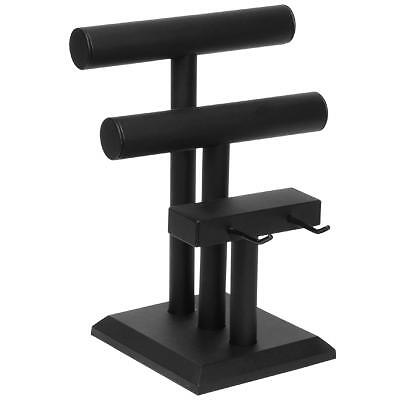 A jewellery display stand is a must-have for jewellery vendors as it is needed to successfully display jewellery of different types. Home users and jewellery collectors also use jewellery stands of different types to hold the various types of jewellery they possess. Some common materials that are used to manufacture jewellery stands include leather, wood, acrylic, velvet, and glass. The different styles of jewellery stands include busts, racks, mannequins, and trees, each of which is suitable for holding different types of jewellery, including earrings, bracelets, rings, pendants, and necklaces.
A buyer needs to consider the purpose for buying a display stand, first of all. Additionally, he or she needs to consider the amount of available space for the jewellery stand. Vendors who want to purchase jewellery display stands should also take into account factors like orientation, cleanliness, and lighting so that their jewellery is effectively displayed for their customers.
In order for a buyer to make an informed purchasing decision, he or she needs to learn the basics of displaying jewellery, including the common types of stands and set-up procedures. A jewellery display stand can be purchased from brick-and-mortar jewellery stores as well as online. eBay, for example, features a huge collection of jewellery display stands in different materials, sizes, and price ranges.
Displaying Jewellery
In this age, displaying jewellery that is for sale is as important as choosing the jewellery itself. Therefore, it should not be taken lightly. It takes some skill and experience to get the most out of a jewellery display stand. For vendors, a display that showcases the best varieties of jewellery in the best way can literally increase sales. Even for personal jewellery collectors, showing off their jewellery in style is a very favourable goal.
Style, portability, price, and security are some of the major considerations when displaying jewellery. Another important aspect is the proper placement of accessories in relation to jewellery items. Accessories should complement the main display style and the primary items that are for sale. For retail stores, arrangements should be made to use the different varieties of display stands for long term periods of time, unlike displays for events that only require temporary arrangements. A closed jewellery display box should be used for expensive jewellery items.
Displaying Jewellery for Sale
Displaying jewellery for sale is a tricky process considering that failing to properly display items can result in a decrease in overall sales. Fortunately, there are a few suggestions that may prove to be helpful for vendors who want to display jewellery for sale. First, a nice fabric should be used to cover the jewellery table, the bottoms of cases, and the display windows. The colour of the fabric should enhance the beauty of the jewellery that is displayed. You can also use multiple colours for different jewellery categories to differentiate between the various types. One common practice, however, is to use the same colour throughout the store. According to some people, this is done to create a 'relative' environment, so a buyer can make a clear distinction between two products. If different materials are used when manufacturing racks and stands, you can use spray paint to create a uniform look.
Arrangements should be made in such a way that jewellery stands can be placed at a variety of heights. This helps a buyer closely inspect the features of the product easily. It has been observed that items that are placed closer together are more visible to the human eye than to others. Therefore, jewellery stands should not be placed too low or too high. Display stands should be arranged at different levels to make sure they are highly visible and do not block each other.
It creates a more uniform look if jewellery display stands and racks that are closely related to each other in finish and style are used together. Professional and seasoned retailers also take care of matching the feel of the jewellery with the style of the stand and accessories. Velvet stands offer a more elegant look, while moulded plastic stands offer a more realistic look.
Jewellery items that are for sale should be modelled by salespeople when they are not in use. Placing mirrors in sales venues is also imperative for jewellery sellers so that potential customers can try on different pieces before making a purchase. Mirrors should be strategically placed around the shop in order to avoid overcrowding in any one particular spot. At the same time, it is important to be able to monitor everything to make sure no items are stolen.
Special care should be taken to accommodate potential buyers of jewellery. As an example, it is a common practice to place price tags in plain sight so that a customer does not have to ask again and again for prices.
U-shaped pins are particularly helpful for attaching jewellery to tray inserts in order to keep items in place. It is a good practice to keep expensive jewellery items under glass or to use jewellery display cases with locks. Proper lighting is also an essential requirement for stores. Jewellery, whether it is on a jewellery stand or in a box, should generate the highest sparkle when light is shined on the various pieces.
Choosing Display Stands
Since most buyers are visually oriented, it is imperative to display a for-sale product properly, especially in these modern times. This also reduces the amount of time the buyers needs to go through the various options, and it is essential that you provide your customers with as much convenience and comfort as possible. Displaying jewellery or any other product in the right way satisfies customers and puts them at ease, and this can eventually lead to an increase in sales.
The same is true for home users, as well. They also want stands that offer great display options for their precious jewellery collections. There are numerous types of jewellery display trays. Some of the common types include square trays and cabinets, luxury wooden trays, price cube trays, and leatherette jewellery trays.
For a jewellery display stand, the stand should be specific to a particular type of jewellery that matches the style of the stand. For example, necklaces go well on semi-busts that can easily hold one to three necklaces. T-style stands can also be used, and they have relatively more capacity to hold necklaces and offer great visibility, as well. Bracelets and earrings also have specific display stands that enhance their look and reveal their features more clearly.
For events and exhibitions, most vendors prefer portable, collapsible stands that are strong enough to travel with ease. Frames are often helpful for such occasions, as well, and can hold a lot of jewellery items in one place. This also helps from a security point of view. Generally speaking, a buyer should preferably do some research online about the various options that are available on jewellery display stands. Forums and reviews may also contain important details about a particular stand that is of interest. This is helpful when it comes to making the right purchasing decision.
Buying Jewellery Display Stands on eBay
Jewellery and jewellery display stands can be purchased from the vast online marketplace eBay, which boasts a huge collection of jewellery display stands that meet the needs of a diverse audience. An easy way of searching for a jewellery display stand on eBay is to use the search bar on the eBay homepage. You can enter relevant queries in the search bar to see the available options for jewellery and jewellery display stands. Some relevant search terms might include 'jewellery display stand&' or simply 'jewellery stand&'. For some search terms, 'related searches' are also suggested by eBay, and this can facilitate the buying process. You can also filter the results according to your own preferences.
To save on the delivery charges, one recommended practice is to enter your postcode into the 'Distance' filter on the search results page to see the local listings for jewellery display stands. Another recommended practice is to read the user comments,, seller history, and refund policy for eBay. Refund policies sometimes even change from product to product, so a few seconds spent reading the policy are worth it. As soon as the seller agrees to local pickup, you can arrange a time to retrieve the newly purchased jewellery display stand.
Conclusion
Jewellery is a type of personal adornment that includes bracelets, rings, necklaces, earrings, and much, much more. Although jewellery has also been used for other purposes, such as currency, the primary purpose has always been the adornment of the human body. Its first use can be traced back to thousands of years ago.
The display of jewellery items that are for sale is as important as the jewellery itself in some cases. Leather, wood, velvet, acrylic, and glass are just some of the most popular materials that are used to manufacture jewellery stands. Busts, racks, mannequins, and trees are some of the most popular types of jewellery display stands. A buyer should determine the purpose of buying a stand first, and then other important considerations like style, portability, price, and security should fall into place.
eBay features a huge collection of jewellery and related accessories, such as jewellery stands of different types for holding various kinds of jewellery items. Basic level knowledge of the various types of jewelleries and the various types of display stands can be quite useful when it comes to choosing the proper display.