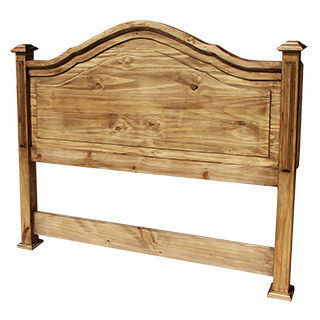 Finding a bed can be a fairly simple task; integrating that bed into a specific design aesthetic, however, can be quite difficult. One way to set up a bedroom quite nicely is to purchase a unique headboard. Those with larger rooms should consider purchasing a king size headboard in order to take up a larger space. With options that range from reasonably inexpensive, to higher end furniture designed to capture the imagination, consumers can find more than enough options to satisfy a range of tastes with the right level of research.
Although selection tends to be somewhat limited at traditional furniture stores, online marketplaces such as eBay,, offer up a wide selection right from the comfort of one's own home. Understanding the materials and stylistic options is an essential part in making an informed purchase. Considering usage options and construction designs, is also an important aspect of selecting a king sized headboard. Gaining an education on the product in question aids consumers in making a quality purchasing decision.
King Size Headboard Material Options
Determining what material a king size headboard is comprised of, is a central aspect of shopping for a headboard. Since some materials are more durable than others, those who expect quite a bit of wear and tear should consider a sturdier option. The design aesthetic of a headboard, specifically the larger king size option, is fairly dominated by the material of which the piece is made. Consider the type of material that is best suited to the needs of the bed, the room, and the type of style of the user as well.
Wood
One of the more consistently available options for a king size headboard is wood. A wooden king size headboard is a fairly durable option that is designed well for daily use. Although a wooden headboard is likely to be scratched during a move, selecting such a headboard for those who are likely to stay in the same area is a sensible idea. In concern to design, a wooden headboard adds a sense of elegance to otherwise lacklustre rooms. Those who have developed a more modern feel to a bedroom or guest room, however, might want to avoid the use of a wooden headboard. For a classic options that should last for quite some time, consider a wooden king sized headboard.
Metal
Shoppers in the market for an incredibly durable king size headboard options should consider headboards constructed with metal. A metal king size headboard is likely to cost a pretty penny, and the design aesthetic may not be to everyone's liking. Individuals with a more classical, antique feel should distance themselves from metal options. Anyone with a more modern style home is likely to find metal headboards to be a premier options. Metal headboards are designed for heavy, daily use and can be quite attractive in the right setting.
Leather
Although not as common as wood or metal headboards, leather options are gaining notoriety as a more than adequate option for nearly any setting. Most leather headboards are designed with a framework of metal, plastic, or wood, but are sometimes made predominantly from leather. A leather king size headboard is a wonderful option for bed's that are infrequently used, such as guest room beds. Since leather headboards tend to be somewhat solid in colour, they tend to be an attractive option for more subdued design styles. Individuals in need of a subdued style and reasonable price, tend to sway towards leather headboard options for their choice.
Upholstered Headboard
As one of the more steadfast modern options, upholstered headboards tend to be somewhat more inexpensive than other options. A king size upholstered headboard is a reasonable option for those who have a budget to follow. With replacement upholstery and upkeep, owners are able to consistently match the headboard to the room style with ease. Those with more modern and contemporary design styles throughout a home, however, might find upholstered headboards to be somewhat less attractive. With the ability to change the style and create DIY headboards, however, this option moves to the top of the list for those with a tight budget.
Types of King Size Headboards
The numerous types of king size headboards that are on the market today can boggle the mind. With options that range from classic, wooden headboards to more modern metal options, deciding between headboards can be quite difficult. Considering space when shopping for a headboard is a good way to narrow down the search. Ending up with a large headboard that is much taller than a bed, can make a small room feel even smaller. Make sure that height and width is considered when purchasing a headboard.
Some headboards are constructed with oddly shaped connection options, so be sure to ask a seller what type of bed connection is used. Before committing to a purchase, viewing a reasonable amount of photos is always a good idea. Do not be afraid to ask a few questions. The likelihood is that such questions can save consumers from a regrettable purchase. Search for a headboard that is able to easily connect to the type of bed in question. Also, considering purchasing a bedroom set in order to keep a consistent feel throughout a room.
Uses for King Size Headboards
The most common use for a king size headboard is for decoration and stability. Keeping a mattress from sliding off is an essential function of a headboard. Look for a tall king size headboard in order to keep a mattress and box spring combination safe and secure. Also, consider the design aesthetic before buying any sort of headboard. A headboard that is dark and dreary in a brightly coloured space, is not an attractive idea. Headboards that are separated by material-negative space, tend to be somewhat more appealing than single colour options.
Another interesting use for a headboard is storage. Some king size headboards actually come with storage spaces built in. People with smaller living spaces should consider headboards with storage units as an attractive, and useful option. Searching for headboards which come with ample storage that is not obtrusive towards the design can be difficult at times. With online marketplaces such as eBay, however, consumers are able to look through a vast array of choices.
DIY Headboards
DIY headboards can be as versatile and unique as one's imagination. If the consumer is particularly adept with arts and crafts, consider constructing a headboard entirely from scratch. These headboards can be as streamlined as a sheet of hardwood stained and screwed into the wall. They can also be as complex as a classical tufted headboard made with plywood, upholstery foam, fabric, and some elbow grease. Should creating a traditional headboard prove to be an insurmountable feat, consider using found objects in place of orthodox furniture. Antique doors, for instance, when properly mounted to the wall can instill a sense of whimsy and old world charm to any decor without breaking the bank.
Used King Size Headboards
Since metal and wood king size headboards tend to hold up to even the most demanding usage, searching for a used headboard often turns up a wide variety of choices. Those who are on a tighter budget should consider used headboards as a way to buy not only an inexpensive item, but an attractive one at that. Before purchasing, however, consumers should be sure to inspect the item for flaws and damages. Any noted damage is likely to force the price of such an item to drop.
Buying a King Size Headboard on eBay
Shopping for a king size headboard tends to be fairly frustrating. Since most traditional stores have a limited selection of headboards, finding the exact material and style tends to be somewhat troublesome. Thankfully, online marketplaces such as eBay offer up a solution to bedraggled shoppers. Simply visiting the homepage of eBay and typing in a term, such as "king size headboard&", will turn up an impressive amount of listings. If the selection is too intimidating, consumers have the chance to take advantage of advanced search functions.
People who shop through eBay are even able to select from local and authorised sellers. Since headboards tend to be a fairly expensive item to ship, purchasing one from a local seller can be somewhat cheaper. Authorised sellers on eBay, however, offer reasonable prices that are often below market value. To choose between sellers, consumers should most definitely consult the detailed seller ratings offered through the eBay marketplace.
Conclusion
Perusing through traditional shopping options, tends to be somewhat frustrating from time to time. With online marketplaces such eBay, however, consumers are able to search through hundreds, if not thousands, of choices without the hassle of going from store to store. Add in the detailed seller ratings and advanced search functions, and consumers are able to save both time and money through the online eBay marketplace. Selecting the exact colour, size, and material, before setting off on a search is a convenient shopping strategy.
Those in the market for a headboard should make sure to determine the size needs before ever shopping. Also, considering material options and factoring them into the prospective room's interior design is an intelligent move. Understanding other headboard options and factors such as storage space, decorative elements, and DIY options aids shoppers in making an educated decision. Determine what needs a king size headboard must fulfill, narrow down the search, and find the right king size headboard for your bedroom furniture set.