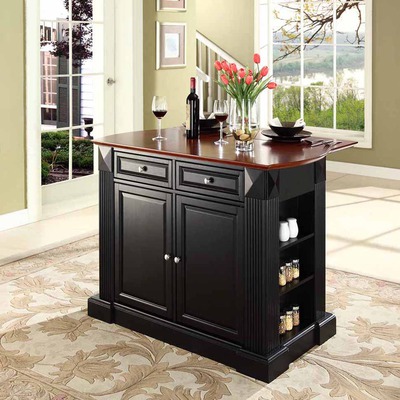 Most people are familiar with the old adage that breakfast is the most important meal of the day. And while this saying has almost been turned into a cliché, it is still a valid statement that medical professionals everywhere support. In fact, a good breakfast provides energy to take on the day and helps with weight control as well. Given its importance, it is only right that many homeowners decide to dedicate a space and a piece of furniture to the first meal of the day. The most common way to do so is by installing a breakfast bar in the kitchen. Breakfast bars are functional, stylish, and also very versatile. Homeowners that use them are certainly not limited to an early morning pastry or cup of coffee. A breakfast bar is well suited to accommodate any casual meal, snack, or kitchen prep work. Adding a breakfast bar can help to maximise usable space in any kitchen as well as offer an alternative to formal dining.
Breakfast bars come in all shapes, sizes, and materials. Some are permanent fixtures in the kitchen, while others can be mobile space-savers. Whether you are looking to furnish a studio apartment in a city, a home in the suburbs, or a cottage in the woods, a breakfast bar can add usability, comfort, and purpose to the kitchen space. When shopping for a kitchen breakfast bar, you should consider its size, mobility, storage space, and material quality, and make an informed choice between the many different styles on the market.
Things to Consider When Buying a Kitchen Breakfast Bar
There are many factors that you should consider in order to determine the type of breakfast bar best suited for your kitchen. The most important determinants are the size and shape, mobility, storage options, and type of material.
Size and Shape
The first consideration should be the amount of people that can fit comfortably at or around the breakfast bar. Breakfast bars are traditionally rectangular or square shaped, but savvy buyers can certainly locate round breakfast bars as well. Round ones are typically equipped with drop leaf sides that make them more versatile. Drop leaves can be included on square and rectangle bars as well. When the leaf is in the up position, the tabletop space is wider, and when the leaf is dropped down, the bar is slimmer allows for easier storage against a wall.
If you are shopping with a large family in mind, you should consider a rectangle shaped bar, as it offers the most surface area for seating. If shopping for a small number of people, consider a breakfast bar that can be placed against a wall to maximise space. Keep in mind that some bars are meant to function as workstations and are not meant to be equipped with stools for seating. These workstation breakfast bars often offer storage space underneath, but do not offer space for dangling legs.
In addition to considering the seating options it is also important to appreciate the size of the kitchen itself. If furnishing a large kitchen space, consider a permanent centre island breakfast bar with stylish stools. This will add a focal point to any well-designed kitchen, a comfortable place to grab a quick bite, as well as a gathering space for entertaining. When working with a small space, look for bars that are multipurpose and mobile.
Mobility
When shopping for a breakfast bar, you should also consider the amount of desired mobility, if any. Some breakfast bars come with four wheels, allowing users to move them around the kitchen with ease. Others are carts that come with two wheels and can be shifted from one space to another. Stationary breakfast bars are great options for homeowners that are looking to add a permanent meal or preparation space to their kitchen.
Storage
Many breakfast bars on the market offer storage options. One storage option buyers can target is shelving. Some even come with baskets that can be used to store rarely used small kitchen appliances or seasonal dishes. If the breakfast bar does not come with baskets for its shelves, these can easily be installed after, and this is typically an inexpensive and attractive addition.
Some breakfast bars also include cabinets. Cabinets offer a slightly more sophisticated and finished look, and bulky pots and pans can be stored under the breakfast bar to free up valuable cupboard space. In addition to shelving and cabinets, some pieces offer drawers and towel racks. Although you can try to purchase breakfast bars with all the bells and whistles in terms of storage, there are also basic breakfast bar options for those looking to add a more simplistic element to their kitchen.
Kitchen Breakfast Bar Materials
The following chart outlines four different materials available to consumers. You should learn the benefits and drawbacks of all four, namely granite, ceramic, butcher block, and laminate, and decide on the best option for their budget and style.
Granite
A strong and dense material, granite does not stain, scratch, or burn. It turns any breakfast bar into a suitable surface for cutting and chopping and also serves as a place to set hot pots and pans. Granite is the most expensive material when it comes to topping a breakfast bar
Ceramic Tile
Ceramic is an easy surface to clean; a quick wipe of the sponge keeps it looking shiny and new. It does not absorb odours left from food preparation and does not foster bacterial growth. Although not as attractive as granite, ceramic tile can be a very cost effective and durable choice.
Butcher Block
A butcher block top is best if the breakfast bar is going to be used predominantly for meal prep work. It is a very durable wood that lives up to its name and does not warp or bend when wet. It is also suitable for cutting, chopping, and prepping food.
Laminate
Laminate provides a suitable space for a cup of coffee, bowl of cereal, and the newspaper. It is the least expensive kitchen breakfast bar material; however, users must always use a cutting board when preparing food as well as a potholder or trivet for hot pots and pans.
Kitchen Designs that Support a Breakfast Bar
In order to incorporate a breakfast bar and maximise the function and aesthetics of the kitchen, it is necessary to evaluate the existing space and determine the best way to include this new feature. There are a number of different ways to successfully incorporate a breakfast bar to the kitchen, and several designs that stand out as the most popular and effective. Three common kitchen designs that allow for the inclusion of a breakfast bar are the half-wall, centre island, and free-standing designs.
Half Wall Kitchen Breakfast Bar
Open floor plans are very desirable, and those that want to create a more spacious feel in their home oftentimes cut out a half wall in the kitchen. The half wall serves a dual function; it opens up the layout and also creates a surface on which to add a breakfast bar.
The half wall breakfast bar is a great addition for smaller kitchens. Since the stools are placed on the opposite side of the wall, none of the existing floor space in the kitchen has to be used for seating. This set up also facilitates conversation, as guests or residents can sit at the stools facing the kitchen and engage in dialogue without monopolising any prep space. In addition, the breakfast bar can double as counter space when a large meal or multiple items are being prepared.
Centre Island Kitchen Breakfast Bar
The centre island model is the most common, and often, the most functional choice for breakfast bars. Although most kitchen designs include a centre island to add work and storage space, it can also be divided to include a space specifically for casual dining and seating. When choosing a centre island breakfast bar, be sure that the piece of furniture is attractive from all angles. Some bars are designed to be against a wall and have an unfinished appearance on one side.
Free-standing Breakfast Bar
The difference between centre island and free-standing breakfast bars are that centre island bars are usually built into the floor plan of the kitchen. A free-standing breakfast bar is a great choice for those who shy away from commitment as they can be moved or adjusted based on space or necessity. This is also a great option for homeowners that plan on renovating their kitchen in the future and want to avoid adding another permanent piece of furniture prior to updating the space.
Buying a Breakfast Bar on eBay
Many of those who choose to shop online do so on eBay because it is an expansive retail website with thousands of product listings and hundreds of categories and filter options that help users find what they need. Those in the market for a new breakfast bar can conduct a quick and efficient search on eBay and target a product with the appropriate features and price in a short amount of time. For example, if you enter "kitchen breakfast bar" into the search field, you can browse many product listings, not all of which are appropriate for your needs. However, by adding descriptive words to the search phrase, for example "laminate breakfast bar", you can start with a more refined list. Another way to search includes utilisation of the filters, which can be used to identify only listings that display the desired price, condition, seller rating, and location.
Evaluating Sellers
In addition to understanding how to search and navigate the website, you should also learn how to research and evaluate the individual offering the breakfast bar. Exploring the user's eBay profile and reading the feedback that other buyers have contributed can accomplish this. There is often two-way dialogue in this location as well, and you can gain a better indication of the seller's methods of customer care. eBay assigns a seller rating to every merchant on the website, based on the quality of their merchandise and the timeliness of their deliveries. As a general rule, target sellers that have earned a Top Rated Seller designation, as these individuals have a proven track record of stellar customer care.
Conclusion
Buying and installing a breakfast bar is a great way to transform the kitchen into a more functional and stylish room. One of the best aspects of the buying process is the fact that there are so many different features and options to choose from. Buyers that research the different sizes, styles, and storage options can customise the breakfast bar so that it truly reflects their personality and style.
In terms of material, there are several quality options to choose from, including granite, ceramic tile, butcher block, and laminate. Buyers looking for the perfect combination of beauty and functionality can choose granite, while those on a budget may want to opt for the laminate variety. Once the material is decided upon, buyers should consider the design that is most appropriate for their kitchen size and design. Some popular options include half wall, centre island, and free standing breakfast bars, and all of them can add a significant amount of prep and serving space to the kitchen. If you conduct a quick and efficient search on eBay, you can make an informed purchase and reap the benefits of this popular kitchen addition for years to come.