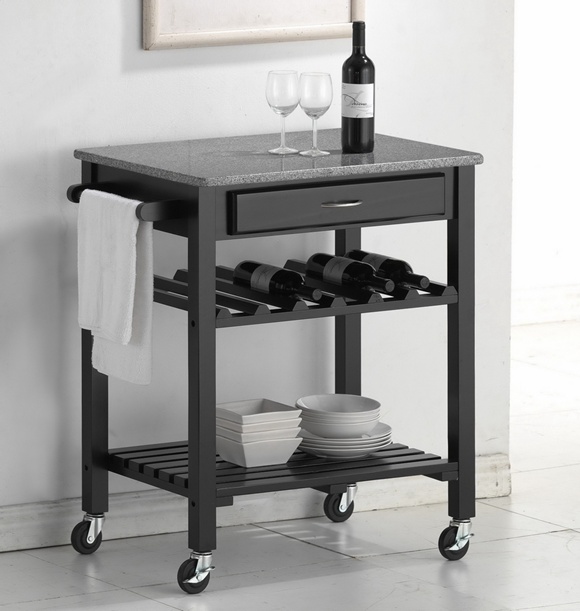 Kitchen carts are an excellent way to add storage space to kitchens of any size. Depending on their features, they can add even more than storage. Some can serve as a food preparation surface, and some can serve as a casual dining table. Wheels on the bottom mean that they can easily be moved if needed for entertaining or to open up more room in the kitchen area. Carts featuring wine racks are the perfect way to keep favourite bottles on hand and add a stylish, sophisticated touch to the room. With many different materials and design options available, as well as a wide selection of sizes, there is a kitchen cart to complement every interior.
Before shopping for a kitchen cart with a wine bottle rack, consumers should acquaint themselves with the range of available models. Comparing different models in terms of materials, design features, and styles helps buyers find the perfect carts for their kitchens.
Material Options for Kitchen Carts
When shopping for a kitchen cart, buyers can choose between several different materials. Materials affect the durability, stability, appearance, and function of the carts.
Wood
Wood is possibly the most common material for kitchen carts. It is popular for its sturdiness and warm, natural appearance. Shoppers can opt for wood in a natural finish or one that has been varnished. Butcher block tops should be in unvarnished wood, so as not to interfere with food preparation, while varnished tops add a formal touch for dining and entertaining.
The following chart outlines four common types of wood that are used in constructing kitchen carts.
Wood Type

Characteristics

Strong hardwood with a light colour and close grain

Very durable hardwood with medium reddish-brown colour

Wavy, varied grain

Pale, durable softwood with straight, medium, coarse grain

May be susceptible to humidity

Rattan

Fibrous textured wood used to make wicker

Walnut

Durable European hardwood

Dark brown in colour
In general, hardwoods are more durable than softwoods, although softwoods like pine are more affordable. Buyers should note that sometimes "birch" or "oak" may refer to the colour of a wood stain or veneer, rather than denoting the type of wood itself.
Stainless Steel
Stainless steel is another popular material for kitchen carts. It is extremely durable, low-maintenance, and blends with different kitchen styles, particularly those that feature other stainless steel fixtures. Some carts may combine steel and wood and feature a steel base with a wood top or, conversely, a wood base with a steel top. Steel can be painted different colours or left unpainted for a sleek industrial look.
Stainless steel makes an excellent food preparation surface since it is heat-resistant and easy to clean. However, it should not be used for cutting food. An additional chopping board is needed for that.
Tile
Some kitchen carts come with a tile countertop. Tile adds an attractive, country-inspired style to the kitchen and is heat-resistant for cooling hot pans. It comes in many colours to match different decorative palettes.
Granite
Carts with granite surfaces are luxurious and practical. Granite is naturally heat- and microbe-resistant, extremely durable, and easy to clean. Decoratively speaking, each cut of granite is unique in appearance, which makes every cart one-of-a-kind. Owners should beware of chopping food on granite, however, because it may crack if hit heavily with a sharp instrument. Compared to other materials, granite is generally more expensive, but it is meant to last a lifetime.
Kitchen Cart Design Features
Aside from wine racks, which are discussed in more detail below, kitchen carts come with many different features. Buyers should consider their needs and priorities and select the features that best suit them.
Bar Caddy
Those who plan on entertaining with the help of their kitchen cart and wine rack may want to consider finding a cart that also features a bar caddy. These can also be useful for storing cooking liquids, such as oil, vinegar, et cetera.
Butcher Block
A classic option for kitchen carts, the butcher block top is a thick (5 cm or more) slab of unfinished wood on which food can be cut directly. This is very useful for those who need more food preparation space.
Drop-Leaf Tops
Drop-leaf tops feature one or two hinged ends that can be stored down flat against the sides or propped up to extend the surface for use. One warning is that drop-leaf sections are not as stable as the centre, so any heavy-duty food preparation should be done on the main section.
Storage Options
The type of storage configuration should be a major consideration when buying a kitchen cart. The choice partly depends on what is being stored and any space limitations. Many carts feature a combination of storage options for versatility.
Open Shelving
Open shelving is ideal for limited spaces since it requires no extra room to clear for drawers and cabinet doors. These carts allow for easy access and blend easily with different kitchen styles. The disadvantage is that the shelves can quickly look cluttered, and items may gather dust.
Wire baker's racks are ideal for cooling baked goods.
Cupboards
Cupboards that are built into a kitchen cart are an excellent place to store small appliances without worrying about clutter. Cabinet doors should have 30 to 60 centimetres of clearance. If space is limited, sliding doors are a good alternative. Kitchen carts with cabinets tend to be more expensive than those with shelving only, but they may be worth the investment.
Drawers
Kitchen carts with one or more drawers offer users a place to store extra cutlery, spice jars, linens, and more. As with cupboards, there should be 30 to 60 centimetres of space for drawers to easily open and close.
Baskets
Some kitchen carts feature baskets that either fit onto the shelving or slide along tracks like drawers. They may be wicker, woven, or metal. Baskets are a perfect place to store fruits, vegetables, and bread.
Towel Racks and Hooks
Towel racks and hooks provide added convenience for hanging kitchen towels, utensils, and other helpful items.
Wheels or Casters
Casters, or wheels that can swivel in all directions, make it easy to move the kitchen cart. Rubber wheels with locks are a great choice. Plastic wheels, even when locked, may slide on hard kitchen floors.
Wine Rack Options
The first consideration in choosing a wine rack is how many bottles need to be stored. Some kitchen carts can hold just a few bottles, while others have a larger capacity. Some carts are dedicated wine racks, while others feature one or two racks combined with shelves, drawers, or cabinets.
Wine racks have different styles, as well. Some are simply shelves with indentions in which the bottles rest. Others may be more contoured to the bottle's shape or feature enclosed cubbies for each individual bottle. Much depends on the buyer's personal aesthetic choice.
Finally, some carts offer storage space for glasses for added convenience when entertaining.
Tips for Finding the Right Kitchen Cart Style
Kitchen carts draw decorative focus and should harmonise with the kitchen's overall look. Casual carts are simple in design and structure and are usually constructed from wood or steel with a few basic accessories, such as a towel rack. Traditional carts are made from a wood base and often feature ornate touches like carved handles or cabinetry. Professional or gourmet carts tend to be larger and are constructed from premium materials like stainless steel and granite. They also possess a range of features for optimal functionality.
How to Buy a Kitchen Cart with a Wine Bottle Rack
Before shopping for a kitchen cart, consumers should plan the spot where they want it to stand. Taking exact measurements of the available space in that area is important. These measurements should be recorded and compared with any products they are considering with special attention paid to leaving extra room for drawers and cabinets. With the wide range of sizes available, there is a cart for every kitchen.
Once buyers have decided on the materials and features that are important to them, they can start shopping. Kitchen carts are available in specialty kitchen shops and furniture shops. Online, they can be purchased through Internet merchants or through online auction websites like eBay. Some carts may require some assembly, so buyers should confirm this before purchasing.
Buying a Kitchen Cart on eBay
On eBay you will find a broad selection of kitchen carts, including new, hand-crafted, and pre-owned models, all at competitive prices. To start your search, go to eBay's home page and type keywords, such as "wood kitchen cart", into the search bar. eBay then allows you to refine your original search results by selecting your price range, the seller's location, the condition, and more. eBay Shops are another great place to look if you do not find what you are looking for on the auction site.
Before you bid on an item, read the product description carefully, noting details like materials, dimensions, assembly requirements, and the seller's return policy. Shipping fees for kitchen carts may be costly and are in addition to what you bid. For large items, local pickup may be a better choice.
To assess the seller's reliability, check the seller's feedback rating and browse comments from previous buyers. Top-rated sellers have completed a high volume of successful transactions.
Conclusion
Kitchen carts with wine bottle racks are a functional and stylish addition to any kitchen. Not only are they a convenient way to store wine bottles, they can also store small appliances, food, and linens, while providing additional surface space for food preparation and dining.
Kitchen carts come in a variety of materials. Wood and stainless steel are among the most common and durable options. Some carts feature different materials for their bases and tops. Next, there are several design options from which to choose. Buyers may opt for convenient additions like towel racks, bar caddies, or drop-leaf ends. They also need to decide what kind of storage configuration suits their needs, whether it is open shelving, cabinets, drawers, baskets, or a combination. Finally, they must decide on the wine rack's capacity and the cart's size in general.
Informed consumers have an advantage when shopping for kitchen carts with wine bottle racks and can find the carts that are just right for their kitchens.