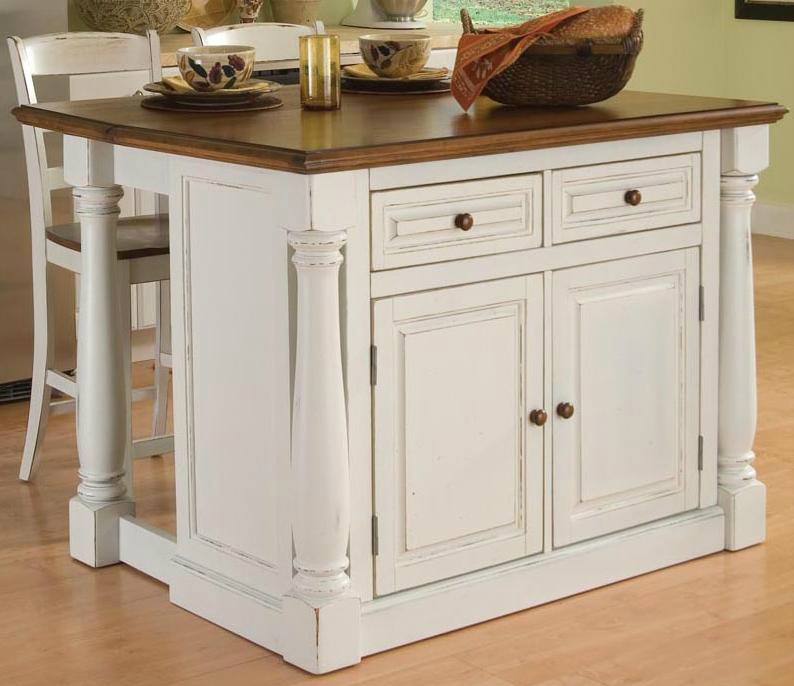 For those who love to cook, the kitchen can be the sanctuary of any home. If you are someone who loves to cook, you know that there is nothing worse than a cluttered kitchen, or lack of counter space. Whether you are designing your dream kitchen, or moving into a new place with limited kitchen space, a kitchen island with drawers can be the perfect addition to your home. Not only are kitchen islands with drawers great for storing pots, pans, utensils, or other dishes, they add additional counter space to the room.
Kitchen islands are also a great way to give your kitchen a facelift without redoing the whole room. Not only do islands give the kitchen a fresh, new look, they can also reduce the amount of clutter on countertops or in cabinets, keeping your kitchen neat and organised. Many modern kitchens feature the kitchen island as the main eating area as opposed to a traditional kitchen table. By understanding which type of island fits best in your home, you can begin your search of the the perfect kitchen island with drawers, either in brick and mortar stores, or online using eBay.
Types of Kitchen Islands Based on Kitchen Sizes
The first thing to consider when deciding which is the best type of kitchen island for you, is the size of your kitchen. Kitchen islands are not only great for storage and counter space in small kitchens, they can help break up the openness of a large kitchen. Kitchen islands should always have at least 92 cm of space on each side to account for traffic, and additional space if you plan to add seating.
Small or L-Shaped Kitchens
Small or L-shaped kitchens, make it hard to add a fixed island into the room, but still make an excellent addition to the room by adding storage and counter space. The best kitchen islands for small rooms are rolling kitchen islands, or kitchen carts, that come with drawers and open storage for additional space.
Rolling Kitchen Islands
Rolling options are portable kitchen islands with wheels. They are great for small rooms since they can be easily moved to different spots around the kitchen, or put away in a pantry or closet. Since they are portable, it is easy to use them mainly for storage, and then move them in the desired area for cooking and counter space.
Kitchen Carts
Kitchen carts are another option idea for small kitchens. Kitchen carts are smaller island options that can also be portable or stand alone. These options also generally come with drawers and additional storage space to suit a kitchen with limited room. These carts can be displayed or stored in pantries or closets, and can be taken out when needed, and put back to save space. Unlike fixed kitchen islands, kitchen carts can be placed anywhere throughout the room, and do not need to serve as the focal point of the kitchen. In addition, kitchen carts and rolling kitchen islands are ideal for those who rent since they are portable furniture that can go with you from place to place.
Fixed Kitchen Islands
Fixed kitchen islands can also be used in small kitchens if the dimensions are taken into consideration. The key is to measure the space and find a freestanding fixed island that works with the dimensions of your kitchen. Choosing too big of an island in a small kitchen can cause traffic and even injury by not providing adequate space to work around. When purchasing an island with drawers or cabinets, you also must take into consideration the space required to open them.
Options for Larger Kitchens
Rolling islands and kitchen carts work easily in large kitchens and can act as additional counter space and storage, but should not be the focal point of a large room. Often times a fixed kitchen island is preferred to add storage, seating, and to break up the room. However, unless your kitchen is at least 244 x 366 cm a fixed island may do more harm than good. Fixed kitchen islands are great for congregating, food prep, and storage needs, but can be overwhelming if the space is not big enough.
Customised Kitchen Islands
In a large enough kitchen, fixed islands can act as the room's bold centrepiece and can often be built and customised to the kitchen decor. Most modern kitchens today feature a fixed kitchen island. Most people prefer to customise their own kitchen islands in order to choose countertops, cabinets, and seating and create a unique look of their own.
Consider the Main Uses of the Island
Before choosing an island, take into consideration what purpose you want the island to serve. If you are purchasing an island as place for people to congregate, chat, and eat, a fixed island with seating may be the best option for you. If you are looking for extra storage and counter space to use when you need it, and store when you do not, a rolling kitchen island may be the right fit. If the main use of your island is for food prep or cleaning, you may want to add a dishwasher, sink, or stove to the island. There are no right or wrong answers, but before you choose the best kitchen island for your home, you want to consider the main purpose to ensure that it fits your needs.
For a kitchen island that is used mainly for storage and counter space, you want to choose an island with drawers, cabinets, and open space for clutter free storage. If you want the island to function as an eating area, you may want to take into consideration height and leg room, which would mean less storage under the island. Incorporating drawers into the island not only provides space for utensils or small kitchen items, but is also a great storage space for towels, cloth napkins, and other kitchen linens. If your island's main use is to prepare food, features like cutting boards built into drawers can be an easy addition. Adding additional features such as a dishwasher or sink would also require new plumbing, which is something to keep in mind when choosing the use of the island.
Determine a Budget
Now that you know the different types of kitchen islands that work in the size of your kitchen, it is time to set a budget. While portable islands can be found at very affordable prices, customising your own built in island can get pretty pricey. If you have decided to customise your dream kitchen island, you have to set a budget for the cabinetry, island counter top, and seating. When customising islands, many people prefer to hire architects to design the island, which is also a large investment. Although adding a custom island to your kitchen may be a big investment, it adds value to your home as well as function as a practical and functional piece.
Kitchen Island Aesthetics
You should always choose a kitchen island based on your kitchen's decor. Wood options are always easy to match with the cabinets, and come in a wide array of choices. Some people choose to base their kitchen island off of their furniture, as opposed to their cabinets to create visual contrast in the room. Metal kitchen carts are another affordable option that look great in modern kitchen decor.
When building your own island, countertops and breakfast stools are another thing to take into consideration. Since you are most likely to be preparing food on your island, you want a surface that is durable and strong. Many people choose to go with granite or marble countertops, and if that is not within your budget, laminate is a much more affordable option with a similar look and feel.
Buying a Kitchen Island with Drawers on eBay
Once you have decided on which kitchen island would be the right fit for your home, eBay is the perfect place to start shopping. If you are going with a rolling island or kitchen cart, you can browse all options by entering "kitchen island with drawers" in the keyword search located on the eBay homepage. If you have a specific material in mind, you can start by searching "oak kitchen island" or whichever material would fit best with your kitchen.
If you are customising your own kitchen island, one might begin by measuring dimensions and then you can start searching for the materials on eBay. If you decided to go with a granite countertop, you can search "granite" in the keyword search to browse through thousands of colours and sizes. You can also find cabinetry, breakfast stools, tools, and anything else the project requires by simply searching eBay through the keyword search.
Conclusion
Whether you have moved into a small kitchen with limited space, or are planning on remodelling the kitchen of your dreams, islands can be a great addition to the room. Kitchen islands are not only great for storage and counter space, they are the centrepiece of any modern kitchen. They are both functional and decorative, and can be customised to fit any decor. Once you determine the main use for your island, and find an island that fits with the size of your kitchen, you can make an informed decision on which island is right for your home.
By purchasing an island for your kitchen, you can upgrade your kitchen's looks, storage, and efficiency. So whether you are looking to add extra space, storage, or room for people to gather, a kitchen island makes a great addition to your home. No matter which style you choose, this versatile piece will be sure to fit your needs.