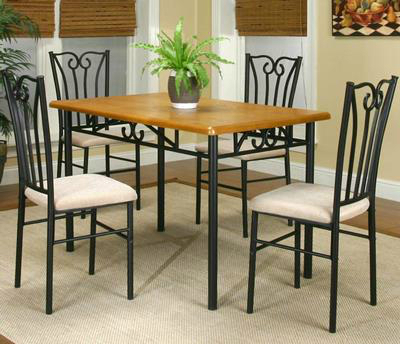 A kitchen table and chair set is a great centrepiece for a kitchen. They are practical, add character to the space, and are available in a wide array of materials and designs. The design of the kitchen table and chairs should complement the rest of the decor. A kitchen table and chairs can be bought as separate pieces, but matching chairs can make the kitchen looked polished and complete. The materials used to make kitchen tables and chairs range from solid wood, including pine and oak, to wood veneer, and glass. Many chairs come with upholstered seats, in leather, microsuede, or cotton. Velvet is also an option, but requires a higher level of care. The choice of kitchen furniture depends on the buyer's budget, needs, tastes, and the available space.
Before buying a kitchen table and chairs it is useful to consider the width and length of a buyer's dining space as this limits the size of the table. It also helps to understand the the styles of kitchen tables and chairs that are available, as well as the material options in order to make an informed purchase. eBay is an excellent place to buy a kitchen table and chairs.
Styles of Kitchen Table
Kitchen tables can be categorised by their height. Standard height tables are more common than counter and bar height tables, although all three have their own benefits. Kitchen tables are usually made of wood, metal, or plastic, and may be designed with a pedestal base, legs, or a trestle base. Buyers should consider the features and benefits of each table, as seen in the chart below, before making a purchase.
Table Style

Features

Benefits

Standard

28 to 30 inches high

Available in many sizes, designs, and finishes

Increased seating options

More comfortable to sit at

Better height for disabled people

More formal

Counter

34 to 36 inches high

Also referred to as a bistro or gathering table

Offers additional food preparation space

Allows seated guests to converse easily with those standing

Excellent option for small spaces

More casual, relaxed feel

Bar

40 to 42 inches high

Ideal serving height

Requires less effort to sit

Can double as counter space
Regardless of which table height best fits a buyer's requirements, the chairs should measure 10 to 12 inches less than the height of the table. It is best to have the desired kitchen table and chair measurements to hand before placing a bid.
Registering for an Account on eBay
Buyers are free to browse the eBay website as a guest, but to buy and sell items, registration is required. By registering for an account, buyers can manage their buying activity, send and receive feedback, and set up watch lists for products that are of interest.
How to Find a Kitchen Table and Chairs on eBay
There are many ways to find a kitchen table and chairs on the eBay website. From the eBay home page, buyers can use the search bar to conduct a search for a kitchen table and chairs or dining room set. Note that dining room sets may include a china cabinet in addition to the table and chairs. This method is likely to result in a large number of listings. Buyers with a more specific idea about the type of kitchen table and chairs that they would like to purchase should use eBay's advanced search feature. This feature allows buyers to include additional search terms which help to narrow down their results. Once on the search results page, buyers may further filter their search by subcategory listings. These subcategory listings give buyers the option to choose between a new and used kitchen table and chairs, or to search within a limited price range.
For those who are unfamiliar with the various types of kitchen tables and chairs available, eBay offers an easy to navigate category search option. By following the provided category links, buyers are lead to their desired product. This is often the preferred way of searching as it allows buyers to see the options that they may have otherwise missed by limiting the search.
More Specific Searches for a Kitchen Table and Chairs on eBay
The number of search results for a kitchen table and chairs can seem vast, especially to first time eBay buyers. Fortunately, eBay allows for easy navigation of the site's features.
Search by Material
Buyers may choose to search by material. This is ideal for buyers who know exactly what type of kitchen table and chairs they want. It is recommended that buyers choose a kitchen table and chairs that reflect the architecture of the home. A mahogany table is best suited for more formal settings while an oak or wood table give the room a more casual feel. For a more contemporary look, buyers may opt for a glass table top.
Search by Design
Alternatively, buyers are able to search for a kitchen table and chairs by design. Searching by design allows buyers to narrow down search results based on the current design of their home and personal taste. Those who have a rustic home may opt for a country kitchen table and chairs,, while a contemporary kitchen table and chairs better suit a buyer looking for a more modern look. The kitchen table and chairs should flatter the home so purchasing furniture which clashes with the room's design may look out of place and should be avoided.
Search by Number of Pieces
Searching by number of pieces is a great option for buyers who know how many chairs they would like to be paired with the table. A family of four may select a five piece set which consists of a kitchen table and four chairs. Alternatively a larger family or those who hold dinner parties frequently may opt for a larger set such as a seven piece set which consists of a table and six chairs. When considering the number of pieces, buyers must also take into account the size of the kitchen. A cramped dining area can make the room appear smaller and can either be cosy or make guests feel uncomfortable. Buyers should always allow for walking room around the table, allowing people to pull out their chairs comfortably.
Buy a Kitchen Table and Chairs with Confidence on eBay
Before making a purchase, buyers should always examine the listing images for signs of wear and tear to the kitchen table and chairs, especially when buying a pre-owned set of furniture. The photos can provide helpful insight to the buyer and let them know exactly what they are bidding for. If additional photos or information is required, then ask the seller. Most sellers are happy to provide additional information to promote a positive sale. However, it is still possible to buy a kitchen table and chairs that are not as the buyer expected.
Returns Policy
To prevent being left with an unreturnable item, buyers should purchase a kitchen table and chairs from sellers that accept returns. Information regarding returns and exchanges are usually included within the item description. If the description does not discuss the returns policy, buyers should contact the seller to ask about this detail before committing to a bid.
Ask a Question
Buyers can find an "Ask a question" link with each item listing. This link is designed to help buyers to communicate effectively with the seller. If an item listing is unclear or if a buyer would like more information about the kitchen table and chairs, the link allows the buyer to get in touch with the item's seller directly.
Feedback Ratings
Choosing "Top-rated sellers" on eBay ensures that the seller has a history of satisfactory customer service. This feature makes eBay a secure online marketplace to buy and sell a kitchen table and chairs. It is a good idea to become familiar with the seller's terms before buying. Any questions that a new bidder may have are addressed in the eBay Answer Centre.
Preferred Payment Methods
When considering a purchase on eBay, buyers should familiarise themselves with the forms of payment that the seller accepts. This information should be listed under the item description. All sellers are required to offer at least one approved method of payment. It is best to buy an item with a validated form of payment. A credit card or debit card, as well as PayPal are the preferred options. When the payment is by credit card, the seller never has the ability to view a buyer's credit card information. A buyer should never pay with cash or cheque. For a complete list of payment options, buyers should refer to how to pay on eBay..
Conclusion
A kitchen table and chairs are a useful component to any household. Whether buying a set to eat at on a regular basis or for more formal occasions, eBay offers buyers the most original items at competitive prices. The selection of kitchen tables and chairs on eBay is larger than that of many other retailers. Kitchen tables and chairs come in various heights. Standard height tables can give the furniture a formal feel, while counter and bar height tables can create a more casual look. The type of material can also affect the formality of the furniture.
Buyers should always consider the atmosphere of the home before choosing a kitchen table and chairs. The furniture should reflect the home's decor and complement its features. Space is also a determining factor. The size of a kitchen table and chairs should not make the room feel cramped, but should balance the space. eBay's site is user friendly, offering easy to navigate search options. This makes it easy to find the perfect kitchen table and chairs for any occasion.