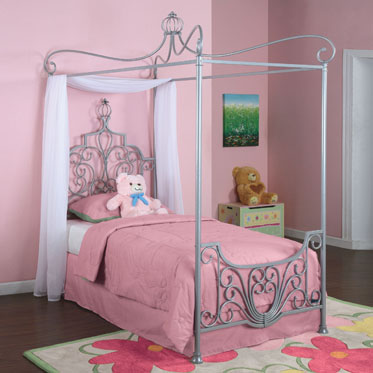 A canopy bed is often confused with a four-poster bed, and then that generally leads to more confusion when buyers attempt to buy canopies for their beds. Canopy beds are similar to four-poster beds in that they often have four posts at each corner of the bed that extend high above the mattress to facilitate the draping of fabrics.
The canopy is often made of lace or other fabric types that is then hung across the top of the posts and draped along the sides of the bed. Some canopies are not attached the bed at all but are rather hung directly from the ceiling. Therefore, beds do not need to have posters to have a canopy.
Lace canopies are often seen in tropical countries and islands. They are added for decorative purposes or to keep out mosquitoes and other bugs. Sometimes, the canopies are installed in such a way that they serve both purposes. Before buying a lace canopy for their beds, buyers should consider their bed size as well as the various lace and canopy types.
Bed Sizes
Before a lace canopy size can be selected, buyers must first be aware of their own bed sizes. Most people know their bed size or can tell by just looking at it, but it is always best to measure the bed and then compare the measurements with the chart provided by the canopy seller. The chart below provides standard information on various bed sizes. Measurements are in centimetres.
| Bed Sizes | Width | Length |
| --- | --- | --- |
| | 91.4 | 190.5 |
| | 91.4 | 190.5 |
| | 137.2 | 190.5 |
| | 152.4 | 198.1 |
| | 182.9 | 198.1 |
Bed names and sizes may vary by manufacturers, but the above chart is a general standard that can be used to determine bed sizes and select the right canopy if a direct canopy measurement is not given by the seller. Most sellers will simply write the name of the bed that the canopies can fit as opposed to giving specific measurements.
Types of Lace Used to Make Canopies
Lacing is sometimes referred to as netting and can be identified as an open-woven fabric that has various open holes that forms a design. Lacing is sometimes done by hand, but the majority is done by machine. Lace is pretty much generated when various threads are braided, twisted, and looped with other threads to create a complete fabric without other backing materials.
Needle Lace
Needle lace is probably the most popular, and as its name suggests, it is made using a needle and thread. Needle lacing can be very time consuming if done by hand, but people who are truly a fan of lacing would rather to do it that way.
Bobbin Lace
Bobbin lace is made using a pillow and a bobbin, which is generally fashioned from plastic, bone, or wood. The bobbin is simply there to hold the thread, but the actual weaving takes place on the pillow where stuck pins acts as the mould to create the patterns. The pillow is generally stuffed with straw, foam, or sawdust to make adding and removing pins easy. The famous Chantilly lace is a form of bobbin lace.
Cutwork Lace
Cutwork lace is also called whitework lace, and it is made from an already woven background where threads are methodically removed and replaced with a form of embroidery. This lace type is often seen in curtains and wedding veils but is also used to make bed canopies.
Crochet Lace
Crochet lace is not seen in many bed canopies because most canopies double as mosquito netting and the crocheted patterns are not usually conducive to blocking insects. However, there are still quite a few crochet lace canopies that would look great on any size bed. This lace type features different crochet styles including pineapple, filet, and Irish crocheting.
Knitted Lace
Knitted lace is also very popular because it is a very fine lace and can easily double as mosquito netting. This is an ideal lace type to use in bed canopies.
Machine Lace
Some of the aforementioned lace types are sometimes made using a machine and are therefore machine laces. In essence, any type of lace that is created or regenerated using mechanical means is considered machine lace. Most canopy laces are machine laces because using machines facilitates mass production and reduces manufacturing time.
Lace Canopy Styles
The particular lacing style for the canopy is always considered, but the canopy styles play a bigger part in the selection process. There are different ways to hang a canopy, and it could serve multiple functions or simply add to the room's decor. Below are some popular canopy styles.
Dome Canopy
Dome lace canopies are probably the most popular because they are versatile enough to be used on almost all bed sizes, and they are generally easy to install. This canopy type usually features a single ring or dome in the centre of the canopy, which is also the top of the canopy.
A string, or another similar connection is generally attached to the ring and extends towards the top; this is then attached to the ceiling to form a tent-like covering around the bed. This is also referred to as tent netting in some circles, but there are also other forms of tent netting.
Full Bed Canopy
A search for full bed lace canopies may actually provide you with a result page filled with lace canopies for full beds. However, what this canopy style refers to is canopies that curtain the entire bed with a look of drapes and valances.
In selecting lace canopies for this style, buyers should get a square area measurement of their beds and then multiply that amount by two or three to give the lace canopy a full bodied look. The measurement will be affected if the bed is situated against one or two walls.
This style usually requires a rectangular style curtain rod instalment if the bed is not against a wall, so that the canopy circles the entire bed. If the headboard and one side of the bed are against a wall, then an L-shaped rod will suffice because the walled areas would not need to be covered by the canopies.
Crown Canopy
A crown canopy is one that is more decorative than functional. It generally only covers the head of the bed and extends down over the sides of the headboards. If lace is used, it is often coloured or highly decorated, and a short valance is usually extended from the top. Crown canopies are installed high above the top of the bed on the wall behind the headboard, which is responsible for it being called a crown.
How to Buy Lace Bed Canopies on eBay
Buying lace canopies can be very easy if you are not very particular, but it can be a bit more daunting if you have very specific features in mind. Either way, eBay is a good place to find a variety of lace canopies, and it is always best to start with a general search for lace canopies and then take it from there.
After the results have been loaded from the initial search, you can browse through to see the various styles available. If you are certain of the particular canopy style or colour that you need, feel free to incorporate it in your initial search from the eBay main page. For instance, if you are buying a pink lace canopy for a girl's bed, you may include the word "pink" in your home page search. Once you have gotten past the preliminaries, go ahead and filter down the results to make the selection process easier.
If you are on a tight budget, you may consider narrowing your results by entering your desired price range. You may also choose to select a preferred shipping option and contact the sellers for more details before making any payments.
When you find a desired item, make a note of it and continue your search until you find at least one other similar item, and then contact both sellers. If one item becomes unavailable before you are ready to make a purchase, the other item may still be available.
Conclusion
Buying a lace canopy does not need to be a lengthy process, especially when you shop at online stores like eBay. eBay makes it easy to perform searches and filter specific features and characteristics to make an overwhelming collection less daunting.
When buyers decide to get a lace bed canopy, there are a few things that they should consider before attempting to make a purchase. They should determine the bed size for which the canopy is being purchased, learn about the different types of lace that may be available to them, and understand the various canopy types.
The aforementioned factors may seem trivial, but they will help determine how a lace canopy fits and how it looks over the bed. Whether it is being bought purely for decoration purposes or to double as mosquito netting, the right type and the right fit is essential, and eBay has many canopies to aid the decision process.