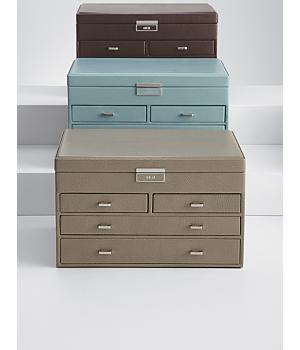 Jewellery is often fragile and can be very expensive. It is therefore only natural that both men and women that own jewellery invest in the proper jewellery boxes to keep prized items safe. A good quality, large jewellery box can sometimes cost as much as the jewellery it contains. A well-made jewellery box should last a lifetime. Jewellery boxes are often used on a daily basis, and so should stand up well to wear and tear, such that it remains a constant source of pleasure for the owner. Before beginning the search for a large jewellery box, it is important for the buyer to consider the different jewellery boxes available. Depending on the jewellery the buyer has, the buyer should consider features like compartments, rings rolls, and lift out trays. The buyer should also consider the appearance of the jewellery box, as the jewellery box should be functional as well as a pleasure to behold.
Antique stores and jewellers stock jewellery boxes, but the search can prove lengthy if the buyer has to go from shop to shop. Therefore, many buyers choose to go online, where they can browse for jewellery boxes and compare features and prices all from the comfort from their own homes. eBay can boast listings for thousands of large jewellery boxes, ranging from new and used, to antique jewellery boxes.
Types of Large Jewellery Boxes
The basic form of a large jewellery box is that of rectangular shaped box that is usually made out of wood. Large jewellery boxes may either come as trunks, with a single hinged lid that lifts open, or they may have a flat lid that simply lifts off. Generally, this style is complemented by numerous front drawers, and possibly by side walls that swing outwards, thus opening up the whole interior, much like a sewing box would.
Because jewellery boxes can be quite large, a jewellery box is intended to remain in one spot in a bedroom or dressing room. Jewellery boxes are rarely carried while traveling. Rather a traveller carries something lightweight and portable like a jewellery roll, which can easily be packed in carry-on luggage. Nevertheless, for the traveler seeking to relocate for the season or permanently, there are some large jewellery boxes specifically designed for travelling. These are often made from metal or some other sturdy material, as delicate wood can suffer damage in transit.
Over the years, jewellery boxes have become veritable artworks in themselves, with different cultures developing their own distinct jewellery boxes. Many Asian cultures popularised the use of various marquetry techniques to produce beautiful inlaid wooden boxes. Oftentimes, fine leather is used to overlay wood, the result being plush, cushioned jewellery boxes.
Features of Large Jewellery Boxes
The principal purpose of a large jewellery box is to provide a safe place to store and organise one's jewellery. A large jewellery box should benefit from a solid construction, a well finished interior, preferably being lined with suede, velvet or similar material, and sporting one or two locks. Depending on the types of jewellery that needs to be stored, the buyer should also consider compartments, lift out trays, and rings rolls.
Compartments
Most large jewellery boxes have a series of compartments or small drawers. Jewellery boxes include compartmentalised sections with trays that are suitable for accepting and storing small, high-value pieces of jewellery such as rings, earrings, and pendants. Since these pieces should ideally be stored individually, the compartments should be quite compact.
Lift Out Trays
In addition to the small compartments, large jewellery boxes ideally should include several larger compartments or trays, suited for storing strings of pearls, large necklaces, or other larger pieces like tiaras and jewel-encrusted combs and cuffs. In order to save space, these trays are often relatively flat, and lift out, revealing other compartments beneath the trays. All in all, a well-organised large jewellery box should resemble a veritable warren of compartments, drawers, and trays. This ensures that every item has its place in the jewellery box.
Ring Rolls
A good jewellery box may also have soft, plush lined rolls set parallel to one another. These ring rolls as they are called act as an alternative to trays and compartments. Other option include elasticated pouches and metal arms, which are also used for suspending fine chains.
Complementary Appearance
Although the primary purpose of a large jewellery box is the storage and protection of jewellery, an important secondary purpose is that the jewellery box be attractive and complement the decor in a bedroom. The buyer should consider the design of the box and the material it is made from. For example, an antique jewellery box may not gel well with the contemporary interior decor of a bedroom.
Large Wooden Jewellery Boxes
Typically, large jewellery boxes are made from materials like leather, velvet, metal, plastic, or wood. Wood is probably the most popular material, as its natural beauty complements the jewellery within. That said, fine leather can be ideal, especially if the jewellery box is intended for a man.
Few materials can match the exquisite beauty of skillfully-finished wood. There is a long tradition in the East of making large jewellery boxes out of wood and then decorating them with marquetry. Western craftsmen have used wooden veneers for centuries, concentrating on less intricate but equally beautiful styles of inlay. Some of the finest woods used to craft wooden jewellery boxes include:
| Type of Wood | Description |
| --- | --- |
| Burr Walnut | Beautiful when polished; has an especially complex pattern in the wood that is highly prized |
| Oak | Has a creamy colour when polished, offset by almost translucent brown knots |
| Ebony | Famous for its rich dark colour; ebony is often used for inlays |
| Rosewood | Warm and evocative; has been used to make jewellery boxes for centuries |
Wooden jewellery boxes are inlaid with slivers of other, decorative wood veneers to create intricate patterns. They may also be inlaid with mother of pearl, silver, or occasionally panels of cut semi-precious stones. Ivory was once used for inlays in jewellery boxes. As the ivory trade has now been outlawed, modern jewellery boxes do not contain ivory. Rather, lesser bone substitutes or materials that resemble ivory are used in contemporary designs.
Buying Considerations for Large Jewellery Boxes
There are three main consideration when planning to buy a large jewellery box. These is the size of the jewellery box, as well as considerations related to its appearance and how it complements the existing decor, and, of course, the price. One determines the size based on the the amount of jewellery the box needs to hold, not just in the near future, but in years to come. The question of the box's appearance and how it complements the existing furniture and soft furnishings in a room can be a challenging question to answer, as decor inevitably changes over time. One solution is to chose a box with a timeless appearance. The lines should be classic and the colour neutral. Cost depends on the resources available, and on the priorities of the buyer.
A final consideration is where to buy the jewellery box. Fine, large jewellery boxes can prove to be expensive purchases. A high street store may have a small selection in stock, but it is unlikely to offer anything approximating all the different types and styles of jewellery boxes available. Even large department stores are unlikely to offer much variety. This is why many shoppers turn to eBay. The site has extensive listings for jewellery boxes that range from contemporary designs to sought-after antiques.
Finding a Large Jewellery Box on eBay
It is easy to find a large jewellery box on eBay. First go to the eBay homepage and locate the search bar. Then simply enter a generic search term like 'large jewellery boxes&' into the search bar. This action instructs the site's local search engine to collect all the current listings that match the search query and display them on a results page. You can browse these listings, or you can narrow the search down by filtering the results. For example, if you know that you want a large jewellery box made of wood, you can instruct the search engine to only display listings for wooden jewellery boxes. If you want one made of leather, likewise, you specify the material and only the matching listings appears on the results page. You can also sort the listings based on whether the jewellery box is new or used.
Once you have settled on a handful of listings that interest you, read the descriptions and study the photos carefully. If you see a jewellery box that you like but want to know more about it, you can easily contact the seller using the details on their profile page, and ask for further details. For example, if you want to see a photo of the inside of the box, you can ask the seller to send you a close-up photo.
Conclusion
Large jewellery boxes are attractive items in themselves, which can often cost a substantial amounts of money. They can be very ornate, and are frequently beautiful handmade works of art. The inside of a large jewellery box should be divided into compartments, with specialised features for holding rings and other delicate jewellery like bracelets and earrings, plus larger trays for holding larger pieces like necklaces and strings of pearls. The box itself generally opens in one of two ways: either like a trunk, or with drawers at the front and a flat, lift off lid.
Polished wood jewellery boxes that include inlaid coloured wood veneers are highly sought-after. Along with marquetry, leather overlay is another popular technique used in the crafting of jewellery boxes. Leather jewellery boxes are especially popular amongst men.
eBay offer what must be most varied range of large jewellery boxes. The site's easy to use search platform makes finding the perfect jewellery box as easy as a few clicks of a mouse.