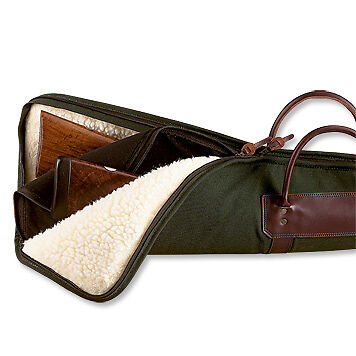 An important element of gun maintenance is ensuring proper transportation and storage. The case should prevent dust, dirt and moisture from reaching the gun in order to prevent such potential issues as rust. Additionally, an important consideration to be made wherever guns are stored is safety, and a variety of locking options are available for different kinds of case.
Hunters frequently transport their guns, so gun cases designed for use in hunting are designed to be durable, and withstand the rigours of transportation to and from hunting locations as well as use at the site. While leather cases can often be more expensive than alternative materials such as canvas, leather is widely considered to be a premium material due to its high quality, and strong waterproof properties.
Some leather cases are built with wood, while other with soft materials. Either way, the more traditional aesthetic that leather gun cases often provide are another reason for their popularity. eBay offers a wide range of gun cases, and there are a number of options to consider when purchasing a case.
Hard Cases
The primary benefit of a hard gun case is the robust structure and durability these cases provide, as hard leather cases are often built around a solid wooden body. Among the most durable gun cases available, hard cases are able to withstand the wear and tear that comes with frequent transportation. Hard gun are also often more secure, with a variety of locking options available, some including multiple built in locks.
Hard cases also often offer high quality interiors, usually holding the gun in foam. This provides additional protection to the guns they are carrying by preventing the gun from sliding around within the case. They may also provide space to store accessories, and some are designed to store guns in a broken down state, making them more suitable for longer term storage.
Soft Cases
Soft gun cases are made out of soft materials, making them a less durable, but also less expensive and more easily transportable. Guns stored in soft cases are more easily carried, and offer faster access to the gun inside, making them a good option for hunters.
These cases also often include straps which allow the case to be slung over the back or shoulder. Leather soft cases offer a good degree of protection from moisture, however due to the lack of cushioning there is less protection against physical shocks.
Soft cases are often secured with zips or similar methods, and locked with devices such as small padlocks. This makes them less reliably secure than hard cases, and may not be as good an option for storage in, for example, households with children. Soft cases are popularly used as for use specifically for travelling, with more secure options like hard cases, gun cabinets or even safes used to store the gun when not in use.
Some soft cases, known as gun slips, may be designed to hold the gun only while in use. These provide fast and easy access to the gun that the case is holding, but offer little security or protection for storage. Hunters may keep these in addition to other kinds of case, and swap between them for storage, transportation and use.
Materials
The majority of leather hard cases are built with wooden bodies. These may be slightly heavier than more modern aluminium or composite cases, but still provide a strong case. Soft cases may have a variety of materials used for the inner lining, such as cotton. The inner lining may also be oiled in order to improve the moisture resistance of the case.
Size
The size of the gun case is important to consider. Most gun cases for hunting are listed as either shotgun or rifle cases, indicating their suitability to these types of gun. Other may list a specific length of case, usually in inches. Another aspect to consider is the amount a hunter intends to store in the case.
Soft cases will generally only have room for the gun, whereas hard cases may offer space for accessories. Furthermore, some cases are available which can hold multiple guns, and these may be useful for situations where more than one gun needs to be transported to a location.
Locks and Safety
Safety is a key concern when purchasing a gun case, and some cases include inbuilt locking mechanisms which require a key to open. Any lock which can fit through the zip of the hard case, or the latch of a soft case, can be used to secure the case. When considering locks, it is important to consider durability and security.
A simple, sturdy padlock may be suitable for some situations, whereas a hunter may prefer more secure options. Combination locks are often used, and sometimes multiple locks may be used to secure a single case. Other security options are also available, for example gun locks can be placed on the trigger of the gun itself. The case should also itself be stored in a secure place.
If a gun case may need to be taken on a flight, there are additional concerns. Primarily, airlines may have differing requirements for the security of the bag, or whether guns can be taken into the baggage hold at all. Certain kinds of lock may be required, with key regulations in place on how the gun itself is stored. It is important to always check with the airline about their regulations before travelling.
Storage
Cases can be used to store guns for longer stretches of time than just for the duration of use. Aside from security, additional measures should be taken to ensure the gun is not damaged by moisture or dust.
Ensure that any case used is waterproof, as this will protect the gun from moisture. Care should also be made to ensure that the case is not closed with any moisture inside, as waterproof cases also prevent moisture from leaving.
A desiccant, such as a silica gel pack, placed inside the case with the gun will provide further protection from moisture. Care should be taken to ensure that any desiccant device used will not damage the gun.
Before placing the gun into its case for long term storage, it should be thoroughly cleaned, with particular focus on the barrel. This ensures that no potentially damaging residues remain on the gun while it is stored.
Gun oil should be placed on all metal parts of the gun. This not only provides further protection against moisture, it also removes oil that has come from fingers and hands during use which can also damage the gun.
A stored gun should be checked periodically, to guard against rust and moisture build up.
Additional options for gun storage include the use of a gun sock. These material sleeves are placed over the barrel of a gun. These not only prevent dust and dirt from getting into the barrel of a gun, but also provide additional protection from moisture. Some gun socks are treated with silicone to further aid in this.
Finding a Leather Gun Case on eBay
eBay offers a wide range of leather gun cases, including large hard gun cases and smaller gun slips. The full listing of available gun cases can be found in the Sporting Goods section. Gun Cases can be found under Hunting, within the Accessories section. Here, gun cases can be listed by categories such as price, condition, and distance to seller. It is also possible to sort between Auction and Buy it Now buying options, providing flexibility in how a gun case may be purchased.
The search function available at the top of every page may be more useful if a specific gun case is required. The search function can be used from the homepage, or within the Gun Cases section to further narrow down results. For more information on how to get the most out of the eBay search function visit the Search Tips page.
Key relevant information about a particular gun case is generally shown prominently on the item listing. Further information about a specific item can be accessed on the item page. Here, it is also possible to view item reviews and further information about the seller, such as feedback ratings. This means a purchase can be made in confidence.
Conclusion
Buying the right leather gun case is important, for safety and the long term maintenance of a gun. Guns which are used in hunting are frequently transported, and are likely to be used in environments in which they face adverse weather. This means such guns need additional protection from rain, dirt, mud and other potential hazards.
Hunting gun cases are designed to be sturdy, and withstand being transported frequently while also keeping the gun itself secure and safe from damage. Leather gun cases may also be used for storage, as they are generally waterproof and securable with a range of locks. A gun case can be found to suit a range of needs, and eBay offers a wide selection.