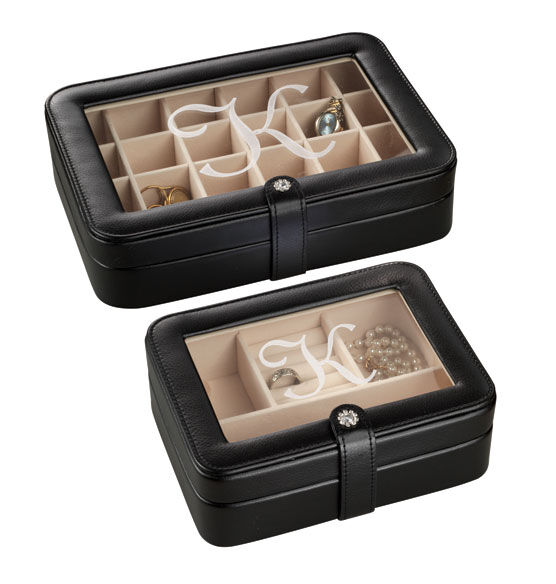 Before entering the marketplace for a leather jewellery box, it is a good idea for buyers to spend a little time getting to know what options are available. Leather jewellery boxes come in a variety of sizes, with a wide range of internal storage options. One key to a successful purchase on eBay is to match the storage options of the box to the needs of a buyer's jewellery collection. Leather jewellery boxes are usually covered with some form of cowhide, but intrepid buyers can find many more exotic leathers, such as crocodile skin and suede.
Leather jewellery boxes are designed to be practical and provide a number of features to keep a jewellery collection organised and to avoid accidental damage. It can be easy to choose a jewellery box based on the colour and texture of leather covering, but for a really successful online purchase, buyers need some idea of the available internal features they can choose from.
What to Look for In a Leather Jewellery Box
A leather jewellery box can be the perfect addition to any dressing table. Whilst it is an elegant item, it is also very practical. A carefully chosen leather jewellery box is the perfect means to organise a jewellery collection. It can also keep delicate items such as fine chains stored neatly without tangles.
Most jewellery boxes are made from strong, lightweight wood, though some are constructed of man-made materials, such as medium density fibreboard (MDF). Whilst these materials are strong and lightweight, they are not particularly attractive, so they are often covered in a variety of ways. Leather makes a perfect covering for a jewellery box; it is durable, and can be finished in a wide range of colours to complement any bedroom dressing table or room decor.
One important feature buyers should look for is a good solid lid that keeps the contents secure and free of household dust. For more valuable jewellery collections, a solid locking mechanism is a good idea. The lid, when opened, often boasts a good mirror on its underside, which jewellery owners can use to check how the latest addition to the collection looks when being worn.
The main compartment of a leather jewellery box should consist of individual drawers, all covered in a similar leather to that of the outside, possibly in a contrasting colour. Individual drawers and compartments should be lined with a velvet or silk-like fabric that is soft enough to protect delicate items.
Ring rolls are frequently found inside a jewellery box. These are often simply a section of dowel covered with the same soft lining fabric found in the drawers and main compartment. Discs at either end act as stoppers, so that rings placed on the ring roll are not free to move around and get tangled with other items. A ring roll is especially useful if the jewellery box is to be transported for business or holiday trips.
Necklace drops are a convenient feature for collections that contain a number of necklaces and pendants. Fine chains can tangle if left loose, and can sometimes become damaged when the wearer tries to untangle them. A necklace drop is a simple mechanism over which the user can drape chains and pendants, which are then secured at the bottom of their drop. Necklace drops often fit inside the main compartment, but some are separate items that can be removed from the box and left freestanding.
Many large jewellery boxes come with a separate travel box that can be used to safely store a small number of items to be taken on holiday. Some jewellery boxes contain a soft, leather-based, jewellery roll lined with soft fabric.
Stackers are widely available online. They are a series of single trays that can be combined with other, compartmented trays to create the exact storage setup required by a particular collection. Some manufacturers offer stackers in groups of three or five trays, and others offer a range of individual trays that can stack together.
For more substantial travel needs, where a larger variety of jewellery requires storage, an armoire is very useful. An armoire is a cleverly designed storage unit that is often ornate on the outside, and which provides all of the necessary security to keep a precious jewellery collection safe.
Types of Leather
Leather is a flexible material that is very durable. Animal hides are tanned to create a range of materials that are soft, hard wearing, and attractive to look at.
Of the four types of cow leather available, top grain leather is the type most commonly used to cover jewellery boxes. To make top grain leather, the top layer of leather is split away from the hide after the tanning process is complete. Top grain leather is thinner and more easily crafted, and is therefore ideal for use in smaller items such as jewellery boxes.
Calfskin
Calfskin is a type of leather made from the hide of a calf. It is valued for its softness, and is frequently used on high end products like shoes and wallets. Calfskin leather jewellery boxes are particularly soft to the touch, and are often priced at a premium.
Suede
Suede leather is usually made from softer animal hides such as lamb, goat and deer, although calfskin can also be used. The process involves splitting the tough exterior skin away from the finely napped layer beneath. Removing the skin layer means that the product is less durable, but its softness makes it a perfect material for a feminine leather jewellery box. Sometimes suede is used as the lining in a calfskin box.
Crocodile Skin
Crocodiles have a varied skin; it is smooth underneath, and is armoured with raised plates (called osteoderms) across the back. The contrast between the two sides makes crocodile skin a prized material for high end products. Its rich grain makes it especially good at taking a colour. Modern pigments can be applied with dramatic effect, and crocodile skin retains its natural grain.
Faux Leather
Some people object to using animal products, which rules out a leather jewellery box for them. However, recent innovations in the plastics industry have created some very realistic alternatives. Artificial leather (or pleather) has its advantages. It can be manufactured with whatever texture is required. Even the more exotic crocodile leathers can be mimicked in plastic, in a wide range of colours. It is also durable and very resistant to fading, even in bright sunlight.
Leather Jewellery Boxes for Men
As men have become more used to buying and wearing jewellery as an accessory, jewellery boxes for men have begun to appear in the marketplace. Whilst not featuring as many specialist functions as a jewellery box designed for women, a men's valet consists of a series of simple boxes that can be used to store valuable items, such as chains, watches, and belts. Leather in natural browns and blacks is a perfect material for a men's valet.
How to Buy a Leather Jewellery Box on eBay
You can start searching for a leather jewellery box on eBay by using the Search bar that appears at the top of every page. Simply type in the phrase "leather jewellery box&" and eBay returns a series of listings with these words in the description.
Sometimes, the number of results returned is overwhelming, and many listings may be irrelevant to your needs. You can narrow down the results of your search in a number of ways. eBay offers a list of category filters to help you select they type of item you are looking for more quickly. You can also filter by price range, and even by location of the seller. eBay also suggests alternative phrases such as "antique leather jewellery box&" or "large leather jewellery box&" if you cannot find the item you want. The suggestions appear in blue, under the Search bar, and one click is all you need to perform the search.
Using search techniques such as these can make finding the leather jewellery box you seek a simple step that leads to a successful purchase on eBay.
Conclusion
eBay is a good place to start searching for a new, leather jewellery box. It offers a lot of listings with boxes of all types, each clearly described. Each seller lists postage and packing prices, as well as their returns policies to make the process even clearer. A seller's returns policy can also be used to help compare a number of different items. If a seller accepts returns, buyers may be able to order more than one item so that each can be compared in the flesh. The seller can then return unwanted items under the seller's returns policy.
Shopping in a traditional store gives buyers the chance to compare items quickly and directly, but most conventional retailers have only limited space to display products. They may also only work with a small number of suppliers, so inventory selection is often limited. eBay lists items from a wide range of suppliers, giving shoppers more choices to start with. In addition, buyers can shop 24 hours per day, from the comfort of their own home.