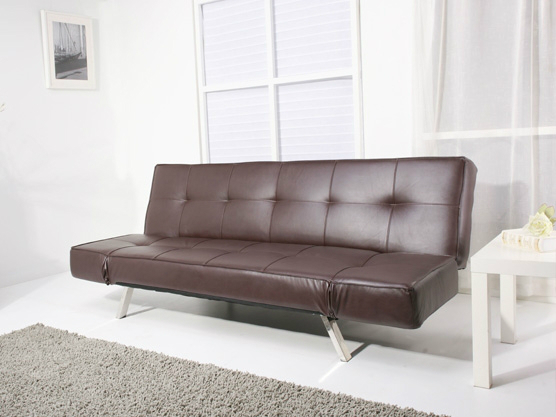 A leather living room set is a collection of coordinated furniture that is often the most expensive purchase made for a home. Leather is one of the most durable and versatile of natural fabrics, and as the material actually softens with age, the furniture it covers will remain comfortable and welcoming. Always a stylish choice that never goes out of fashion, leather living room sets can be the right long-term investment for a home.
About a Leather Living Room Set
Leather living room sets cover a range of furniture, including couches, chairs, bed settees, recliners, ottomans, and love seats. A living room set can come in any combination of pieces with the only limit for a buyer being the size of the room – and their budget, of course. Leather has always been a popular choice of material to cover living room sets for several reasons – it's hard-wearing and long-lasting, and its suppleness means the material will not crack or tear. Buyers often select leather because it is a high-quality material that will not wear out, and with different grades of leather to choose from, a leather living room set can be an affordable choice. A leather living room set may be the traditional three-piece suite of a settee and two separate armchairs. However, there is a wide selection of pieces that can make up a set, such as two settees and a footstool, or a two-seater and a recliner. The make-up of the leather living room set is entirely up to the buyer.
Grades of Leather Available
Leather is made from the tanned rawhide of animals, usually cows, and has been used for centuries because of its flexibility and durability, both for clothing and furnishings. Different types of grades apply to leather, and anyone looking for a leather living room set may want to consider which grade would be most suitable for their needs. Here are the grades of leather.
| Grade | Description |
| --- | --- |
| Full grain | Full grain is the top grade of leather, renowned for a high quality and very supple finish. Each piece of full grain leather is unique because only the surface of the hide is used. Soft and richly marked, full grain leather requires a special coating that protects the fabric and makes it easy to keep clean. |
| Corrected grain | Corrected grain leather provides a particularly smooth finish after the top grain of the leather is buffed to remove any imperfections. This type of leather has a shinier appearance and is given a protective layer to make it easy to care for. |
| Split | grain leather is made from a single piece from the inside of the hide, making it of a lower quality than either top grain or full grain. This is because the inner hide is not as durable as the outer hide. |
| Bonded | The lowest quality of leather, bonded leather can nonetheless still be a durable material. It is made from patches of leather bonded together and may not always be suitable for furniture that will see a lot of traffic. |
| Suede | The soft, brushed texture of suede remains very popular as a furniture fabric. Also made from animal hide, its softness is because the rougher, outer hide is not used in the process. |
| Faux | Faux leather is a synthetic substitute for leather, making it a much cheaper alternative to the real thing. This fabric does not require as much maintenance as leather and is also easily cleaned. |
Marks that Identify Real Leather
When shopping for real leather, check that the product in which there is interest carries the Leathermark. This is the registered trademark in the UK used to identify real leather products. The trademark symbol can be found on items made of at least 80 per cent leather, and there are four categories of classification to look out for.
Offers great value for money and stylish designs.

Gives excellent quality, comfort and durability in a wide range of styles.

Offers superb quality and comfort with distinctive design features.

Premium range offers distinctive products that combine superior quality with a high level of design and comfort.
Possible Combinations for a Leather Living Room Set
A leather living room set is a versatile combination of furniture, limited only by the size of the room and the budget of the buyer. Here are some of the possible mixes available.
| Combination | Description |
| --- | --- |
| Three-piece suite | The traditional living room seating arrangement of a three-piece suite never goes out of style and involves a sofa (either three or two-seater) and two separate armchairs. |
| Corner suite | A corner suite works well in rooms of any size but is particularly effective in smaller rooms as it maximizes all available space. |
| Sofa & ottoman/footstool | Ottomans are excellent both as footstools and also offer extra storage. As they can be moved easily, they are a handy extra seating option to have. |
| Recliner suite/chair | Leather recliners are the ultimate in comfort and luxury. Three-seater recliner sofas have two seats that can be reclined while a two-seater has one. Recliner chairs are an effective addition to a room's seating arrangements, too. |
| Bed settee | A bed settee provides a convenient extra bed when entertaining, not only looking stylish but very handy, too. |
Caring for a Leather Living Room Set
Leather is the fabric of choice for many buyers because of its versatility and durability. Soft and flexible, leather is also ideal because it actually improves with age, becoming more supple and comfortable. And it's easy to keep clean. Here are some of the best ways to look after a leather living room set.
| | |
| --- | --- |
| Clean and vacuum | Use a dry cloth to wipe the leather down and vacuum the corners to remove dust. |
| Avoid too much water & detergents | Don't use an over-wet cloth to clean the leather and don't use detergents that can mark the fabric. |
| Use specialist leather cleaning products | Quality leather furniture will have had a protective layer applied to it to maintain its appearance so will generally only need to be wiped down regularly. However, do clean leather furniture thoroughly every six months and when deep cleaning, use proper leather cleaning products that contain a conditioner that will not harm the fabric. Do not over-use any specialist polishes. |
| Swap cushions | Switching the cushions around to ensure that all wear is even. |
| Keep out of direct sunlight | Do not place a leather furniture set where the sun can damage it and cause fading. |
Conclusion
A leather living room set is a stylish addition to any home furnishing arrangement. As leather is one of the most sought-after fabrics used in furniture because of its style and durability, this is a choice that is both fashionable and practical. With different grades of leather available, one can find a grade that best suits their budget, while the wide range of combinations of pieces, such as a three-piece suite or corner suite, means a living room set can be found to suit every size of room. As leather is hard-wearing and easy to care for, the choice of a leather living room set is a good, long-term investment and the search for the ideal one begins now.