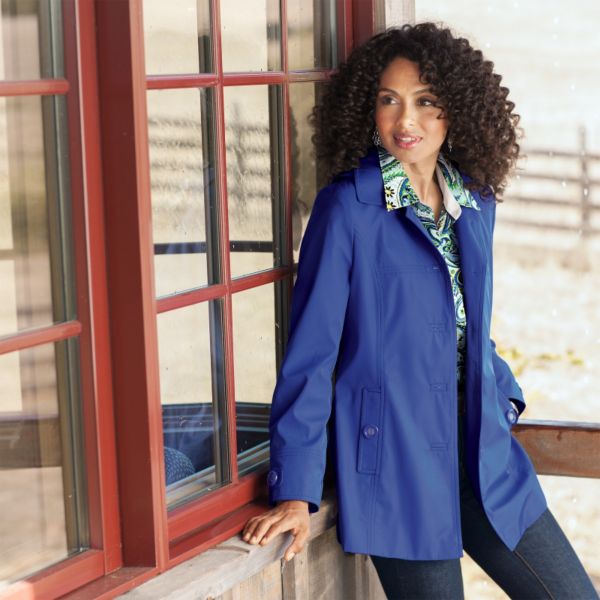 Wet weather occurs in each one of the four seasons and need never be a catastrophe for the smart woman who has a suitable mac raincoat for such occasions. The trusty mac, formerly a bulky and quite heavy garment, has had various incarnations over the decades and has finally evolved into one of the most practical of all fashion items. Every wardrobe should have one, or preferably, two: one to withstand the winter variety of wet weather, the other for summer's lighter showers.
It pays to spend a sizeable amount of time casting your eye over styles, shapes, and colours, and importantly, visualising the macs teamed with outfits from your wardrobe. Few figures are not flattered by a mac, but it is worth taking a good objective look at yourself and weighing up whether a belted coat is right for you, or whether an A-line or straight mac would alleviate any anxieties about your body shape.
Mac coats, in a wide variety of forms, are available from many women's clothing outlets and department stores, in shops and on high streets. Some shops that sell camping and outdoor wear also sell macs for women. Macs can also be purchased online, and eBay, the auction website, is an ideal choice for any shopper. Before purchasing a mac coat, women should know the different types of macs, their advantages and disadvantages, and how to accentuate the style of a mac coat.
Mac-ology
Having its origins, perhaps not surprisingly, in Glasgow, known as the United Kingdom's wettest city, the Mackintosh made its appearance in shops back in 1824. The material, invented by Charles Macintosh, with no "k", was a new innovation, a rubberised fabric which so efficiently kept out the rain that the mac went on to become a household name.
Types of Mac
Mac coats are versatile items, which wearers can dress up or down as they wish. Their role first and foremost is one of protection, by shielding the wearer from the worst of the elements and keeping the clothes beneath clean and dry. A very welcome by-product of the mac, however, is its smart appearance. Any woman who is worried that her current outfit is rather thrown-together-looking need only slip on her belted mac to attain a very harmonious, unified effect.
The Trench Coat
One famous variation on the mackintosh is the trench coat, so-named after it did service in the trenches of World War I. For women as well as men, a trench coat is an iconic item, the shape and style never going out of fashion. You can find a vast array of these coats on eBay, including the iconic Burberry trench coat. It is generally made from toughened and treated cotton and has a synthetic lining.
The additional adornments, originally put there for practical reasons, are what give trench coats their distinctive and dignified appearance. The first of these is the storm flap across the shoulders at the back, sometimes tapering to a point between the shoulder blades. Next, is a smaller storm flap on the coat's front, next to the right-hand lapel. Some designs have one of these on each side. A trademark feature is the pair of cuff bands, which gather in the Raglan sleeves. Lastly, trench coats are not trench coats without their epaulettes which are usually fastened down with a button. For some women, the epaulettes on the traditional trench coat are an embellishment too far. Others prefer the definition that epaulettes give to the shoulders, and find that shoulders are naked without them. Similarly, while many love the detail and added protection of a back flap, if it does not quite sit down on the back, then an impression of a slight bulge along the top area of the back can result.
With its single rear vent and deep pockets with their diagonal openings, the trench coat design is very nostalgic, recalling screen sirens, such as Lauren Bacall, and conjuring dim fog-filled nights. Some use in the garment trade of colourful patterned lining, such as plaid lining, faux fur lining, contrast piping, and even stud-spattered lapels, have given trench coats a whole new alternative twist.
Colours of Trench Coat
In khaki, fawn, cream, or beige, a trench coat is a stylish weatherbeater, although not as easy to keep clean-looking as its navy, charcoal, or black counterpart. Khaki is the most authentic colour, with its military overtones and ability to make a statement. Fashion versions, trench coats only in name, are made in all sorts of colours and can look great on a wearer of any age, though especially stunning on younger wearers.
Alternative Styles of Trench Coat
Many clothing manufacturers have responded to women's love of the trench coat by bringing out new styles suited to the image-conscious buyer. Goth-style leather coats represent one such variation.
Shoppers who, by contrast, are hooked on authenticity, often veer towards purchasing a vintage version. The charm of a vintage trench coat lies in its faithfulness to the original design, in the degree of swagger in its styling, and in the pleasantly lived-in appearance that it has gained through wear.
The Blouson-Style Mac
Women who want to achieve a celebrity look are likely to enjoy the informality of a zip front or blouson-shaped mac with an elasticated, anorak-style hem, a hood, and adjustable drawstring method of securing the bottom of the jacket for a close, protective fit.
A host of different lengths, colours, and patterns mean women are spoilt for choice when pinpointing the perfect mac. There is no harm in possessing one of these for country walks, bonfire nights, and other informal outings, while also owning a full-length classic mac for city use.
The Anorak
The word "anorak" has perhaps certain uncool retro overtones, and is thought of as the garb of schoolboys. However, the updated versions for women can cut a dash just about anywhere and can flatter long legs in casual trousers or jeans where a standard mac may be too much of a cover-up. Short, bottom-skimming garments, usually made from polyester, or more traditionally, nylon, they are economical to buy and available in a great many colours.
The Wax Jacket
Women who are serious about the outdoors and are dedicated to tramping for many hours in damp weather through the winter countryside eventually hanker after a wax jacket. It is a style that conjures up images of country pursuits, gundogs, and the smart set, not least as it is a garment sported by Britain's royal family en masse.
At-A-Glance Guide to Macs for Women
Decisions about which one of the many tempting macs to buy hinge on many factors. What grabs one woman's fancy may be too drab or unflattering for another. There are almost as many style and colour combinations as wearers. The following chart may help to clarify when deciding on a mac coat.
Type of Mac

Advantages

Disadvantages

Traditional Trench Coat

Classic and timeless

Sturdy design

Can overwhelm the shorter figure

Bulky to pack for travel

Fashion trench coat

Feminine

Expresses one's individuality

Can look down market

Shorter life

Wax jacket

Great protection against rain and wind

Requires annual re-waxing

Can feel cold

Bulky and heavy

Anorak

Easily packed

Good water resistance

Short, letting bottom become wet

Blouson-style mac

Fashionable-looking

Great with trousers

Thin, offering limited warmth
There are many options when purchasing a mac coat, from a traditional trench coat to a wax jacket. Each has their advantages and disadvantages, which vary from user to user. A consumer must assess her preferences before choosing the best mac coat for her needs.
Livening up a Mac
Threading a pretty scarf through the epaulets and storm flaps on a fully-fledged mac, then tying it at breastbone level or securing it with a brooch is just one way to give the mac an instant transformation, for more dressy outings about town. Multiple bangles or a big, bold wristwatch around one or both cuff bands creates a youthful and girlish effect.
Another way to wear a lightweight mac is with sleeves rolled up and the belt casually looped in a loose knot rather than buckled, making of it a mere over-shirt, rather than a serious coat.
Buying a Mac Coat on eBay
When browsing on eBay for a mac coat, you may be delightedly surprised at the great range on offer, both new and used. Indeed, a classic mac for some sellers and manufacturers is a beltless A-line piece of apparel, with no waist, thus concealing any issues that the wearer has with her midriff.
After sifting through a good quantity in order to gain a good idea of your preferred style, the next step is to type into the search field your own dress size. Be aware that for roominess, buying a mac coat one size larger is best, especially if it is to be worn over suits or over several layers of clothing. If you are set on a chosen colour, and perhaps a detail, such as a "belt" or "lined", type these into the search bar, too. This should greatly narrow the search. Similarly, if after researching, you are now set on a specific finish, such as "metallic", include this in the search terms.
Before finalising your decision, check out the seller's rating, and also their terms and conditions, as they may have a policy regarding returned items, which is worth bearing in mind should you have some doubts about size and fit.
Conclusion
Unlike many of the wardrobe items with which women tend to fill their closets, the mac is unlikely to gather dust. Even in the absence of rain, a mac is sure to earn its keep as a smart and lightweight cover-up for overcast days. Its versatility means it looks the part both with skirts and trousers, and can even be worn with leggings and sneakers for an urchin look. A light-coloured mac worn with knee-length boots can be very sexy, and a thigh-length mac worn with a short skirt just peeping out from below with tights and boots is both sensible and attractive. With everything from brightly-coloured wet look PVC macs to wind-cheating coats in muted olive-coloured waxed cotton, the effect that a mac coat can create varies immensely.
The term "mac coat" covers such a wide spectrum of styles and degrees of wet weather protection that buyers can cope best if they are well clued up on the topic and have a good idea about the activities for which the mac coat is worn.