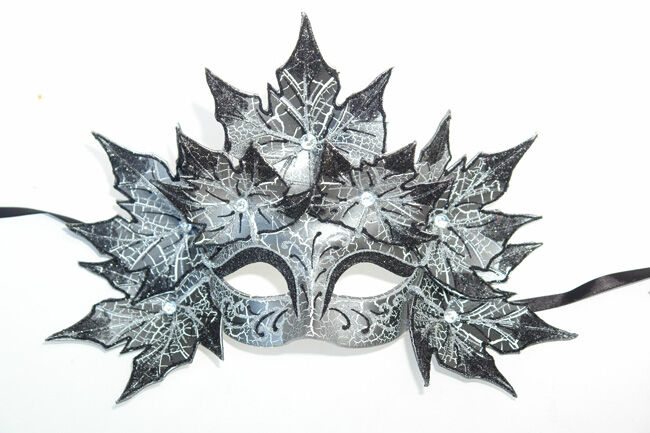 Preparing for Halloween or a masquerade celebration can be an exciting and fun process. In particular, selecting a mask to top off a costume can be a great way to explore options and weigh the creative possibilities. Anything from a classic masquerade mask to an intricate horror mask are among the myriad ways people can invest in a unique Halloween look.
Masks are accessories with a history that dates back to thousands of years. Masks come in varied types of construction, using materials such as paper, plastic, or latex. Additionally, consumers can revel in the choices available when it comes to the different styles of masks available, ranging from horror masks to celebrity masks. For consumers who are in search of a range of selections when it comes to masks, online auction sites such as eBay represent large resources. On eBay, a consumer can find a significant collection of halloween masks and peruse through countless listings to find the ideal mask choice for an occasion. This guide will walk readers through the process of finding and purchasing a mask on eBay and also elucidate some important details about masks themselves, their history, and the types available.
Shopping for a Mask on eBay
The online auction site eBay has an extensive listing of masks of all types, giving consumers unprecedented access to a wide range of masks from any of the categories. On eBay, a person interested in finding a mask can peruse thousands of listings with ease and find a mask that addresses his or her needs.
To begin a search for a mask on eBay, you can start by running a search for a term via the search bar at the top of any page on the site. If you would like to get an overall idea of the masks available and cast a wide net, you can enter a general term such as "halloween mask." If you already have an idea of the specific type of mask you like, then enter that term to narrow down your auction results.
As buyers begin leveraging eBay in their search for a mask, it can benefit them to have a basic understanding of the history of masks and the different types of masks available on the market.
An Overview of the Mask
Masks have been an essential part of human ritual and celebration for many thousands of years. Beginning as an element of religious ritual, masks have often presented a way for humans to project themselves into a world of mystery. Transitioning from religious ritual into artistic display over the centuries, today the mask is used as a device in personal expression and celebration during holidays throughout the year, including Halloween and Mardi Gras.
By the mid-20th century, the celebration of Halloween had begun to take hold in countries such as the United States and the United Kingdom. In particular, the ritual of "guising" or travelling from home to home to request treats and rewards took hold and has since become an integral part of the holiday's celebration. Today, masks are also often featured in celebrations centered around the fast-breaking holiday of Mardi Gras and can also be found worn at formal dress balls and masquerades. In short, the mask has become a ubiquitous and central part of the rituals of modern life.
The Construction of Masks
Masks are constructed in a variety of ways, but by and large the three main types of masks are paper masks, plastic masks, and latex masks. A paper mask is a paper face cover that features a photo print of a character or celebrity's face on it. A plastic mask is a molded mask cast in thin plastic that can cover all or part of a face. A latex mask usually covers the entire head and features much more detailed design than either the paper or plastic alternatives.
Types of Masks
Masks are a diverse and wide-ranging subset of accessories and can vary from very basic affairs to more elaborate ones. The following section discusses some of the more popular categories of masks available in the marketplace.
Masquerade Masks
Masquerade masks represent perhaps the most iconic mask around and have been in use in Europe for centuries. A masquerade mask usually consists of an eye mask that covers the eye area and only part of the face on occasion. It can be made from cloth or papier mache classically, with more contemporary versions being made in everything from plastic to molded paper blends.
A masquerade mask is often decorated ornately, with details such as feathers, sparkles, beads, and more placed in designs around the eye area of the mask. A masquerade mask can be held on by a tie or elastic that wraps around the back of the wearer's head or by a stick that the wearer keeps hold of. These bright and ornate masks can be worn at Halloween, Mardi Gras, or at masquerade balls during any time of the year.
Mardi Gras Masks
While somewhat related to masquerade masks in design, Mardi Gras masks can take on a much more elaborate look and style. Mardi Gras masks can feature details that protrude well past the eye area of the mask, creating a crown effect around the wearer. They also often leverage extensive beading, detailing, and other accoutrements that make them truly impressive masks to wear.
Celebrity Masks
Celebrity masks are molded, plastic masks that mimic the visages of famous persons from contemporary or historical times. These full masks usually cover the face and sometimes cover the entire head of the wearer. They can be manufactured as basic plastic shells that are held on to the face by an elastic or tie. Full masks are also available and are usually created using softer, molded plastic that allows a user to pull a mask on or off with ease.
These types of masks can often be satirical in nature, acting as caricatures of well-known figures. As such, they often exaggerate one feature or another to create a cartoon-like visage of the celebrated figure. Types of celebrities embodied in these types of masks vary from political figures to entertainment figures to famous characters from fiction or film.
Fantasy Character Masks
Fantasy character masks are representations of well-loved and famed characters from the worlds of myth, fiction, movies, books, and more. These masks are usually rather realistic renditions of a character's features and can come in a large range of styles and selections, with different methods of wearing them. Popular trends surge from year to year when it comes to these masks, with favourites rising in availability quickly and surging onto the market.
Horror Masks
Horror masks are ideal Halloween selections that address the dark themes and sensibilities of the holiday. A horror mask can run from something such as a werewolf mask to a mask that represents a well-known horror figure. They can feature grotesque details such as scarring, blood, and gore, and are often quite frightening in nature. Popular masks in this category include vampires, ghosts, witches, ghouls, and zombies.
Designs of horror masks vary widely, with some created in the basic plastic mold variety and others being more ornate and worn over the entire head. They may feature rich details such as hair or even hoods added on that complement the overall effect.
Personalised Masks
An entirely unique approach to the Halloween mask, the personalised mask is specially constructed and customised for an individual and is based on a photograph of that individual or someone else. The result is a basic paper face mask that can be held on to the face with an elastic that runs behind the head. This interesting subset of masks gives mask fans a creative way to approach Halloween and masquerades, allowing them to create a one-of-a-kind inside joke with friends. For example, a set of friends could attend a celebration as one another, or someone could even just dress up as themselves. This standout, funny mask solution can give consumers a unique way to approach dressing up in a costume.
Celebrity Mask Books
Celebrity masks also sometimes come in books that offer up a varied selection of paper masks of different celebrities. These books are an easy way for consumers to experiment with different costume ideas or just switch a costume up from one party to the next over a Halloween weekend. Celebrities included in these books can vary from the current and popular to classic figures from the history of music, film, politics, and television.
The Buying Process on eBay
Once you have leveraged the information above to focus in on a specific mask choice, you can begin running searches for the item. You may want to take a moment to look at specific listings in detail by clicking on the listing title and reading the full listing and description. You can also review the business practices of each seller with whom you are interested in doing business. In this way, you can help guarantee the quality of your experience and ensure that you get an ideal mask for your needs.
Evaluating the Sellers on eBay
When buying any item on eBay, it is important to get to know the sellers from whom you plan to purchase items. To do this, simply review the sellers' previous auctions and take a look at the feedback they have received from previous customers. After your own purchase experience, you can consider leaving your comments and review, helping the seller improve certain areas of service and giving other customers the insight they need, as well.
Conclusion
Masks of any sort, from the classic masquerade mask to the ornate Halloween horror mask, are a creative and fun way for individuals to prepare for Halloween and many other events during the year. With their widely varying designs and themes, masks present a truly diverse way for a consumer to develop a costume idea.
Individuals who are in search of masks to wear on Halloween or at masquerades can access no more comprehensive resource than the online auction site, eBay. On this website, consumers can find masks of every ilk, type, and style, with choices ranging from the latest trend in Halloween mask to carefully made and elaborate Mardi Gras masks. By simply running a search, perusing auction listings, and reviewing the quality of sellers, a consumer can find his or her ideal mask choice on eBay. An online website such as eBay therefore allows individuals to prepare for Halloween or any costume party during the year with ease.