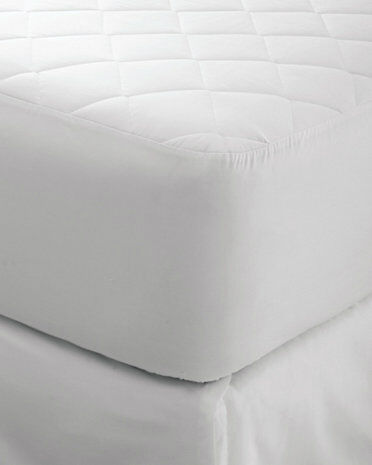 Memory foam material was first developed by the National Aeronautics and Space Administration (NASA) in the United States, but it has since found its way into the mattress making business. Memory foam mattresses are designed to 'remember' a body's shape and mould itself to that shape, providing a comfortable sleeping experience. Memory foam mattresses are used for sleep therapy as well as physical therapy, since the memory foam provides superior support without putting undue stress on the body.
A memory foam double mattress has the added advantage of firmness and strength. A good quality memory foam mattress is durable, and if it is well maintained could conceivably offer thousands of nights of sound sleep. In addition to its price and size, a buyer should also consider the density of the memory foam, thickness, and the combinations of mattress layers when shopping for a memory foam mattress. eBay offers shoppers a dizzying array of choices when it comes to memory foam mattresses. However, if the buyer has done their homework, it's fairly straightforward to find the perfect memory foam double mattress using eBay's easy to use search tools.
The Development of Memory Foam
Memory foam was first developed by NASA in the mid-20th century as part of a project to make cushioning in aircraft more comfortable. The foam was designed to be sensitive to temperature, spring back slowly, and adapt to the contours of a passenger's body. The first laboratory-developed memory foam was created by pushing gas into a matrix made of polymers.
Memory foam was then commercialised by integrating it into the pads for X-ray tables, as well as the liners of American football helmets. It took 20 years for NASA to bring memory foam to wider public, and the high-tech material was first used in hospital mattresses. Without memory foam, patients can develop pressure sores and even gangrene if they lie on ordinary mattresses for long periods of time. Memory foam removes the buildup of pressure on a patient's body, making a long stay at the hospital more comfortable.
Memory foam has since enjoyed much wider use, but memory foam quality differs from one company to another. This is because some companies make their memory foam less dense materials, depending on how easily they want the memory foam to adapt to a person's unique curves.
The Benefits of Memory Foam
Memory foam of the highest quality should conform to the natural curves of a person's body. Memory foam, unlike standard foam, retains the body's shape and does not spring back into its original shape. The cells of foam in a memory foam mattress compress to their smallest volume, pushing air into surrounding cells. The pressure, therefore, is spread throughout the memory foam. In doing so, it keeps pressure from building up on the body parts in contact with the mattress.
Memory foam is sensitive to temperature. At lower temperatures, memory foam is firmer, while at higher temperatures, it is more elastic and conforms better to the body's shape. As a result, it appears to 'melt' when a person lies down on it. The person's body temperature encourages the foam to conform to his or her body shape.
Memory foam is very soft. Over time, it can lose its ability to support the sleeper effectively. Memory foam, therefore, is often used with other, firmer materials in a mattress.
Factors to Consider When Choosing a Memory Foam Mattress
Not all memory foams mattresses are created equal. Because memory foam is in the public domain, many mattress manufacturers do take liberties with it and make their own combinations of beddings and mattresses. This means that some memory foam mattresses are more suited to a buyer's needs than others.
The Size of the Mattress
In general, mattresses come in single, double, full, queen, king, and even super-king. A single mattress can be a practical choice for a person sleeping alone, since a king, or even a queen size bed might be too large. However, a double mattress might also be practical as well as comfortable, as it can provide the person more space to move around while sleeping.
The Price of the Mattress
The cheaper memory foam mattresses might be layered with a synthetic foam product thats lower the overall quality of the mattress. Such a mattress would be uncomfortable to use and might not be particularly durable. One should rather opt to pay more to ensure that the mattress contains more memory foam.
The Thickness and Density of the Foam
Because memory foam is quite soft, it is often supported by other materials. These materials help the mattress to to maintain its shape. In general, a layer of memory foam that is 4 to 5 cms thick provides enough cushioning to ensure that sleeper is properly supported while they sleep. A thicker foam mattress might feel too soft, and moving from side to side can be difficult. This can restrict a person's movement during sleep and can make sleeping uncomfortable.
Beside its thickness, the buyer also needs to consider the density of the memory foam. Less dense varieties of memory foam are softer but offer less support to the sleeper. Denser varieties of memory foam, on the other hand, can make it difficult for a person to move around during sleep. Medium density memory foam, on the other hand, provides ample support, while comfortably soft.
The Combined Layers in the Mattress
A memory foam mattress must also be supported by springs or other kinds of foam in order to be firm and last a long time. Such a mattress has the memory foam on top, and a core at the bottom of stronger material to retain the bed's shape and its spring system. The level of comfort provided by a memory foam mattress depends on the weight of the person sleeping on the memory foam mattress. A heavier person might find very dense memory foam mattress comfortable, while a lighter person could find the same mattress difficult to sleep on.
Testing a Memory Foam Double Mattress
A memory foam mattress should first be tested in a brick and mortar store before one ventures online to buy one. When looking at the memory foam mattresses in a traditional furniture or bed shop, a buyer should first test different densities and combinations of memory foam. One should test the memory foam by lying down on the mattress while wearing comfortable, light clothing, as heavy outdoor clothing can give the illusion of softness and comfort. A buyer should test the memory foam by lying down on it for at least ten minutes, and using different sleeping positions. If it is difficult to transition from one sleeping position to the next, then the memory foam is be too dense and it might be too uncomfortable to sleep on such mattress.
How Find a Memory Foam Double Mattress on eBay
Visit the main eBay site to shop for a memory foam double mattress. In the search bar, type in the query 'memory foam double mattress&' or 'double mattress memory foam&'. You can specify the size in your query by adding it in, such as with 'memory foam double mattress king size' or 'memory foam double mattress single'. You can supplement your search query with a specific brand, too.
On the search results page you will find more ways to hone your search. You can specify the price range and you can select whether you want to view new mattresses or used ones. With used mattresses, you will want to make sure that you read the item description very carefully. The item listings should include photos of the used double mattress from various angles. Examine the photos closely, looking for any signs of damage or stains. If the photos are not clear enough or close enough, you can request more photos by contacting the seller. To do this, simply go to their profile page and look for the contact link.
The seller will also specify the buying method. You can either participate in an auction or pay the listed price. You can often pick up new mattresses for much less by bidding in an auction, but you should know that there is also the possibility that you will lose out to a higher bidder. If you simply must have a particular memory foam double mattress, better to just pay the list price.
Conclusion
Memory foam material conforms to the body, 'memorises' its contours, and creates a pleasant, soothing sleeping experience by not putting undue pressure on the body. A memory foam mattress is ideal for those who require superior support during sleep to ward off back pain. It also the perfect mattress for those recouping from long illnesses.
There are various memory foam mattresses on the market. The memory foam can be of varying thicknesses and densities. Mattresses may vary according size as well as the materials used to support the memory foam. The best way to shop for a memory foam mattress is to try a few out in traditional furniture and bed shops. Once you've got the feel of a mattress that you like, go online and search for an equivalent.
eBay's search tools are very user-friendly. Simply type a description of the memory foam mattress you are looking for into the search bar, click on 'Search' and you are on the way to finding the perfect memory foam mattress, and the perfect night's sleep.